This program invites parents into the tools of connection through movement, mindfulness and massage with themselves and their new baby.
About this Event
When your baby arrives it is the most wonder filled moment, this precious little being so tiny in your arms for the first time.
Becoming a parent is one of the biggest transformational experiences we can have. It is not just that moment in the first days, weeks, months, but is over a period of time that you will experience change physically, mentally, and emotionally.
About this program
The Mindful Circle is for parents who, after settling in with their new child for the first four months, can practice compassion and understanding for the thoughts, feelings and experiences of their new role. This is something we tend to ignore in today's society, the huge transition in sense of self, in close relationships, and in the sense of being split in who you were and who you are now. Parents are just expected to get back to work/life and get on with it.
It's time to embrace the change rather than avoiding and minimising it for the sake of what was the 'old normal', and gather in the Mindful Circle to take care, and learn tools to nurture, soothe, and build resilience and acceptance to the beautiful, messy, challenging, curious and rewarding unfolding of parenthood.
Through this practice you will be stronger, more intuitive, more confident and more balanced than ever.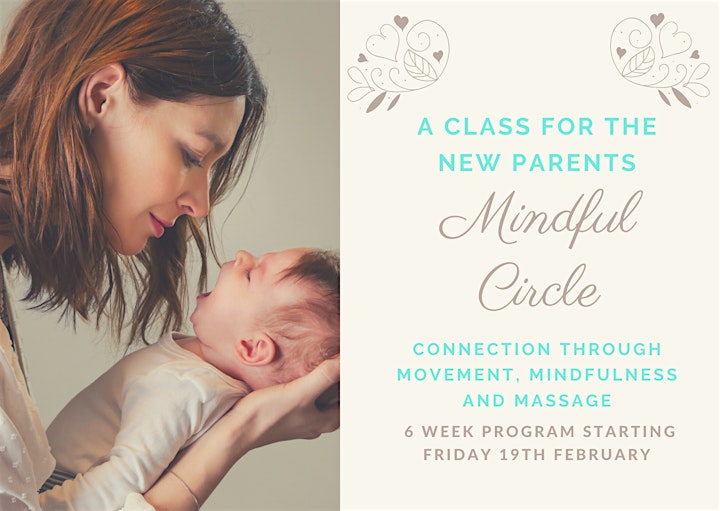 Each class over six weeks will build skills in connection and nurturing through
mindfulness practice to understand the neuroscience of our heart mind connection
meditation practice for calm and connection, soothing our body and calming our thoughts.
yoga to look after the body and bring ease and grace to the hustle and bustle of our daily lives
massage to enjoy secure connection with your child and learn techniques to soothe and relax with the benefits of reduced crying, aid digestion and help relieve gas and constipation, help baby sleep more deeply and longer.
Register today to start your Mindful Circle journey. Classes start Friday 19th February.
Schedule
Classes are run from 9:30-10:30am on Fridays at Sarah's Circle Holistic Hub in Mandurah.
Friday 19th February - 9:30-10:30am
Friday 26th February - 9:30-10:30am
Friday 5th March - 9:30-10:30am
Friday 12th March - 9:30-10:30am
Friday 19th March - 9:30-10:30am
Friday 26th March - 9:30-10:30am