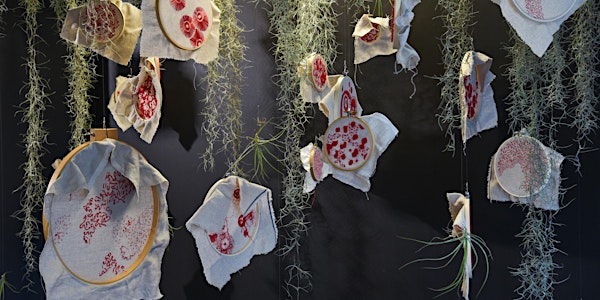 Mind & Matter: Reflections on Impermanence and Compassion Through Art
Online panel with artists from the exhibition, Presence of Mind
About this event
Presence of Mind artists from Singapore and Australia will discuss their varied approaches to merging art and Buddhism practices with a focus on mind, matter, impermanence and compassion.
Panelists: Alecia Neo (Singapore), Jeremy Chu (Singapore) , Lada Dedic (Australia), Lachlan Warner (Australia). Moderated by Rachael Kiang
This event will be held online via Zoom. Meeting details will be emailed to attendees on the day.
Sydney start time is 2pm and Singapore start time is 11am
About Alecia Neo:
Alecia Neo develops long-term projects that involve collaborative partnerships with individuals, communities and networks. Her socially engaged practice unfolds primarily through photography, video, and participatory workshops that address modes of radical hospitality, caregiving, and wellbeing.
Her recent projects include ramah-tamah (2020), a dance film commissioned by the Asian Civilisations Museum, and Power to the People (2019), a site-specific art installation commissioned by Goethe Institut Singapur. She is currently working on Care Index, an experimental platform that collects and features diverse practices of care performed by people from all walks of life. Care Index was initiated in Dec 2020 as part of the larger artistic research project on care practices, building on a previous collaborative project titled, Between Earth and Sky, which was developed with a group of caregivers in Singapore. Care Index has been recently presented at The Listening Biennial, Assembly for Permacircular Museums (ZKM, Center for Art and Media Karlsruhe) and Asia-Art-Activism's New Season of Care. She is the co-founder of Brack, a platform for socially engaged art and collaborative practices.
About Jeremy Chu:
Jeremy Chu (b 1973) is a Singapore-born artist whose solo projects combine performance, installation, and photography to explore themes such as nature and Dharma Buddhist philosophy. He has worked extensively with natural materials, including a large-scale project in West Java using 1000 bamboo poles, in collaboration with villages within the Majalengka Regency. Since early 2012 he expanded his artistic practice into Tibetan sacred objects and temple projects which brought him to communities in Taiwan, India, Tibet, and Singapore.
About Lada Dedic:
Lada Dedić is a maker, who utilises the intricate, almost surgical process of repetitive stitching to document the passage of time while exploring themes of neuroscience, meditative contemplation and the interplay of science and art. She is best known for the intricate cross-stitched self-portraits of her own brain. A slow art practitioner, she also constructs hand-knitted objects and has created a number of collaborative installations which focus on viewer participation.
Residing at her home base, Square One Studios Sydney; until recently, Lada has been travelling and working as an "analogue nomad" in South East Asia, notably as an artist in residence at Rimbun Dahan in Malaysia where she hopes to return some time soon.
About Lachlan Warner:
Lachlan was born on Wiradjuri land in western NSW and now lives on Wangal Country, in the inner west of Sydney. He completed an MFA at Rutgers, then later completing a PhD at Sydney College of the Arts. He has exhibited in Australia, Thailand, the United States, the Netherlands and Japan where he made the Australian Buddha for the World Buddhist Supreme Congress in Kobe, 2007. Lachlan has exhibited in more than 10 Blake prize exhibitions and won in 2001. He has also won the Campbelltown Contemporary Art Award 2005, and the Burwood Art Prize in 2019. His most recent exhibition was of Grave cups at Stella Downer Fine Art, earlier this year.
Image credit: Lada Dedić, Microbiome, 2021