MIND & BODY WORKSHOP | Let it go

Saturday, May 20, 2017 from 9:30 AM to 12:30 PM (AEST)
Event Details
DO YOU FIND YOURSELF HOLDING ONTO…
…NEGATIVE EMOTIONS?
…WORRYING ABOUT WHAT PEOPLE THINK OF YOU?
…DISBELIEF IN YOURSELF?
...TOXIC & MANIPULATING PEOPLE?
...A NEGATIVE THOUGHT PUT IN YOUR HEAD YEARS AGO?
By definition, an attachment is a feeling that binds one to a person, thing, cause or ideal. That can relate to emotions, memories, material possessions, or friends, family and partners. But sometimes attachments can create negativity in your life.
Join us for a morning of LETTING ALL OF IT GO! Surround yourself with energetic and positive vibes to help you let go of the negative and toxic attachments that are holding you back emotionally.
When you LET IT GO, imagine that a film is taken off your eyes… you will see clearer and be able to make better decisions, have better reactions and choose your next move.
Join us for clarity, energy and a shift of power back into your court.
Proudly hosted by Leola Rose and Candice Jaclin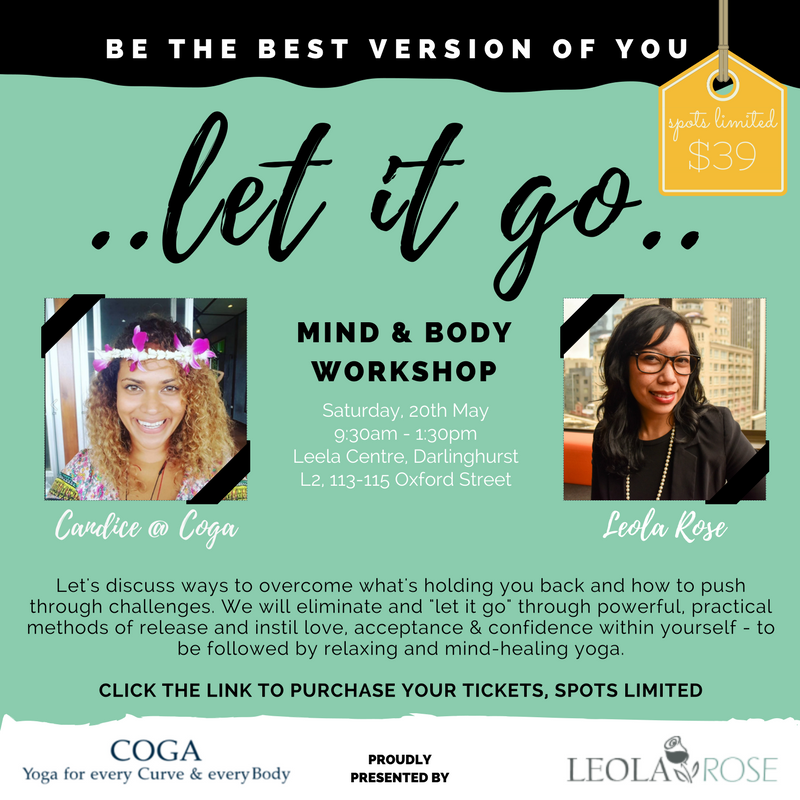 CONTACT:
Leola Rose
www.leolarose.com
FB /leolarosespeaks
0402 095 039

Candice Jaclin
Coga website
FB /cogajourney
0422 632 131
When & Where

The Leela Centre
113-115 Oxford Street
Darlinghurst, NSW 2010
Australia

Saturday, May 20, 2017 from 9:30 AM to 12:30 PM (AEST)
Add to my calendar
Organizer
Leola Rose - After surviving a life-threatening injury I am more determined than ever to encourage a better quality of life. We hear it all the time "tomorrow's never promised" - so why do we procrastinate so much? After realising how fragile your life, health and body is - I am dedicating myself to making a difference in the lives of others. I don't want you to have to go through what I went through, to understand that each and every day we have is truly a gift.  
Candice Jaclin - Spending over 15 years in the health and fitness industry trying every diet and and training regime there was to fit the ideals she thought she needed to be happy. Her weight and confidence yoyoing for years and so too her life. 5 years ago she embarked on a journey of self discovery using Nuero Linguistic Programing which sparked the journey into rewiring the way she thought about herself. Using NLP she coached many organisations and experienced transformations within herself and others. Something was still missing. A bridge between mind, body and soul was needed. Yoga opened the door for Candice to open her heart and really embrace, accept and love the truth of who she was in all her wonderful imperfection. It was from this space that not only did her perception transform but so did her body. Losing 15 kilos and years of self loathing. So emerged the COGA dream to combine NLP and Yoga to create effective and long lasting transformation in others lives.