Description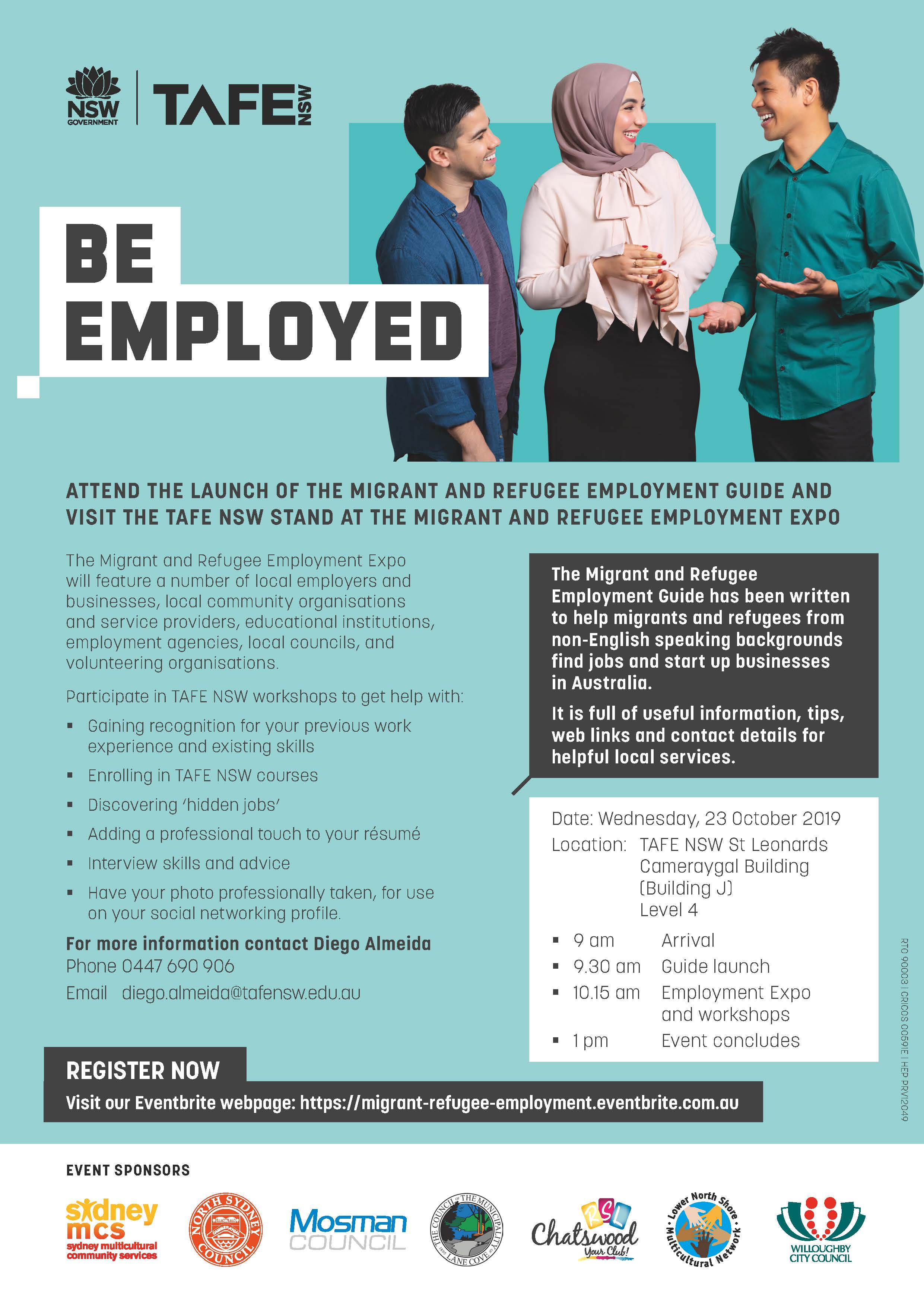 On the 23rd October, TAFE NSW St Leonards Campus will be hosting, in partnership with Lower North Shore Multicultural Interagency and Lane Cove, Mosman, North Sydney and Willoughby Councils The Migrant and Refugee Employment Guide Launch and Migrant and Refugee Employment Expo.
Migrant and Refugee Employment Guide Launch
The Guide has been developed in plain English, a practical guide for newly arrived migrants and refugees to find training and employment or set-up new businesses. It is a digital, user-friendly version, which is displayed online and emailed.
Your Path to Career Success: Tips for Migrants and Refugees to find Work - gives practical advice, local contacts, resources and websites so that users can follow the process of finding meaningful work in Australia. It has a flowchart designed to take people through the steps. It includes contact details for local services, examples of migrants and refugees who shared their stories, and where to get advice and help. Migrants and refugees, organisations and advisers, and the public will better understand the settlement experience where improving English and gaining skills to move into the workforce are essential.
The Guide has had a 'soft launch' by being uploaded onto all four Lower North Shore Council websites and a postcard was also developed to further market the guide and on the 23rd October, TAFE NSW St Leonards will be hosting the official launch of the guide.
Lower North Shore Migrant and Refugee Employment Expo
Following the launch, the expo's aim is to connect migrants and refugees to a range of partner organisations and information on improving the English language for job and business prospects, education support and information and pathways into employment and developing a business.
Participants will be offered practical and realistic job-seeking strategies as well as valuable insights into the job-seeking market. For those interested in setting up a business, specialist advisors will be available. The whole 4th floor of the Cameraygal building which includes an auditorium and breakout rooms will allow participants to engage in options that best suit them. Local service providers, TAFE NSW, job employment agencies, local councils, Government services (such as ATO, Centrelink) volunteering organisations, local employers and businesses and mentors will also have stalls where participants can approach and discuss issues. Presentations and workshops will include:
using LinkedIn as a career-building tool

professional photos for LinkedIn profile

how to discover "hidden jobs"

resume writing & interview techniques