Miellerie Tour & Honey Tasting

Monday, March 25, 2013 from 10:30 AM to 12:00 PM (AEDT)
Event Details
Join us on a tour of Miellerie, lead by aparist Yves Ginat, who produces a variety of award winning honeys based on the native flowers of Tasmania.  Yves began beekeeping as a teenager, growing up in central France, in the medieval capital, Bourges. Yves extended his education into organic farming before moving into commercial beekeeping in 1998.
Since 2006, Miellerie has developed from working 40 hives to 160 hives during which they have produced 5 different varieties of honey:
As apiarist, Yves nurtures the bee community using organic and biodynamic beekeeping practices to maintain health and harmony from the hive to the jar. Essential to the integrity of Miellerie is our trade practice of cold extraction of the honey from the comb to harness the vitality, aroma, flavour, colour and texture of the delightful nectars from Tasmanian native floras. As the seasons change, Yves continues to explore the floral diversity of this beautiful island, Tasmania.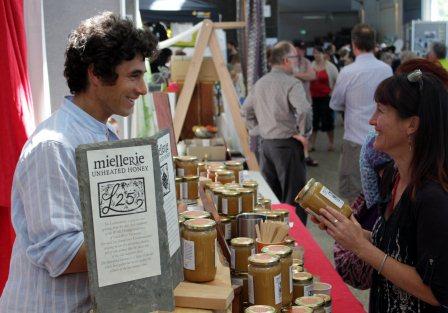 This tour is also supported by Slow Food Hobart. Slow Food is an International organisation that is committed to saving food cultures and biodiversity. It encourages the type of agriculture that is respectful of the environment, human beings and taste.  Slow Food protects and promotes food products and methods of production that are linked to a geogrpahic area or have long traditions. Slow Food does this through their Foundation for Biodiversity and promotion of and for Ark of Taste products and produce such as Tasmania's Leatherwood honey. Leatherwood trees which are endemic to Tasmania are under considerable threat because of declining forest habitat particularly on Tasmania's west coast.   Leatherwood Honey has been reigstered as one of Australia's Ark of Taste products because of these threats. 
Transport can be organised from Hobart return (tickets as above) there is a minimum number of people required to make this possible however.  If we do not get enough people to run a bus, then we will try to organise carpooling if possible.
Also, please note that people have been having trouble paying with paypal.  Please feel free to call us on 6234 to pay over the phone.

When & Where

Miellerie House of Honey
59 Cripps Road
Woodbridge, Tasmania
7054


Monday, March 25, 2013 from 10:30 AM to 12:00 PM (AEDT)
Add to my calendar
Organizer
www.slt.org.au
(03) 6234 5566