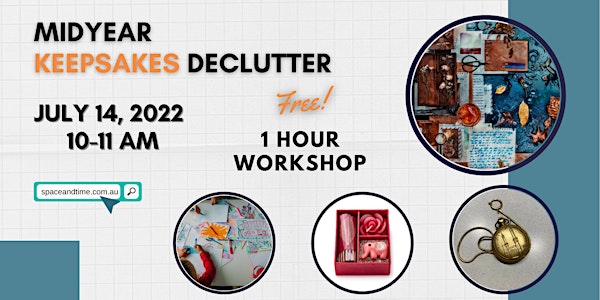 Midyear Keepsakes Declutter (including memorabilia, gifts and kids artwork)
Midyear keepsakes declutter (including memorabilia, gifts and kids artwork) 1 hour free workshop
About this event
Many people have told me that finding a healthy balance between work and personal life can be difficult. Whether you have to work or you choose to, the time you spend away from home puts a lot of pressure on you to get things done, getting exhausted, stressed out, and anxious. This cycle continues whether you have to work or you choose to work.
Julie Cliff, Declutter Coach, offers some helpful tips for your memorabilia, gifts and kids' artworks, so you and your family can live healthy, pleasant, stress-free lives.
In addition, Julie provides insights on applying simple organising strategies to encourage this energising flow in your life, rather than battling with the everyday chaos.
For this 1 hour, you'll learn:
- how to manage keepsakes
- the opportunity to ask a specific question
- Jules' expert advice
Don't miss out on this great opportunity.