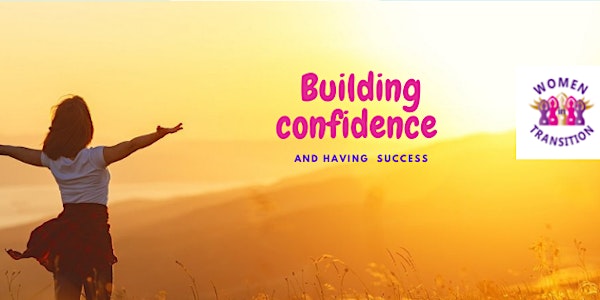 Midday Mastermind - Reclaim your success (Building Confidence)
Event Information
Refund policy
Contact the organiser to request a refund.
Eventbrite's fee is nonrefundable.
Midday Mastermind - Reclaim your success (Transition)
About this event
LADIES, ARE YOU READY?
-to break through the obstacles that are standing in the way of the success you deserve?
- to invest in your future and know you are worth it?
- to change direction and achieve your dreams?
Here at Women In Transition we want to see the women of the world shine and brim with confidence. We want you to see, know and feel how clever and wonderful you are.
We want to help you realise your hopes and dreams and achieve the success we know you deserve , whatever that means for you.
In this mastermind group training , you will learn:
• Re-purpose your direction
• Re-align your values
• Re-connect with your strengths
• Re-invent yourself
• Reclaim your Success
VALUED AT $1000.00
Plus bonus one-on-one coaching session (valued at $200.00 )
So that we can help as many women as possible we are offering this for a very
special investment of, $97 over the 4 days of training
"Alone we can do so little – together we can do so much" Helen Keller
So Ladies, treat yourself. Take advantage of this very affordable opportunity to start your journey in, through and out of transition.
BOOK YOUR SPOT NOW
Some of the feedback from our last webinar.
Loved this webinar. They did really well in spite of internet problems. Thought it was incredible.
The step by step visual of how we can achieve our goals/vision and gain confidence. This entire presentation was amazing!
All these empowered women who are willing to empower other women. That is very rare these day.
Clarity and Demo.
That perfection is an obstacle
Talking to other women
I loved everything about this event. The connection was a little difficult but still got much needed information
The sound was cutting in and out, but that was more than likely the internet. Probably mine. There was a lot of great content, and I liked how it was easy to understand. I learnt things I hadn't heard before, which is fantastic! Such as the q's to ask myself, perfection, the comfort zone explanation, what is standing in your way?
Great information that was well presented
I liked everything that was said. I am transitioning to owning my own business and needs the confidence boost.
Investment: AUD 97 BOOK NOW
Meet Your Hosts
Aileen A'Vard
My clients are successful, smart business women, just like you, who are feeling confused about direction and finding passion in their business and life. You know it's your beliefs holding you back, but you feel powerless to change it.
Aileen A'Vard is a life coach, trainer and mentor. She undertook her training at the largest coaching school in Australasia in NLP and evidence-based coaching and training.
As a child, she was a terribly shy person (felt very fearful) and she didn't dare to put up her hand for activities at school, her heart pounded so loudly and would timidly raise her hand, and by the time she had found enough courage to raise her hand high enough, all the roles were taken. She had missed out again!
This went on for years and until she saw her children experiencing the same fear that she had, that she decided "ENOUGH is ENOUGH" and to stop that .
It all started when she made a DECISION never to let FEARS stop her or her children. She made another DECISION and that was to EMPOWER other women in their journey of building confidence to regain their lives and not let FEARS stop them. Without CONFIDENCE people doubt themselves, it undermined their belief and self-worth.
Now as a coach and mentor, she is helping women to empower themselves, to create a thriving life/business and truly live their lives on a purpose that is meaningful to their soul and make their heart sing.
Testimonial
"I have been privileged to work with Aileen on several occasions, in group coaching and team building sessions. Aileen has been successful in providing invaluable guidance and knowledge to all involved, with a strong focus on values, leadership and above/below the line attributes. She is engaging, professional, and adaptive to the individual learning/communication styles, and works closely with management to ensure her direction is tailored for success. " Renee Newstead - Greencross Vets
" Working with Aileen has been a rewarding experience. Aileen helped me to Identify and understand my values, both from a personal and business perspective, which has provided so much clarity around the direction and actions I need to take. Too often we can underestimate how integral understanding our values is. Aileen's vast amount of experience and professionalism makes this seamless. There were so many aha moments! I would highly recommend her services." Suzanne Alexander - Financial Planner at Abound Financial
Michele Ripper
"Confidence is the fruit of Courage"
Michele is well-versed in the art of transitioning through life and has combined all her knowledge and experiences into her new evolution as a life and business strategist working with female business owners seeking guidance through the ups and the downs, the ins and the outs, the twists and turns of life and business.
Clients are encouraged and inspired to imagine, language and bring to life the ideas and dreams they hold in their hearts. Regular, on-going guidance and support is also provided, so that clients can focus their energy towards achieving more certain, strategic and successful outcomes in both their lives and enterprises.
Michele integrates creative, mental and physical experiences into her time with clients, guiding them on their journey of self -discovery to produce clear shifts in thinking, aha moments and effective results,
Together you will:
Explore the dreams, the challenges, what is working and what is not working.
Excite the imagination, the possibilities, the thinking
Expand the vision, mindset, understanding, and ultimate success.
Michele's clients discover that if they are ready to embrace growth and change then they can breathe life into their dreams and make them a reality.
"Michele listened to my dream and step by step structured it into a vision that I have made a reality via Michele's guidance. Working with Michele was very pleasant and uplifting, she was always positive, inspirational, but challenged me in the right direction. What I have learnt from Michele is to think big and believe you can achieve, and you will make it happen. I would recommend to anyone and have, that if they are after an excellent mentor to get you heading in the right direction, with a clear focus and vision, call Michele Ripper."
Dale Brown – owner of Fabro
Michele really does listen and has had a wide range of experience in life and business. Michele's stories of her life and business are unique and she uses them to illustrate the underlying learning to great effect. She does things differently. She approaches problems in a brand new way which might surprise you but will certainly make you think about your life in a different way.
Michele knows what she is talking about! She walks the walk. She is a spectacular role model. - Robyn Edtmeir, Sparkling Self Care
Michele's passion and confidence attracted me to her coaching program. Michele has a unique approach. Her diverse background of professional experience makes her coaching knowledge invaluable. I looked forward to seeing Michele each session because her positive, action oriented attitude aligns very strongly with me. Michele is never rushed, she allows you to identify and discuss any issue until it is sorted or you are ready to move forward. Not a clock watcher.
Rachel Ripper, Rosedale family Dental
Michele, thank you for giving me back to me. Lyn Cooper
I know now that I can fulfil the dreams I was holding back through fear of the unknown."……….. Mary Sheehan-smith
Michele has a beautiful energy and love of life with a unique blend of style, culture and wisdom. If you need some help in discovering what's important in your life, achieving true happiness, or finding balance between work, family and all else, I highly recommend shouting Michele a coffee and starting the discovery
Ryan Leslie - Aerium
Date and time
Location
Refund policy
Contact the organiser to request a refund.
Eventbrite's fee is nonrefundable.
Organiser of Midday Mastermind - Reclaim your success (Building Confidence)