FREE Online celebration of the Chinese Mid Autumn Festival organised by the Chinese Association of Victoria (Australia)
About this Event
This year, the Chinese Association of Victoria (CAV) is going to be celebrating the mid-Autumn festival a little later than we had planned, but its still going to be a great time for the family.
Online Programme
25 October 2020
1:00 – 2:00 pm AEDT
The Legend of the mid-Autumn Festival Story
A mythical world with 10 suns. A super archer. A fairy. A beautiful wife. A love story. What could go wrong? How did this lead to Moon Cakes and Lanterns? Come hear and see what happens when Ramona narrates The Legend of the Mid Autumn Festival.
Lantern Making
Ever want to make your own Chinese Lantern? Ramona will show you some designs to make a working lantern, which you can personalise and light up for your friends to see!
Ramona will also take questions on Zoom, after the demonstration!
2:30 – 4:00 pm AEDT
Healthy Moon Cake Cooking Class with Lillie Giang
Who says Moon cakes are hard to make? Ever wanted to customise your own moon cakes to give to friends? Lillie will teach you how to make healthier and delicious moon cakes with less sugar and fat, using traditional skins as well as snow skin. DIY red bean moon cakes? Lillie will show you how!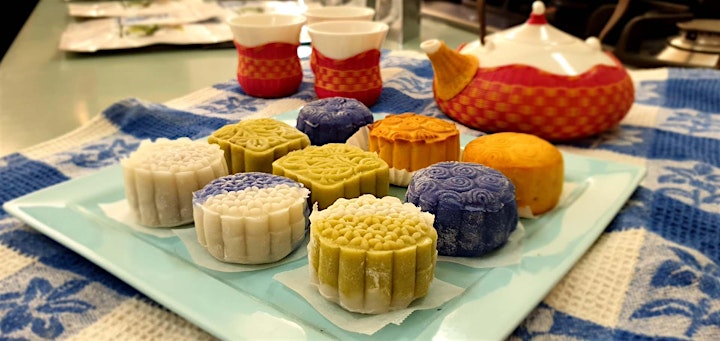 Lillie is going to try and make ALL these moon cakes in 1 hour. Can she do it? Does she use natural ingredients or a packet mix? Is she going to use lap cheong in her mooncakes??? Watch to find out. Lillie will stick around to answer live questions after her cooking class on Zoom.
Get the ZOOM link and Reserver your free spot HERE.
Chinese Lantern making competition
We are offering $300 in prizes to the top 3 home made lanterns. The competition opens at 2pm on 25th October and you have until 8th November to submit photos of your handiwork. Click here for the rules (available from 25th October)
Lillie's Mooncake recipe
Can be found at the CAV website. (Available from 25th October)
Tried the Recipe? Let us know!
Lillie has 3 gift packs from "My Blue Tea" to give away to the first 3 people that make the mooncakes and send photos in. Send your photos to us at admin@cavinc.com.au and let us know what you changed (if you changed anything).
Looking to make Pandan flavoured or Blue coloured Moon Cakes ?
Lillie told us about her Sydney based supplier "My Blue Tea" which stock these plant based products. They have kindly agreed to give us a whopping 20% discount if you use the coupon code "CAV20" with online check out. They did say "One time use. Not applicable for gifts". They provide free delivery for orders above $69/- (you can combine items).
Links are at www.cavinc.com.au/main/maf2020