Use Power BI to connect, transform and model your data. Then build interactive visualisations to gain insights to assist decision making.
About this event
Are you tired of wrangling slow and complicated Excel spreadsheets? Do you want to make better use of the data you already have? Then join us for this hands-on training workshop. You will learn the basics of Power BI Desktop, starting with connecting to your data, then modelling and transforming it.
Once your data is prepared, you'll use Power BI Desktop to quickly create real time analytics and visualisations to gain valuable insights for data driven decision making.
This is an introductory level course.
What you get
Class size kept to a maximum of 6 participants.
Qualified, experienced and approachable facilitators.
Training materials and take away practice files.
Lifetime post course support.
We encourage you to bring along your own laptop so you are familiar with its layout and functionality. If you do not have a laptop, we can supply one on the training day.
Microsoft Power BI Introduction Course Content
Introduction to BI
What is Business Intelligence?
Components of BI Software
The Power BI Product Family
Power BI Desktop Orientation
What is Power BI Desktop?
Setting up Power BI Desktop
The Desktop Window
Navigating Power BI Desktop
Connecting to your Data
Getting Data
Connecting to Databases
Connecting to Website Data
Connecting to Excel Spreadsheets
Transforming your Data
About the Power Query Editor
Removing and Filling Blanks
Setting Column Headings
Removing Columns
Replacing Values
Changing Data Types
Trimming Text
Editing Applied Steps
Data Modelling
About Relationships and Data Modelling
Viewing Relationships
Removing, Creating and Managing Relationships
Hiding Tables
Working with DAX
Creating Calculations
Creating Visualisations
About Visualisations
Using the Visualisations Pane
Adding Report Pages
Creating Tables
Creating Cards
Building Charts
Working with Maps
Custom Visualisations
Using Filters
Highlighting and Filtering Visuals
Defining Visual Interactions
Using Spotlight and Focus Modes
Setting Filter Levels
Top N Filters
Publishing Reports
About Publishing
Publhising a Report
Using Power BI Service
Sharing Reports
If you need to book a course after the ticket sales have closed, please get in touch and we'll do our best to accommodate you.
See here for terms and conditions.
Organiser of Microsoft Power BI Desktop Introduction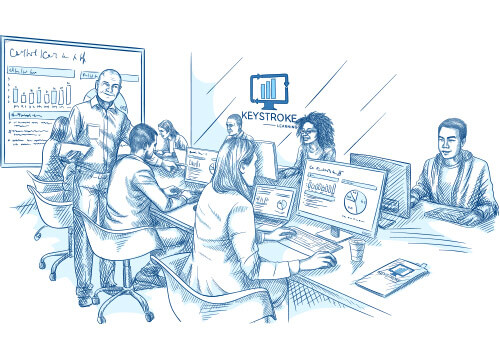 At Keystroke Learning our goal is simple, to provide an unforgettable learning experience. Our speciality is customised half day computer courses ranging from beginners through to advanced levels. We work with Microsoft Office and Adobe Creative Cloud applications, as well as the latest rapid development eLearning software. We focus primarily on skills that can be immediately applied in your workplace. As well as providing traditional training, we have developed innovative services such as Self-Paced Assisted Learning and Live Online Training.