A user friendly introduction to Excel, the world's most widely used spreadsheet application. Start with the basics and build confidence.
About this event
New to Excel, or just a bit unsure, then join us for a friendly introduction to the most widely used spreadsheet application in the world. During this interactive session you will learn how to use Excel for your daily business tasks.
You will navigate the interface, learn simple formulas and functions, then format your workbook ready for presentation and printing. Your instructor will relate the content to common workplace tasks so you can feel more confident in using the application.
This is a beginner level course.
What you get
Class size kept to a maximum of 6 participants.
Qualified, experienced and approachable facilitators.
Training materials and take away practice files.
Lifetime post course support.
We encourage you to bring along your own laptop so you are familiar with its layout and functionality. If you do not have a laptop, we can supply one on the training day
Microsoft Excel Introduction Course Content
Work with Formulas and Functions
Format your Spreadsheets
Learn Time saving Tips and Tricks
Excel Orientation
Exploring the Excel Interface
Finding and using Commands
Using the Quick Access Toolbar
Navigating Workbooks
Basic Workbook Techniques
Overview – the different uses of Excel
Creating New Workbooks
Entering and Editing Data
Selecting Data
Opening, Saving and Closing Workbooks
Using Formulas in Excel
Formulas vs Functions – what's the difference?
Creating Formulas
Finding Functions
Inserting Functions
Managing Worksheets
Naming Worksheets
Adding New Worksheets
Moving and Copying Worksheets
Deleting Worksheets
Formatting Efficiently
Manual Formatting Options
Using Cell Styles for Efficiency and Consistency
Preparing to Print
Page Setup
Margins and Orientation
Headers and Footers
Scaling
Previewing
Printing
If you need to book a course after the ticket sales have closed, please get in touch and we'll do our best to accommodate you.
See here for terms and conditions.
Organiser of Microsoft Excel Introduction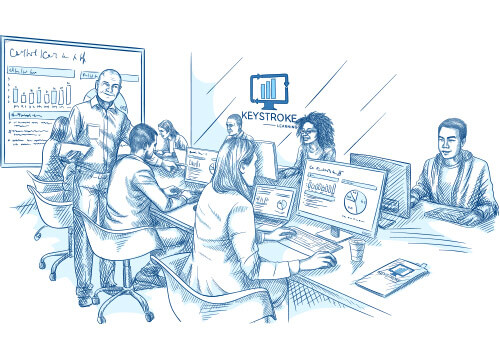 At Keystroke Learning our goal is simple, to provide an unforgettable learning experience. Our speciality is customised half day computer courses ranging from beginners through to advanced levels. We work with Microsoft Office and Adobe Creative Cloud applications, as well as the latest rapid development eLearning software. We focus primarily on skills that can be immediately applied in your workplace. As well as providing traditional training, we have developed innovative services such as Self-Paced Assisted Learning and Live Online Training.