Get more out of Excel with Lookups and IF Functions. Use Conditional Formatting to highlight important details, and work with Subtotals.
About this event
Build on your existing knowledge to more out of Excel with Lookups and IF Functions. Make your spreadsheets more visually accessible by adding conditional formatting and use linking formulas to consolidate data from multiple sheets.
If you work with lists, then you're in for a treat when you see how Excel tables work with your data. And VLookups? Please! We can go one better with Index and Match.
This is an intermediate level course.
What you get
Class size kept to a maximum of 6 participants.
Qualified, experienced and approachable facilitators.
Training materials and take away practice files.
Lifetime post course support.
We encourage you to bring along your own laptop so you are familiar with its layout and functionality. If you do not have a laptop, we can supply one on the training day.
Microsoft Excel Intermediate Workshop Course Content
Cell Referencing
Relative and Absolute References
What's the difference?
Relative References
Absolute References
Mixed References
Linking and 3D Formulas
Thinking in 3 Dimensions
Working with Multiple Worksheets
Building 3D Formulas
Creating Linked Workbooks
Updating Links
Lists, Tables and Subtotals
Sorting Lists
Filtering Lists
Lists vs Tables
Working with Subtotals
IF Functions
Logical Functions
Using True and False
Using Comparison Operators
Nested IF Functions
Building Nested Functions
Conditional Formatting
About Conditional Formatting
Applying Conditional Formatting
Using Data Bars and Colour Scales
Modifying Formatting Rules
Finding and Clearing Formats
Choose Function
Using the Choose Function
Lookup Functions
Using Lookup Functions
Lookup
VLookup
HLookup
Index and Match Functions
Using Index
Using Match
Using Index and Match Together
If you need to book a course after the ticket sales have closed, please get in touch and we'll do our best to accommodate you.
See here for terms and conditions.
Organiser of Microsoft Excel Intermediate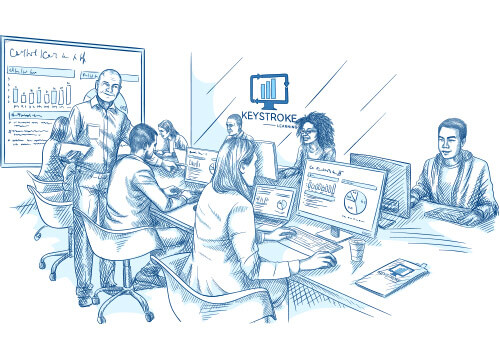 At Keystroke Learning our goal is simple, to provide an unforgettable learning experience. Our speciality is customised half day computer courses ranging from beginners through to advanced levels. We work with Microsoft Office and Adobe Creative Cloud applications, as well as the latest rapid development eLearning software. We focus primarily on skills that can be immediately applied in your workplace. As well as providing traditional training, we have developed innovative services such as Self-Paced Assisted Learning and Live Online Training.