Michael Simic (aka Mikelangelo) drops the persona and takes us on a journey deep into the gently beating heart of the crooner.
About this event
Internationally acclaimed singer, songwriter and entertainer, Mikelangelo, drops the persona and takes us deep into the gently beating heart of the crooner, from Dean Martin to David Bowie; Bing Crosby to Billy Idol; Roy Orbison to Chris Issak; Sam Cooke to Bryan Ferry; and of course some Elvis for good measure.
Simic also proves that the art of the crooner isn't a thing of the past, performing a collection of his own original ballads, love songs and lullabies.
King of the Crooners is a show that gives voice to the genuine tenderness that lives in the souls of men.
Join us from 6pm at the beautiful Old Tanja Church where food and drinks will be available to purchase (cash only), then settle in for a magical evening in the intimate company of the King of the Crooners.
Vegetarian Meals from 6pm
Baked Samosa $4
Honey baked Pumpkin Risotto $10
Spring Soup & bread $6
Chai $3
Sweets $3 - $4
Beer/Wine- $5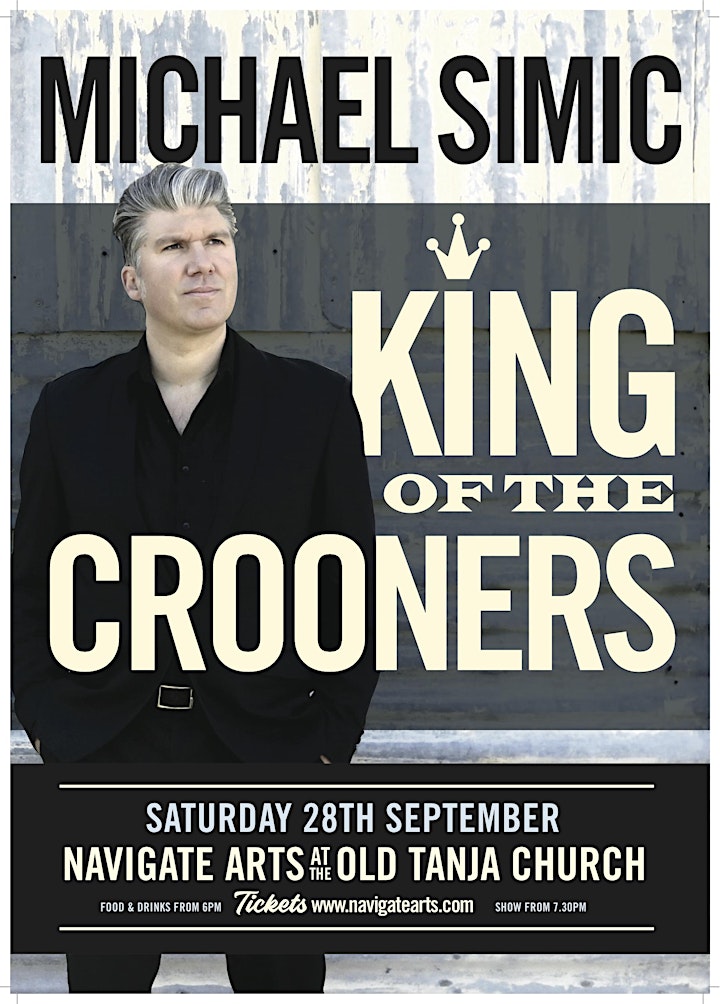 Organiser of Michael Simic- King of the Crooners
Navigate Arts is a new independent creative enterprise, established the Old Tanja Church, studios and surrounds in January 2019 as a new performance venue for artists, run by artists.
Artistic Director, Louise Morris and Technical Manager, Matthew Scott offer professional expertise in theatre direction, design and production, acting and performance education- with an emphasis on site-specific performance, public art events, installation as well as community arts practice.
Navigate Arts core vision is to provide a place, both literally and figuratively, to open up new communities of professional practice and collaboration for local emerging and professional artists. Central to this vision, is the multi-purpose functioning of the venue that is able to cater to the needs of artists from a range of disciplines, providing the opportunity for people of all ages and abilities to engage with professional and contemporary performance and art works in our regional community.