MGA Exhibition launch | Under the sun: Reimagining Max Dupain's Sunbaker
Description
Under the sun
Reimagining Max Dupain's Sunbaker
Under the sun is a large scale exhibition of new works commissioned by the Australian Centre for Photography from 15 artists responding to Australian photographer Max Dupain's iconic Sunbaker image. Artists include Peta Clancy, Christopher Day, Destiny Deacon, Michaela Gleave, Nasim Nasr, Sara Oscar, Julie Rrap, Khaled Sabsabi, Yhonnie Scarce, Christian Thompson, Angela Tiatia, Kawita Vatanajyankur, Daniel von Sturmer, Justene Williams and William Yang.
Exhibition Launch
Saturday 6 May
1pm Curator's talk with Claire Monneraye, Curator, Australian Centre for Photography
2pm Official address with Cherie McNair, Director, Australian Centre for Photography
All welcome. Please click register to rsvp.
MGA is thrilled to welcome Chain of Ponds Wines as our new Program Partner, please enjoy their wines responsibly at this event.

Under the Sun: Reimagining Max Dupain's Sunbaker
will be on display at MGA from 6 May - 6 August 2017.
---
UNDER THE SUN
Under the sun will explore views of our culture, our identity and our nationhood through works that will surprise, challenge and enthuse audiences. The mix of commissioned artists reflects Australia's multi-cultural, multi-ethnic and multi-faith nature, enabling a creative and often very personal exploration of the question 'is there something new under the sun?' These artists will contemplate, challenge and interpret the representation of Max Dupain's photograph – an icon of a particular time and a particular vision of Australian culture – while offering unique perspectives on what it could possibly signify in our current society.
Excerpt from ACP media release.
UNDER THE SUN: REIMAGINING MAX DUPAIN'S SUNBAKER is presented by Australian Centre for Photography in partnership with Monash Gallery of Art
This project has been assisted by the Australian government through the Department of Communication and the Arts' Catalyst—Australian Arts and Culture Fund and received the support of the following Commissioning Partners: John and Kate Armati, Andrew and Kate Jerogin, Lisa Paulsen, Neill and Jane Whiston, Medich Foundation.
---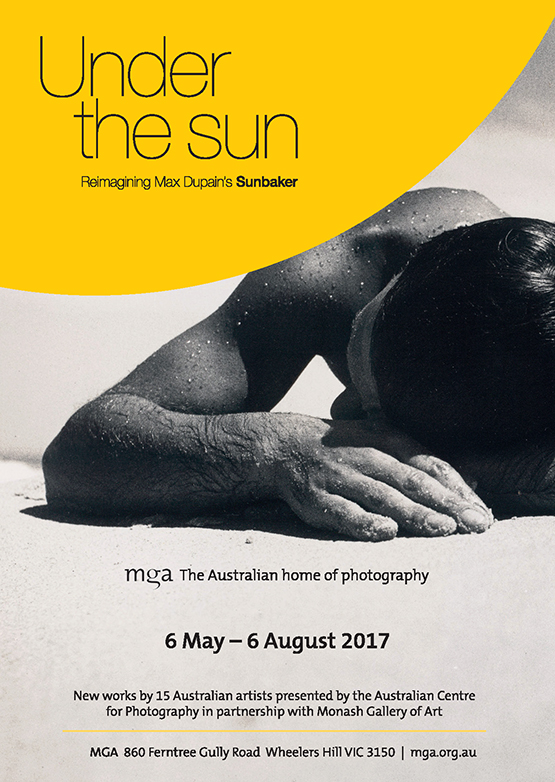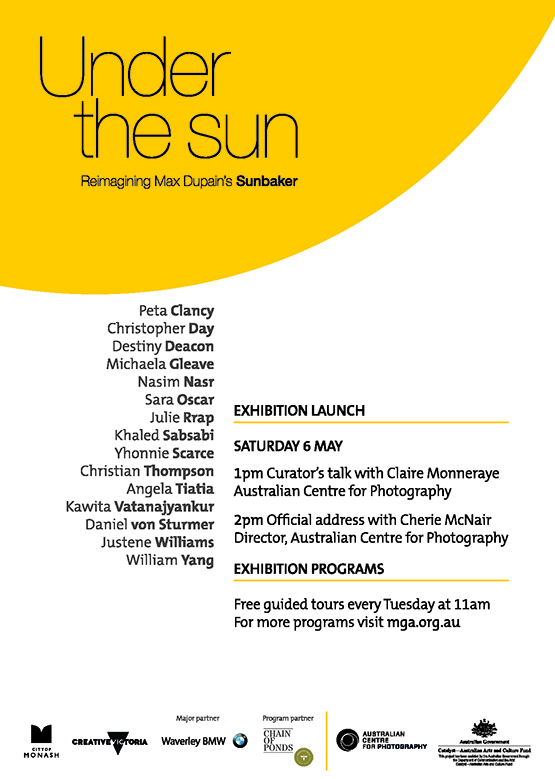 ---
Please note: you may be photographed at this event. Images of you may be used to promote the gallery both online and in print. Please advise a staff member at the event if you do not wish to have your photograph taken.