Description
Safe cycling – A Metre Matters
Serious injury crashes involving cyclists are increasing and the majority of injuries are due to crashes with motor vehicles. Safe passing behaviour, when drivers pass cyclists, is essential to reduce injuries and improve cycling safety for the community.
A Metre Matters is the Amy Gillett Foundation (AGF) campaign to improve the safety of cyclists across Australia, requiring drivers to allow cyclists a specific distance:
1m in speed zones of 60 kilometres per hour or less
1.5 in speed zones over 60 kilometres per hour
A MetreBox
To better understand what's happening out on the road, the AGF is working with leading experts to develop a MetreBox. The self-contained device fits under a bicycle seat and records information on every passing motor vehicle. The primary use case for the MetreBox is for researchers both in Australia and internationally, but there is also potential as a law enforcement tool and in the long term as a consumer device.
MetreBox Features:
Up to 4 hours of video footage of approaching traffic
Ultrasonic detection and recording of passing distance of traffic
GPS recording of the cyclist's route
Handlebar mounted button – cyclists can push the button to record when a motor vehicle has passed too closely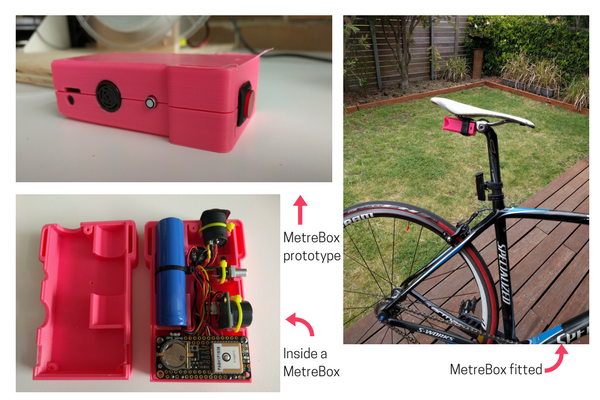 Research Study
The AGF has partnered with Monash University to conduct a research study to measure the distance motor vehicles pass cyclists on Melbourne roads. The study will provide critical insights into which road infrastructure types are the most effective in reducing crash risk for cyclists. The research team is multidisciplinary and includes leading cycling safety experts, engineers, software developers, emergency physicians and academics.
Next Steps
Ten MetreBoxes are now in the field within Melbourne and the trial is still in data collection stage with the current focus on scientific research and generating evidence that can be used to advocate for change to improve safety for cyclists.

Long term, the team aim to explore commercialising the MetreBox for public use (enforcement agencies and personal use). This long-term goal requires more work to ensure the data generated by the MetreBox could be used as evidence. This will require advancements in technology and collaboration with police and governments.

With that in mind, on Thursday 20th July we'll be hosting a meetup with the AGF and MetreBox teams to get input from the Melbourne tech community on three key questions:

1) What's the most efficient way to analyse the data?
The MetreBox is generating massive data (80gb per person). We welcome collaboration on the most efficient and accurate way to analysis the data. This is our top priority from a research perspective. Key issues include: data syncing tool, automated pass event extraction and classification and on/off road duration approximation.

2) How can we improve the MetreBox?
We welcome advice on how to improve the MetreBox, either tinkering with the current device or a step-change to a next generation device, e.g. smaller, lighter, waterproof, commercialisation. And estimation of resources needed (i.e. time, money).

3) How can we manufacture the MetreBox?
Currently, manufacturing is within the team in private facilities. We need to identify and contact manufacturers to scale this up in a cost effective way.
MEETUP DETAILS:
Thursday 20th July
5.30 - 7.30pm
Teamsquare - Level 4, 520 Bourke St 3000
Drinks and snacks provided
Attendance is free, but please RSVP before Wednesday 19th July.