Description
In the time of #MeToo, women's experiences of sexual harassment are finally being heard - but where to from here?
Join us for an evening celebrating International Women's Day as we consider women's rights and what action is being taken in our communities and the media to address gender inequality.
In a panel discussion with incredible women from across the community in politics, non-profits, law and activism, we will explore our collective power to respond to sexual harassment and sexism in all facets of our lives, and celebrate the breadth of our achievements thus far.
The evening will include:
A panel discussion with gender equality thought leaders

Nibbles and alcoholic and non-alcoholic beverages

Prizes including hair products and sterling silver jewellery

Your opportunity to network with like-minded people to support gender equality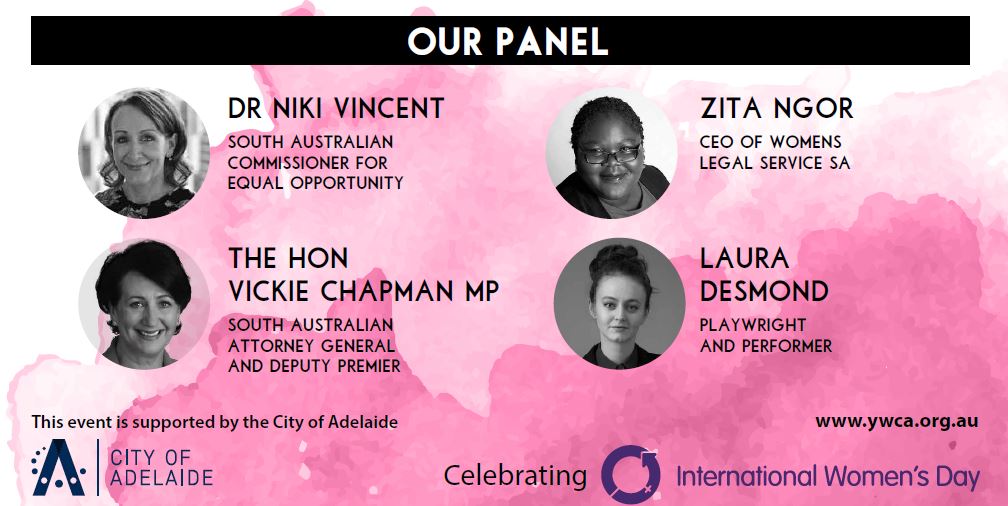 About our panel:
Zita Ngor, CEO of Women's Legal Service SA
Zita Adut Deng Ngor graduated with Bachelor of Laws and Legal Practice (Hons) and a Bachelor of International Studies in 2003. In 2009 she completed a Master of Public and International Law at Melbourne University and in 2018 she also completed a Master of Business Administration (Executive). Zita Ngor has an active interest in working with and advocating on behalf of disadvantaged groups within society. In 2001 she received a Centenary Medal for service to the community and in 2013 she was selected to one of three NGO delegates to the Australian Government Delegation to Commission on the Status of Women 57 (theme was elimination of all forms of gender based violence against women).
Dr Niki Vincent, South Australian Commissioner for Equal Opportunity
Dr Niki Vincent is the South Australian Commissioner for Equal Opportunity. She has statutory powers to assess and conciliate complaints of discrimination and to inform the community about their rights and responsibilities under equal opportunity laws. Previously, Niki held the position of CEO of the Leaders Institute of SA as well as concurrent appointments as an Adjunct Professor in the University of South Australia's Business School and as a member of the SA Remuneration Tribunal. She Chairs the Australian Council of Human Rights Authorities, serves on the national management committee of Play By The Rules and is a member of the Advisory Council for the Committee for Economic Development of Australia (CEDA).
The Hon Vickie Chapman MP, South Australian Attorney General and Deputy Premier
Vickie Chapman is the Deputy Premier and Attorney-General, with further responsibility for the Justice Reform and Consumer and Business Services portfolios. Vickie has held the seat of Bragg in South Australia since 2002, during which time she has been responsible for a number of key portfolios for the Opposition, including the Status of Women, Education, Health, Transport and Infrastructure.
Laura Desmond, Playwright and Performer
Laura Desmond is a playwright and performer who has been performing her solo work over the last two years. Her show, socially [un]acceptable, explores sexual assault from her personal perspective; challenging the culture of victim blaming and slut shaming, and has been performed in Scotland, Melbourne and Adelaide. Her new show Dr Selflove or: How I Learned to Stop Worrying and Love My Thighs is premiering at Adelaide Fringe this season.
Trans and non-binary people are welcome at this event.
This event is wheelchair accessible.
** YWCA acknowledges that we meet on the traditional Country of the Kaurna people of the Adelaide Plains and pays respect to Elders past and present.
---
For more information:
Please contact:
Claire Tatyzo - claire.tatyzo@ywca.org.au
This event is supported by the City of Adelaide