Description
Methodology on Fridays
A series of discussions for staff and HDR students interested in the practice and problems of educational research
This series aspires to be a forum for discussion and argument about research. We will focus on methodology conceived in the broad sense of the structure and process of inquiry: from questions and theory through to ethics and the techniques of data collection and analysis.
Each session will begin with a unique 'provocation.' The provocation is intended to set the tone of the session by identifying and articulating a research issue which the members of the group can debate. For some sessions the provocation will aim at a synthesis of issues raised in previous sessions, and may involve a reading to further the discussion.
Locations
Methodology on Fridays will be hosted at the following campus:

Burwood campus: Burwood Corporate Centre, Level 2, Building BC.


If you are unable to join us at Burwood, Methodology on Fridays will be hosted at the following campuses via virtual meeting point (VMP):
Geelong (Waurn Ponds) campus: Video Meeting Room IC3.108

Warrnambool campus:

Video Meeting Room D2.30 Video



If you wish to dial in from another location using your phone or Skype, you may do so using VMP 39322. Instructions will be sent to you via email after registration.


Friday 4 May
2.00pm - 3.30pm

Post Qualitative Inquiry: Methodological Murmurs, the Too Strange and the Too Much - Dr Leanne Coll and Dr Emma Charlton
Dr Leanne Coll and Dr Emma Charlton consider what counts as research. Using the below paper as a launch pad, and their recent publication in Sex Education, they will think through the (im)possibilities of post qualitative inquiry.
Please read the short and conversational article: 'Writing paralysis in (post) qualitative research' by Sarah Bridges-Rhoads.
Abstract: In this article, the author takes up the page as a site of experimentation with/against/through paralysis. Struck by the (im) possibility of untangling and taming a deconstructing inquiry to "write it up" as recognizable research, she writes, instead, to pursue previously unthought and unseen openings for thinking and doing qualitative work. The effect is an article that negotiates the tensions of doing qualitative research in the post(s) and questions the possibility and value of resolving such tensions.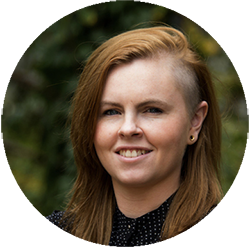 Leanne Coll is a Lecturer in Health & Physical Education at Deakin University. Her research interests with young people centre on the conditions of possibility for transformational learning related to gender and sexualities in schooling. She is particularly interested in the promotion of meaningful student involvement in education research through queer, activist and participatory research methodologies.



Dr Emma Charlton is a lecturer in education, and course director of the Associate Degree of Education, at Deakin University. She has previously taught in middle and secondary schools in Brisbane and London, and taught teacher education and education studies at the University of Queensland and Cambridge University, including units on middle schooling and gender studies. Her research focuses on issues of gender, social justice, alternative pathways and student engagement. Emma has conducted research in primary, middle and secondary schools, and universities looking at aspects of identity, transition, gender, pedagogy and curriculum.


Coming Soon!

Friday 1 June
Details TBC.


Friday 6 July
What Happens if We Ban Methodology? "Doing" in Post-Qualitative Research

- Dr Lucinda McKnight

Details TBC.


Friday 3 August
Making Educational Research Distinctive by Focussing on 'Education' - Associate Professor Scott Webster.

Details TBC.


Friday 31 August

Details TBC.


Friday 5 October

Details TBC.


Friday 2 November

Systematic Reviews, Evidence Synthesis and the Essay: How can we Make Sense of Reviewing the Literature?

- Associate Professor Margaret Bearman


Details TBC.


Friday 7 December

The Vicious Nature of Curiosity in Video-Based Research: The Need to Embrace Wonder

- Dr Joe Ferguson


Details TBC.