MESCA Online Project Briefing: Acciona and CleanCo
Sales Have Ended
Ticket sales have ended
Thank you for your interest in attending this event. Unfortunately registration has now closed. For information on future MESCA events go to the MESCA website www.mesca.com.au and look under 'Events and Information' or contact Steve or Cathy at info@mesca.com.au
Sales Have Ended
Ticket sales have ended
Thank you for your interest in attending this event. Unfortunately registration has now closed. For information on future MESCA events go to the MESCA website www.mesca.com.au and look under 'Events and Information' or contact Steve or Cathy at info@mesca.com.au
Please join us for our next MESCA Briefing for 2020. This month: Queensland Electricity Sector
About this Event
* This event is being held as an ONLINE Webinar *
Please Register to receive log-in details via email
Key Queensland electricity industry proponents Acciona and Clean Co will present to supply chain companies on the opportuntites and status of this expanding industry sector.
Acciona's New Project Director Mr Lars Hansen will provide an overview and update on the MacIntyre Wind Farm Project, currently in development near Warwick Queensland.
CEO of CleanCo Queensland Ltd Dr. Maia Schweizer will provide an update on ther ccompany's role as the Queensland Government's third electricity energy generator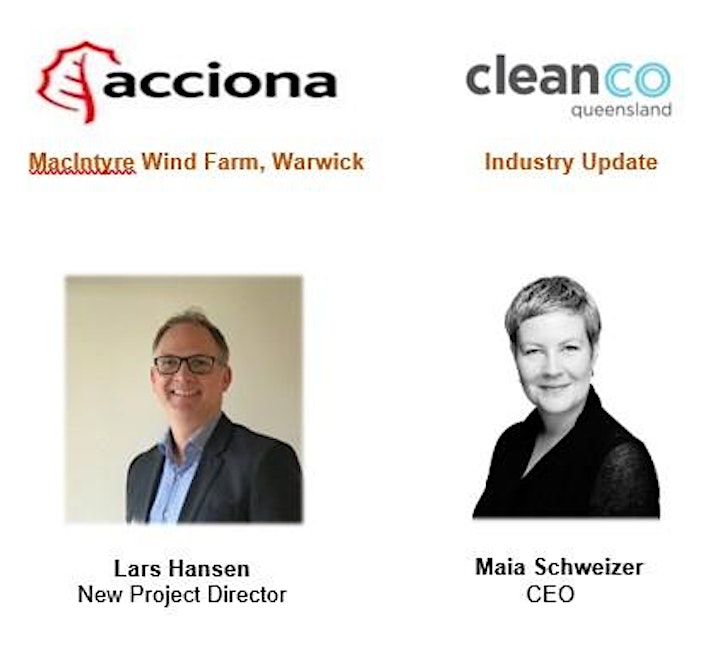 About the McIntrye Wind Farm Project
Located approximately 50 km South-West of Warwick and approximately 10 kms south of Karara, the proposed MacIntyre Wind Farm is expected to have an export capacity of approximately 1,026 MW and up to 180 turbines. Currently in the development phase, it is expected to be one of Australia's largest wind farms.
About Lars....
New Project Director Lars Hansen brings both domestic and international experience across the engineering and construction industries – with a focus on wind energy.
Mr Hansen is an accomplished and driven leader with a track record of building relationships with stakeholders and driving innovation. Mr Hansen shares his extensive knowledge and experience with industry peers at industry events such as the Australian Clean Energy Summit and EU Climate Diplomacy Day.
Lars will discuss the progress of the project, and discuss details of the supplier opportunities available to members.
About CleanCo Queensland
CleanCo is the Queensland Government's third electricity energy generator, with a mandate to partner it's flexible hydro and gas power plants with low cost new wind and solar resources to offer customers clean, reliable energy at competitive prices, while supporting jobs and economic opportunity in regional Queensland.
About Miai
Maia was appointed CleanCo Queensland's inaugural permanent CEO in September 2019. Maia has extensive global experience in the energy and infrastructure industries, including as a management consultant in McKinsey and Company's London, Houston, Shanghai and Sydney offices and as a general manager in Origin Energy's gas and retail businesses.
Maia's career began pursuing geoscience degrees, culminating with her being awarded a PhD from Oxford University
Maia will update members on the state of the industry and any emerging engagment opportunities
This briefing will procide MESCA members will valuable insight into this emerging and dynamic energy sector.
FAQs
Why has this event changed to an ONLINE Skype event?
Due to the COVID-19 outbreak and the associated public health risk of people travelling and gathering in large groups, MESCA has made the decision to hold all Project Briefings in the short-term as onlne events
How can I contact the organiser with any questions?
Please contact James Scotland, National Manager MESCA at James.scotland@aigroup.com.au with any questions regarding this event or any other matter.
Date and Time
Location
Refund Policy