MESCA Briefing Webinar: Malabar Coal & Komatsu
Sales Have Ended
Ticket sales have ended
Thank you for your interest in attending this event. Unfortunately registration has now closed. For information on future MESCA events go to the MESCA website www.mesca.com.au and look under 'Events and Information' or contact Steve or Cathy at info@mesca.com.au
Sales Have Ended
Ticket sales have ended
Thank you for your interest in attending this event. Unfortunately registration has now closed. For information on future MESCA events go to the MESCA website www.mesca.com.au and look under 'Events and Information' or contact Steve or Cathy at info@mesca.com.au
About this Event
* This event is being held as an ONLINE Webinar *
Please Register to receive log-in details via email
Malabar Coal and Komatsu will present to supply chain companies.
Malabar Coal's General Manager of Development and Operations James Johnson will provide an overview of their Maxwell Underground Project while Tim Webster, Manager - Engineering for Komatsu will discuss the company's involvement with Standards development as well as their COVID-19 response.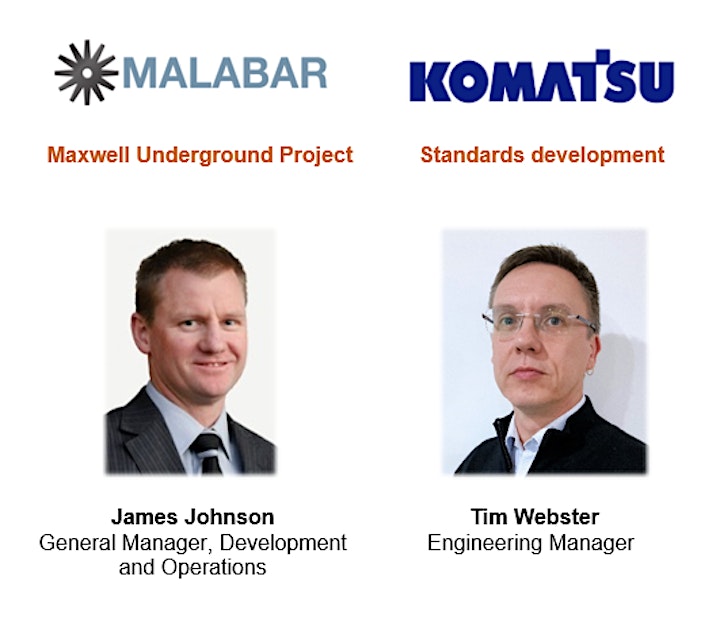 About the Maxwell Underground Project
Malabar Coal is seeking to develop the Maxwell Underground Project, an Underground Coking Coal Mine in the Hunter Valley. The Development Application and Environmental Impact Assessment for the project were submitted in August 2019 and are currently being considered by the NSW Department of Planning, Industry and Environment (DPIE). Detailed planning and engineering for the project are well advanced to ensure construction can commence immediately once the Mining Licence is issued. The operation will target four seams utilising a conventional high productivity Longwall to deliver up to 8 million tonnes per annum. The project involves the recommissioning of the substantial coal handling and train loading infrastructure at the Maxwell Infrastructure site (ex. Drayton) as well as significant construction activities related to establishing access to the underground mine entry area as well as surface to seam construction activities. The project will also require the procurement of all underground mining equipment required for a safe and highly productive Longwall mine. Malabar Coal is an independent Australian owned mining company based in the Hunter Valley
James Johnson is Malabar Coal's General Manager , Development and Operations. He has over 20 years of experience in the Australian coal mining industry and is highly experienced in underground coal. Starting his career at the coal face James has held several key management positions including Engineering Manager and Production Manager during the construction and production ramp up of Glencore's Ulan West Underground mine. Prior to joining Malabar in 2019, James was the Operations Manager at Glencore's Ulan Underground mine. As General Manager James is committed to developing and leading safe and efficient operations. Fitter by trade, James also holds a Bachelor of Engineering (Mechanical – Honours Class 1) from the University of Newcastle, Australia, and industry-recognised qualifications including Mining Engineering Manager and Mechanical Engineering Manager Certificates of Competency for NSW Coal.
About Komatsu
Komatsu is a leading global supplier of technologically innovative utility, construction and mining equipment, with operations, including sales, service, support and manufacturing, throughout the world. The company is heavily involved in Standards development, in particular EL-014 (Equipment for Explosive Atmospheres committee) and EL-023 (Electrical Equipment and Mines and Quarries committee). This presentation will provide insights into how other supply chain companies can be involved in Standard s development as well as take the opportunity to hear how Komatsu is responding to the COVID-19 challenge.
Tim Webster is the Engineering Manager at Komatsu Mining responsible for product safety and compliance. Tim has worked for Komatsu Mining since 1997 and moved to Australia from the UK in 2006. His roles at Komatsu during this time have focused heavily on explosion protected equipment used in the mining industry. Tim has been a representative for Ai Group on EL23 and EL14 since 2015 and was the drafting leader for the recently published AS/NZS 3800:2020 standard.
FAQs
Why has this event changed to an ONLINE Skype event?
Due to the COVID-19 outbreak and the associated public health risk of people travelling and gathering in large groups, MESCA has made the decision to hold all Project Briefings in the short-term as onlne events
How can I contact the organiser with any questions?
Please contact Steve Zeppa, MESCA National Manager at steve.zeppa@aigroup.com.au should you have any questions regarding this event.
Date and Time
Location
Refund Policy