MESCA Briefing Webinar: Countrywide Renewable Energy & Standards Australia
Sales Have Ended
Registrations are closed
Thank you for your interest in attending this event. Unfortunately registration has now closed. For information on future MESCA events go to the MESCA website www.mesca.com.au and look under 'Events and Information' or contact Steve or Cathy at info@mesca.com.au
Event Information
Location
ONLINE: Webinar
Australia
Sales Have Ended
Registrations are closed
Thank you for your interest in attending this event. Unfortunately registration has now closed. For information on future MESCA events go to the MESCA website www.mesca.com.au and look under 'Events and Information' or contact Steve or Cathy at info@mesca.com.au
Description
Please join us for our next MESCA Briefing for 2020.
* This event is being held as an ONLINE Webinar *
Please Register to receive log-in details via email
Countrywide Renewable Energy and Standards Australia will present to supply chain companies.
Countrywide Renewable's Managing Director Geoffrey Drucker will provide an overview of their H2TAS Hydrogen Project and Emilie Mortensen, Stakeholder Engagement Manager, Standards Australia will outline the priorities for 2020 in the mining sector.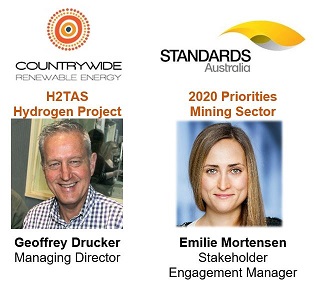 About H2TAS Hydrogen Project
H2TAS is a large-scale renewable hydrogen project based at Bell Bay in Tasmania's north. With an abundance of renewable energy from hydro and wind resources, a supportive state Government, a port to facilitate exports and a local economy keen to transition from diesel to hydrogen, Tasmania is arguably the most appealing state to build a renewable hydrogen project. With 2022 being the goal for first hydrogen production, the domestic markets in mobility, gas blending and diesel power displacement will be the Stage 1 targets, followed by the export markets of Japan and South Korea with Stage 2's expansion of the project.
Geoffrey Drucker's background in renewable energy exposure dates back to the State Electricity Commission of Victoria where he evaluated the renewable options available to the state. In 2015 Geoff commenced development of his first renewable project, a 29MW solar farm in north-east Victoria motivated by the local council seeking ways to improve energy security in the municipality to boost investment in new industries. As a result Geoff started working closely with local and state governments to develop projects that either sustain or grow their economy. In addition to the Tasmanian project, Countrywide Renewable Energy (CRE) is developing three renewable hydrogen projects in Victoria.
About Standards Australia
Standards Australia offers stakeholders from a variety of sectors a range of pathways to develop or update new or existing standards. In 2020, the organisation is looking at three strategic focus areas in relation to the mining sector. These are around mining automation, lithium and rare earths/critical minerals. Standards Australia's Emilie Mortensen will outline how supply chain companies can provide input into the development of standards in those areas, including how MESCA, as a nominating organisation, can support a company's involvement. Emilie is the Stakeholder Engagement Manager for the mining sector at Standards Australia. In this role, she is responsible for engaging and managing relations with government, regulators, industry groups and other key stakeholders to support the development of relevant Australian Standards within the mining sector. She holds a Master of Science degree in Economic and Business Administration. Her professional background is focused on consultancy and international relations. She has previously worked for The Danish Foreign Ministry and The United Kingdom Government Department for International Trade.
---

FAQs
Why has this event changed to an ONLINE Skype event?
Due to the COVID-19 outbreak and the associated public health risk of peopel travelling and gathering in large groups, MESCA has made the decision to hold all Project Briefings in the short-term as onlne events
How can I contact the organiser with any questions?
Please contact Steve Zeppa, MESCA National Manager at steve.zeppa@aigroup.com.au should you have any questions regarding this event.
Date and Time
Location
ONLINE: Webinar
Australia