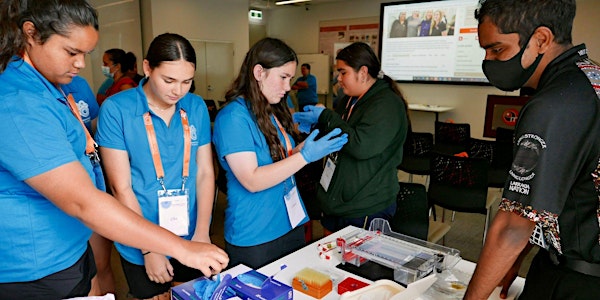 Menzies-Ramaciotti Centre National Science Week 'Laboratory Time!'
Location
Menzies School of Health Research - Royal Darwin Hospital
John Matthews Building (58), Rocklands Drive, Royal Darwin Hospital
Darwin, NT 0810
Australia
The Menzies-Ramaciotti Centre is hosting a half-day of science activities for high school students. Laboratory Time!
About this event
NATIONAL SCIENCE WEEK 2022
MENZIES SCHOOL OF HEALTH RESEARCH
'LABORATORY TIME!'
Are you a high-school student interested in finding out about what happens in a laboratory?
Then be sure to join us in the lab during National #ScienceWeek!
Come along to the Menzies-Ramaciotti Centre 'Laboratory Time!' event on Wednesday 17 August, 9am – 12pm at the John Mathews Building, Royal Darwin Hospital campus, Darwin NT.
This is a hands-on experience, where you'll get to do 'Laboratory time!' activities that are some of the most common microbiology and molecular biology techniques performed in modern laboratories. You'll also be able to find out about different career pathways in STEM in the NT.
Places as limited – be sure to register to attend today!
This event is open to all high school students across the NT. If you are located outside the Darwin region and wish to attend, please contact us.
For further information, please contact the Menzies-Ramaciotti Centre, on 08 8946 8635, or email menzies-ramaciotti@menzies.edu.au