Mental Health Stigma in Multi-Cultural Society & How It Affects Your Relationships
About this event
About this event
We want to change the way we have been thinking about mental health and its stigma in our multi cultural community. To create a sense of belonging, instil confidence by speaking up and knowing what to do, and where to seek support without fear and judgement.
In this webinar you will learn:
1st session
How stigma in the cultural community stops people from asking for help
The fear, embarrassment, and shame people have around mental health
Idea of being labelled sick if people are seeing a mental health professional
2nd session
How the marriage relationship can present certain mental health issues as well
How it shows up in a marriage in relation to domestic violence in its various forms
How it can impact other family members, i.e: the children
How dangerous this cycle can be however victims do not seek the necessary help due to stigma and societal norms/culture
How things can be done and what support is available
Kelly Lam, founder of The Feel Project is an Australian Asian registered mental health counsellor supporting young people who have trust issues, encouraging them to take control and be accountable for their mental health by advocating for themselves and seeking professional help.
Kelly specialises in cultural values, focusing on breaking free mental health stigma and breaking down intergenerational issues to help everyday people find the courage to speak up and make their mental health a priority.
Cynthia Nathan is a certified and trained Relationship Counselor and specialises in Pre-Marriage Courses, Transition to Parenthood programs-Bringing Baby Home & Couples Counselling.
She is passionate about helping your relationship thrive and believes that your relationship is the greatest gift for your child/ren. It's about the legacy you chose to leave for your family and generations thereafter.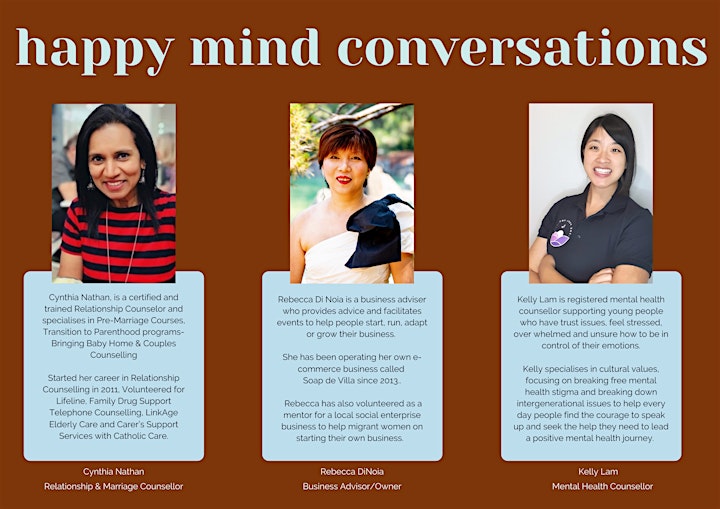 Organiser of Mental Health Stigma in Multi-Cultural Society & Your Relationships