Event Information
Refund policy
Contact the organiser to request a refund.
Eventbrite's fee is nonrefundable.
An autistic led and delivered three day conference supporting the mental health of autistic students and neurodirgent families.
About this event
Web Link: https://ylbmentalhealth.vfairs.com/
The Mental Health & Safety Conference is a three day online conference featuring autistic girls & women, gender diverse individuals and allies. Presenters will share stories, insights and information on a range of topics related to safety and co-occurring mental health conditions.
There is an option for attendees to attend the last day in Melbourne, otherwise attendees can continue to watch the livestream online.
This conference is sponsored by the Department of Education and Training Victoria.
The overall aim of the provide a platform for autistic individuals who can share practical strategies which will support improved mental health, wellbeing and positive autistic identity for autistic girls and gender diverse individuals throughout their schooling years and beyond. The following themes will be discussed:-Identifying key mental health risks of autistic girls at school-Intersectionality between mental health and gender and sexuality-Supporting neurodivergent parents-Cyber-safety (including latest technology such as Discord and Tik Tok) covering: the specific risks for autistic girls, an approach for school wellbeing teams and parents to work together to minimise risk, and develop intervention strategies.-A peer-to-peer tween/teen session, with autistic teens and young people presenting: covering how to navigate the common challenges autistic individuals face at school, including mental health, and also on building a positive autistic identity.
This is an autistic-led conference – with the majority of the speakers being neurodivergent/autistic. Importantly, it will also be focused on increasing the confidence of autistic girls and gender diverse individuals at school especially in self advocacy, safety and good mental health.
This dynamic three day conference will feature a hybrid mix of live-streamed and pre-recorded presentations you can watch in the comfort of your own home. You will gain exclusive access to the virtual foyer, to explore the conference room, chill room and meet the community in the supervised chat room.
What to expect:
10 robust panel discussions featuring a diverse range of autistic girls, women and gender diverse individuals
Over 10 individual presentations which will captivate, challenge and inspire
All day live discussions and take-home resources
Information from our supporters and partners.
An option to attend Day 3 in person in Melbourne (Moonee Valley Racecourse)
Once you register, we will arrange your own personal login details, so you can access the conference from your computer, phone or tablet.
You will enter a virtual foyer (just like entering a real conference) and you will be guided to begin watching the scheduled sessions. You will have an opportunity to explore the virtual conference, chill out space, and even enter our chat session to connect and interact with other attendees. Each session will be supervised by a Yellow Ladybugs team member.
For those who purchase the Face to Face/Online Combo ticket, you will be sent further details by email regarding the venue and logistics for attending Day 3 in person in Melbourne.
Online video content will be available for viewing for 30 days after the Conference.
Why girls?
We know that due to prevailing stereotypes and the gender bias in the current diagnostic tools, autistic girls and women are often missed. This is particularly the case for the many autistic girls and women (along with many gender diverse autistic individuals and some autistic cis-males) who have a more 'internalised' autistic presentation and whose needs are often hidden.
Whilst the theme of this conference comes under the umbrella of supporting autistic girls at school, we know that the content of the presentations will be relevant to autistic individuals of all genders including cis-female, cis-male, trans and non-binary, transfeminine, transmasculine, genderqueer, and other marginalised genders . Our speakers have a diverse range of gender identities, and we would encourage all our attendees to draw fully on this wide spectrum of experiences.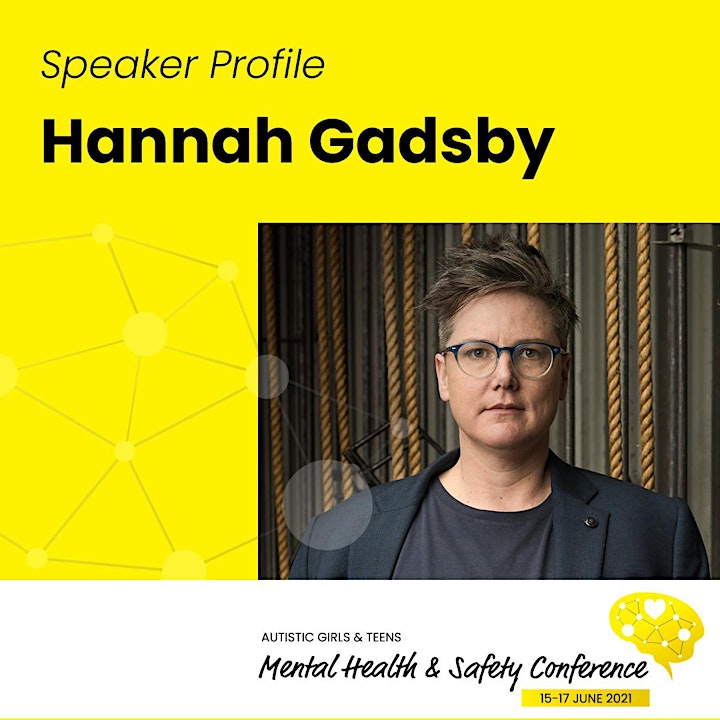 Refund policy
Contact the organiser to request a refund.
Eventbrite's fee is nonrefundable.
Organiser of Mental Health & Safety Conference
Yellow Ladybugs runs regular informal social events that offer peer-to-peer connections for autistic girls and gender diverse young people, generally between the ages of five and sixteen. Our events bring our members together in an inclusive, fun and sensory-friendly setting. Underpinning every Yellow Ladybugs event, our mission is to foster a sense of belonging, to help our autistic members connect with their peers, and to instil a sense of autistic pride within our community.
We are also committed to being part of the growing conversation around the specific challenges and support needs of autistic girls, women and individuals. We actively seek to address the many challenges the autistic community face, including barriers to diagnosis, lack of inclusion in school and employment, and access to support services.
Yellow Ladybugs is an inclusive organisation, and while we have a particular focus on autistic girls and women, we recognise all genders and welcome trans and gender diverse autistic individuals into our community. We consider that the different presentations of autism exist across all genders, and as an organisation, we seek to dismantle all stereotypes which are harmful to the autistic community. We know that autistic girls and women, and particularly those with hidden needs, and a more internalised presentation, continue to be significantly disadvantaged, however, and we remain committed to our mission to reduce these disadvantages