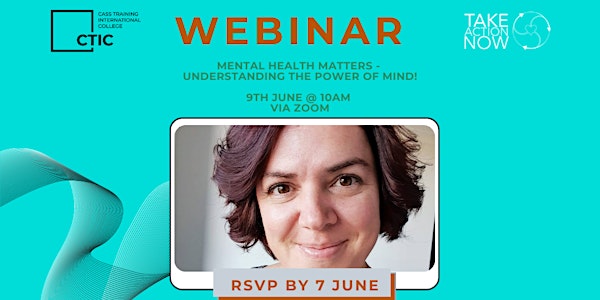 Mental Health Matters - Understanding the Power of Mind!
Sales Have Ended
Registrations are closed
Tickets have sold out for this event. Please contact Cristina at: marketing2@casstraining.com.au for more information.
Understanding the power of your mind will lead you to success, better social interaction, less pain.
About this event
This webinar will help you understand different ways of communication, waging influence, aid empowerment & create the body-mind connection and apply it in the relationship with yourself and others – personally & professionally.
Our guest speaker, ADRIANA Love is academically qualified in nutritional medicine, sociology, hypnotherapy and counselling and mental health.
As a holistic wellbeing coach, Adriana facilitates breakthroughs, guiding her clients form self-sabotaging behaviours to successful personal and professional outcomes.
Adriana is an internationally certified and recognised trainer of neurolingusitic programming, Time Line Therapy, NLP coaching and hypnosis.
Adriana is passionate to work especially with mental health issues (such as stress, anxiety and depression), with self-sabotaging behaviours (procrastination, perfectionism and addictions) and with un-resourceful states (anger, fear, guilt, shame).
Her strong belief is that people are not their behaviours and that if we are not in charge of our own minds, somebody else is.
Life continues to happen. And the learnings Adriana passes to her clients and students, aid their uncovering the power of their mind and their natural ability to change and to recover fast from any downfall.
This webinar is FREE for CTIC's partners!
Please RSVP by 7th June.