Online training to help you learn skills & gain confidence to assist people experiencing Mental Health Problems while learning how to help.
About this event
The Blended Online MHFA Community Course has been adapted from the Standard Mental Health First Aid Course for adults.
In this informative and practical course, you will learn about the signs and symptoms of common and disabling mental health problems in adults, how to provide initial help, where and how to get professional help, what sort of help has been shown by research to be effective, and how to provide mental health first aid in a crisis situation using a practical, evidence-based action plan.
Mental health first aid skills learnt by participants in this course can be applied in any setting. Course content includes case-studies, videos and resources tailored to the learning needs of community/public course participants.
Developed in response to COVID-19, the new Blended Online MHFA Community Course includes two course components.
Course Component 1 – Self-paced interactive eLearning (5-7 hours)
The eLearning course component presents an overview of mental health problems and mental health crises.
Developing mental health problems covered include:
Depression
Anxiety problems
Psychosis
Substance use problems
Mental health crises covered:
Suicidal thoughts and behaviours
Non-suicidal self-injury
Panic attacks
Traumatic events
Severe psychotic states
Severe effects from alcohol or other drug use
Aggressive behaviour
– This Instructor-led video conferencing will be delivered by our Principal Master Accredited facilitator with over 20 years experience working with individuals, couples and communities. (2 x 2.5 hour sessions) follows the completion of Course Component 1 – eLearning. Course Component 2 provides course participants with an opportunity to revise content covered in the self-paced eLearning program and to consolidate the application of this content with the development of practical skills in a group environment online.
This course is based on guidelines developed through the expert consensus of people with lived experience of mental health problems and professionals.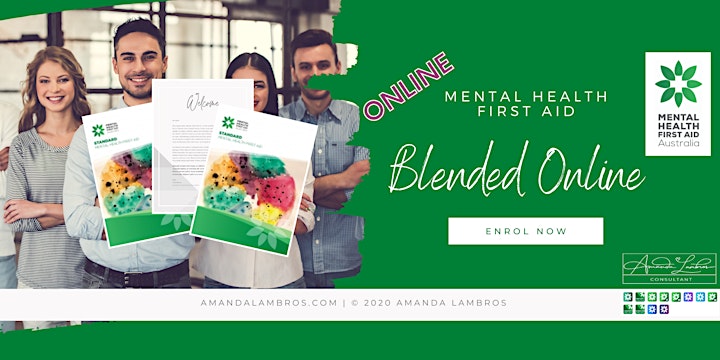 Organiser of Mental Health First Aid Blended - Online Training
Amanda Lambros is one of Australia's leading experts on relationships, mental health and grief and loss. She's a Certified Speaking Professional (CSP), Clinical Counsellor and Supervisor as well as an academic and trusted advisor, creating meaningful shifts and sustainable outcomes for life and business success. As a wife, mother of two and thriving business leader for over two decades, Amanda has walked an extraordinarily successful path. A speaker, author and mentor maintaining a private practice, while still consulting to Corporates globally and Universities across 4 countries, she shares her thought leadership with proven and powerful methods.
Amanda has a Masters in Counselling, Masters in Forensic Sexology, PG Diploma of Ethics and a BHSc in Health Sciences. Amanda works as a practicing Clinical Counsellor and an past Academic Unit Coordinator and lecturer and has a long academic career with Curtin University (WA), Griffith University (Qld) and National University (Singapore). Amanda is the Director of the Grief Recovery Institute of Australiasia and has consulted for corporate clients for 18 years using mental health and wellbeing knowledge and communication skills to improve growth. She is a contributing author to many books and textbooks including the awarded Evidence Informed Health Practice Handbook for Health Scientists (Wiley). Amanda holds a strong belief that we each have a responsibility to create mental health and safety for each other and for ourselves.