Description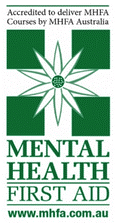 The Youth Mental Health First Aid Course runs over 2 days.
The course teaches adults how to assist adolescents who are developing a mental health problem or in a mental health crisis. Course participants learn about adolescent development, the signs and symptoms of mental health problems in young people (including depression, anxiety, eating disorders, and substance use), where and how to get help when a young person is developing a mental illness, and how to provide first aid in a crisis situation such as non-suicidal self injury or suicidal thoughts.
This course is delivered by our MHFA Master Accredited and experienced professional trainer.
Participants recive FREE a Youth Mental Health First Aid Manual and a range of FREE resources to take away.