A safe place to sit with other men and explore what it is to be a man these days
About this Event
We aim to create a safe space for men to be their raw unpolished selves and to express themselves without judgement.
A space to break free from societal beliefs, programming and limitations.
A space where participants have your back & hold you accountable for your shit and to stay on track with setting your personal goals and working towards them.
Work on oath setting and keeping that oath to yourself.
This circle will be held at The Medicine Wheel in Bondi Junction by Kane, Chris and Daryl.
This men's circle is for all men no matter where you are in life. It will be run in a somewhat shamanic style and allow for all to be heard and held in confidence as to what we will aim to work through. It will be a combination of workshop/circle/ceremony. We will have complimentary cacao if you choose to try and a small fire ceremony to let go of things we wish to let go of from within ourselves, also adding to the fire ceremony a manifestation segment where we will create an oath.
We feel it is important now more so than ever before in history to be part of a movement that allows men to be who we truly are.
We will explore what it means to be and embody positive masculinity.
We aim for you to get out of this a view and perspective of who you really are in society, to set yourself an oath to improve whichever area in your life that you choose and to be able to walk out the door saying (YOU) I Know Who I Am.
We will sit in a space and hear each other, express any concerns we may have and share our ideas and goals for our personal futures.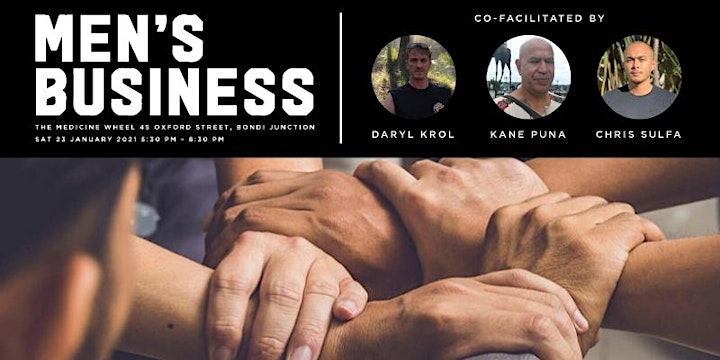 About the hosts:
Kane,
My name is Kane Puna. For the last thirteen years have been fortunate enough to be able to work in the healing arts. It has helped me grow as a person and also cross many paths of others personal journey relating to all matters of life. It is this experience I have learnt to hold space and gain more wisdom to communicate life challenges and the environments we find ourselves in. Really like to share that anything is possible when we find better ways to use our tools of experience and not feel lost in the confusion of it all. Like to understand in a healthier way that no matter how green the grass is the land we travel on can still feel barren wehen we are trapped in our past.
Chris,
Chris Sulfa is a Father, creative and idealist, passionate about personal and spiritual development. He is a creative in the fitness industry and an advocate for mental health, personal expression and self empowerment.
Daryl,
Daryl is a carpenter/builder who grew up in Sydney in a fairly mixed up and dysfunctional family that involved emotional and physical abuse. After ending up on the wrong side of the law a few times, He decided that He needed to sort His shit out. He went into some spirituality, the military, delved into some Shamanic practices along with becoming an animist and training in Plant Spirit Ceremonialist Training (under Sharon Bolt of Shamanic Energy Training), Certificate of metaphysics from (The Chiara College Of Metaphysics) Reiki Master Practitioner under (Usui Shiki Ryoho Reiki), and a few other things.
After a lot of healing and inner work or reflection, along with plant medicine He is ready to help others on their journeys.