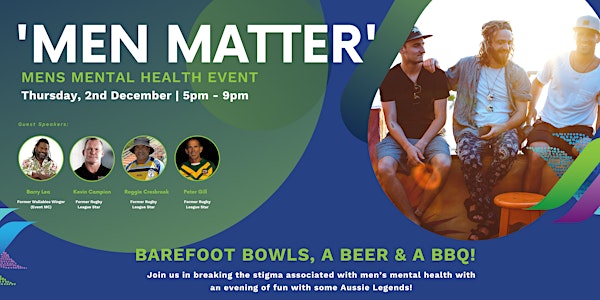 Men Matter - Men's Mental Health Event (Mackay)
Join us in breaking the stigma associated with men's mental health with an evening of fun with some Aussie Legends!
About this event
Barefoot Bowls, a Beer and a BBQ!
Come along to our Men Matter event and hear from former Wallabies Winger Barry Lea (our MC for the night)along with former rugby league greats Kevin Campion, Reggie Cresbrook and Peter Gill about their experiences with mental health. You'll also receive some practical advice and resources from local health professionals.
Places are strictly limited so be sure to book a spot for you and your mates asap!
This event is proudly supported by BHP Billiton.
Organiser of Men Matter - Men's Mental Health Event (Mackay)
About NAPHL
Northern Australia Primary Health Limited (NAPHL) complements the care provided by General Practitioners through our services and increasing capacity to manage complex care needs. NAPHL is a leading provider of Aboriginal and Torres Strait Islander, mental health and wellbeing and allied health services. Our services are open to anyone living in the Northern Australia region. The majority of our services are provided at little or no direct cost to our clients through Federally funded programs. We also offer fee for service for those clients who do not meet funded programs eligibility.