Location
Mount Remarkable
Melrose
Melrose, SA 5483
Australia
Melrose running, walking and wellness getaway
About this event
Overview
The Melrose Running Festival is a must do event if you love nature, running and exploring South Australia's beautiful Flinders Ranges in a small group with like-minded people. In preparation for the run, you will be given tips on tackling the course and taken for a guided walk over the first and last section of the course.
After the race, you will experience three of the best walks in the Mt Remarkable National Park. You will walk into the majestic narrows, dodge the 'alligators' inside Alligator Gorge and walk over the ripples of ancient seabeds. On the following day, you head to Hidden Gorge to be amazed by the high cliffs, amazing colours and spectacular views over Spencer Gulf. Along our journey you might spot the rare Yellow Foot Wallaby, Peregrine Falcon or maybe a flowering Spider Orchid.
Learn about the uses and health benefits of Ochre and relax with nature in a secluded section of the Park where we listen to the rippling sound of water as we soak our sore legs and smell the essence of the great outdoors. Throughout the walks, there will be regular breaks with ample opportunities for photos and to relax, listen and smell nature.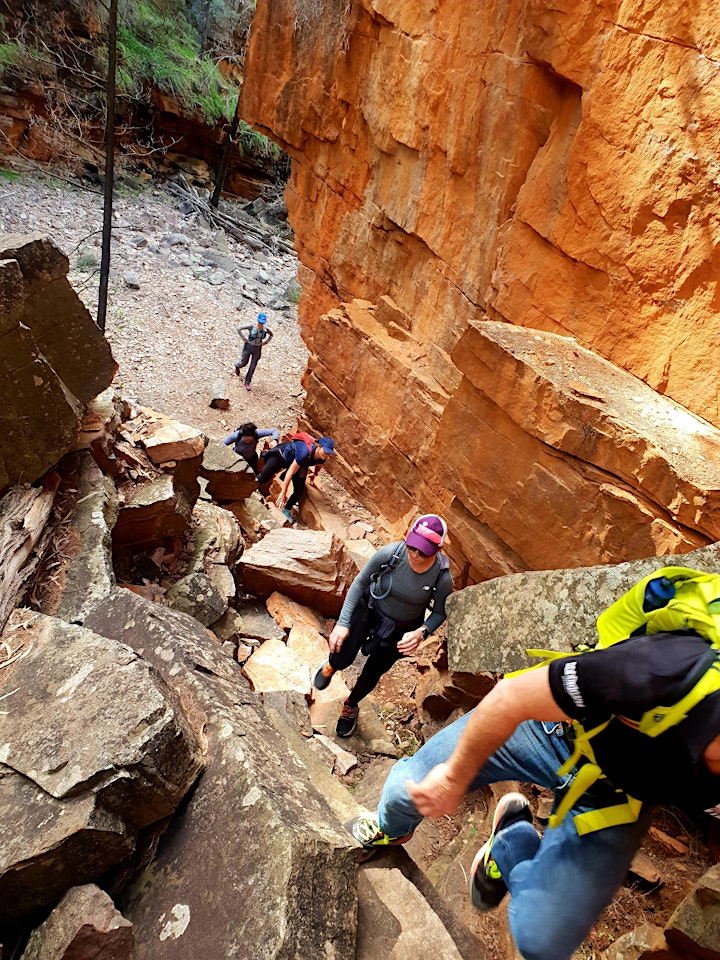 Melrose Running Festival, walkabout & wellness getaway costs and inclusions/exclusions
Cost per person $749* (shared accommodation in multiple buildings)
Inclusions:
Transport in a modern and comfortable 12 seater bus
2 nights shared accommodation at the unique and secluded Kookaburra Creek Retreat
Entry to Mt Remarkable National Park for 3 days
Entry to the Melrose Running Festival - 7km, 15km or 30km option
Three guided magnificent day walks
All meals: 2 breakfasts (continental breakfasts prepared by Guide), 2 lunches prepared by Guide and one lunch at famous Stone Hut Bakery), and 2 dinners (1 dinner at North Star Hotel and 1 dinner at Retreat prepared by Guide)
Qualified and experienced bushwalk leader, bus driver, and tour guide
*Min number of passengers apply for the trip to proceed and max 11 passengers
$100 deposit plus Eventbrite fee required to secure your spot.
Exclusions:
Travel Insurance
Food, drinks and snacks not listed in inclusions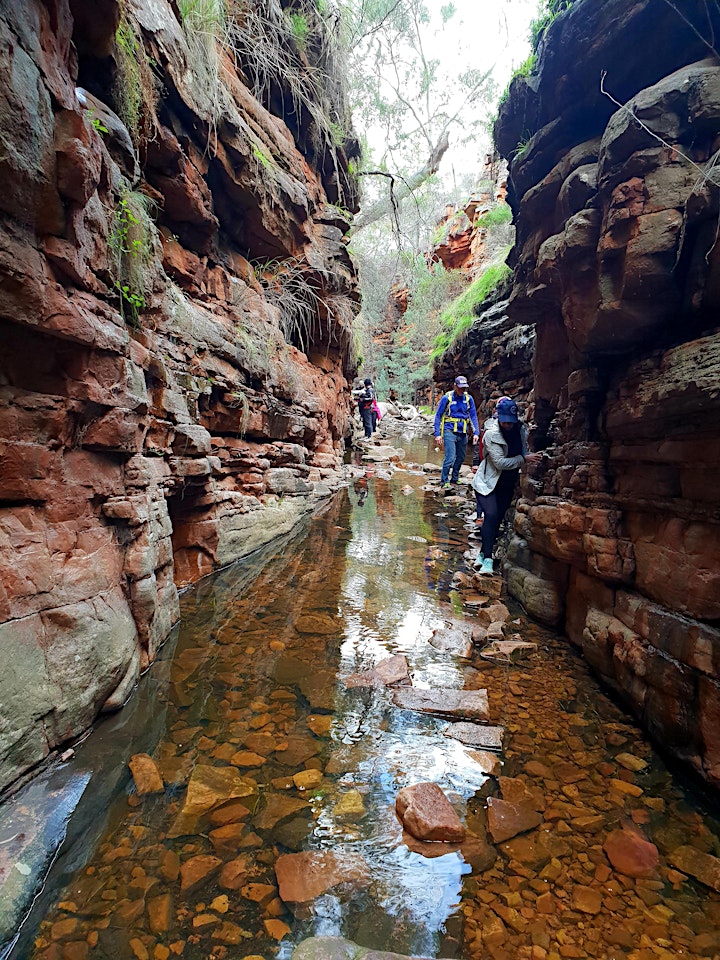 Highlights:
Lunch at famous Stone Hut Bakery (and wildlife park)
Pre-race dinner North Star Hotel
Compete in 7, 15 or 30km running festival
Walk through the Narrows, with amazing cliff colours and reflections
Walk through Alligator Gorge and over the ripples of ancient seabeds
Walk to and through Hidden Gorge and be amazed at the changing scenery
Spectacular views over Spencer Gulf from the top of the Battery Ridge
Accommodation at the secluded Kookaburra Creek Retreat
Campfire with camp oven dessert
Night walk around the Golden Orb Spider circuit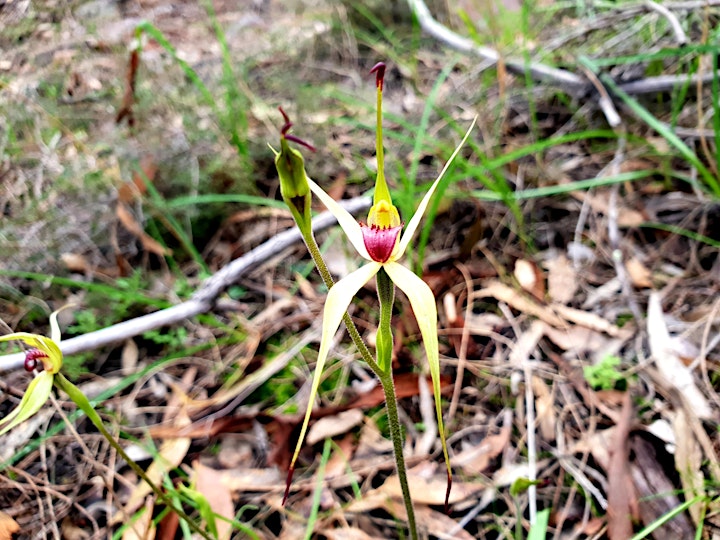 The rare Spider Orchid seen on the last getaway
Seven Senses Adventures Terms and Conditions
Full Terms and Conditions are provided at checkout and you are required to accept these before completing your booking.
We recognize that travel has changed as a result of COVID-19 and we want to assure you we are here to help you have a safe and wonderful experience. We have an approved COVID-19 safe plan and abide by all emergency management directives. We conduct frequent environmental cleaning and disinfection of all equipment.
We are a small family-run business and really appreciate your understanding that we incur many expenses in preparing for these tours. Your payment of a small non- refundable deposit allows us to book and hire equipment in advance to ensure we have the right equipment for your enjoyment and safety.
In the event of our cancellation, your deposit and any other payment you may have made to us minus non-refundable costs incurred by Seven Senses Adventures will be refunded, or, if you prefer, transferred to an alternative Seven Senses Adventures Tour.
Our terms and conditions and cancellation policy reflect this.
We suggest you consider appropriate travel insurance protection for your Tour to give you peace of mind if your travel plans are disrupted.

Secluded and unique Kookaburra Creek Retreat. We book the whole Retreat, which includes: Kookaburra House, Judith's Hut, Workshop/Loft, Cubby House, and the Bedford Bus.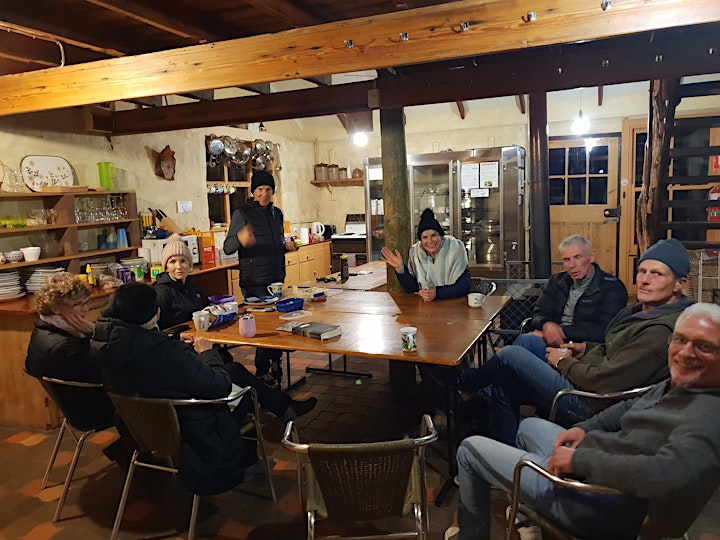 Dining room Kookaburra Creek Retreat