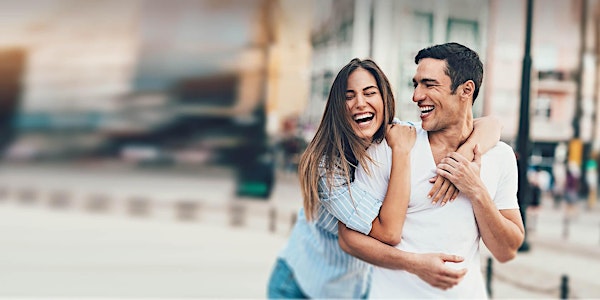 Melbourne Speed Dating Over 36-47s Singles Events at Melbourne Meetups
Location
Golden Monkey
Hardware Lane
Melbourne, VIC 3000
Australia
Don't Waste Time Online; Instantly Meet 15 Singles in Person at Social Speed Dating Bar Nights. Rotate Every 5mins & Meet Someone Fun & New
About this event
Melbourne Speed Dating Over 36-47yrs - Singles Events & Melbourne Meetups CBD
Single? 💔
Stop Wasting Time Online
Easily Meet Someone in Person & Feel Wanted ♥
- Over of Being Single?
- Tired of Apps and Online Dating?
- Rotate Every 5mins & Instantly Meet Someone New!
Want to Get Out More?
Be Introduced & Feel Included
YES I know it's hard, but we're all in the same boat ⛵
✅ Easily Meet Someone & Expand Your Social Circle
❌ Stop Having Your Time Wasted Online
End Pointless Tinder Swipes and Boring Online Chats 🥱
(Most come alone, or forward this to invite a Friend!)
Click here to view all upcoming Melbourne Speed Dating Events
Curious? Speed Dating Caught on YouTube 👇
What is Speed Dating?
Every 5mins You'll Rotate & Meet Someone Fun & New!
When you arrive there'll be a few minutes to settle in and mingle with the others while grabbing a drink from the bar
You'll be assigned a comfortable seating space and charming companion.
Enjoy one on one 5min chats with each match, that's roughly 12 – 15 conversations over the night.
❌Stop Feeling Rejected
The best part is there's no rejection 😀
Simply tick your dating card and receive your compatible matches details the next day via email.
Singles Events at Melbourne Speed Dating
36-47yrs (+/- 1 year is okay)
🥂 Bar opens at 6:30pm Wednesday the 9th of February at The Golden Monkey CBD Bar. 389 Lonsdale Street, enter via Hardware Lane, Melbourne VIC 3000
❤ We Start Speed Dating at 7pm Sharp & go till 9pm
✔ That's 2hrs of exhilarating chats, with time to mingle at the bar before and afterwards
Enjoy Your Privacy, I've Booked Us the Venue
There's no stress, you'll be introduced and prompted when to move
Mid way there'll be an intermission to go to the bathroom, pursue any favourable chats and grab another drink 🍸
More Speed Dating on YouTube 👇
Google Reviews - Melbourne Speed Dating
Join over 3740 happy participants at singles events with Melbourne speed dating. Google Reviews 👇
View Google Business Listing https://goo.gl/maps/E9vYdc8Twsdf2sqn6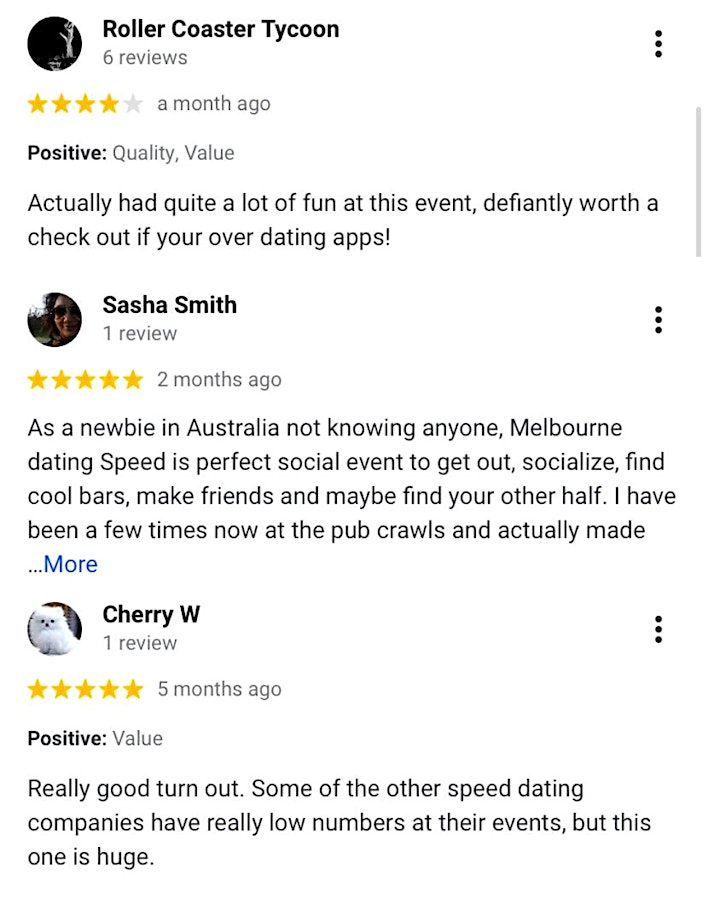 Still Unsure?
I get it, it's tough meeting new people...
But what if it felt natural?
EVERY RSVP brings you more conversations, building your social circle and confidence.
You've Literally Got Nothing To Lose:
I know you've tried dating before, But what if your next partner is just one 5min chat away?
At worst you'll have interesting stories, and what if maybe, just maybe you find someone who completes you... (do it!)
Why not take your first step, book your spot and smile 😊
What are the Events like? 🥂
View our last Meetup Singes Events on INSTAGRAM 📷
@MelbourneSocialEvents