Description
Join us for a memorable evening cruising the harbour of the most liveable city in the world.
The Bosnia & Herzegovina Futures Foundation (BH Futures Foundation) in collaboration with Bosnian Professionals Australia, IEEE La Trobe University Student Branch and the Engineering Society of La Trobe University bring you an experience you will not forget.
The BH Futures Foundation supports hundreds of talented and disadvantaged students in Bosnia & Herzegovina through scholarships, mentorship, leadership development, technology access, mobility, work experience, projects and community service. To date we have supported over 1000 students in B&H and we will share some of their stories with you. We are transforming the lives of the young people in a country that is in transition. We are showcasing Australian values and demonstrating what it means to ne compassionate. We do not discriminate against, race, religion or ethnicity and want to ensure that Bosnia & Herzegovina has a bright future by enabling young people to develop a prosperous and productive environment for themselves and future generations.
This is the second annual networking and fundraiser evening organised by our foundation and your support is crucial to the success and sustainability of this initiative. The evening will include a few very brief presentations including the founder of the foundation, members of parliament and prominent representatives of the community. Attendees will be served drinks & canapes during the evening while enjoying amazing views of the Docklands harbour, Williamstown and St Kilda. You will also have the opportunity to network with prominent business leaders, philanthropists, up and coming talent and participate in interactive fundraising activities.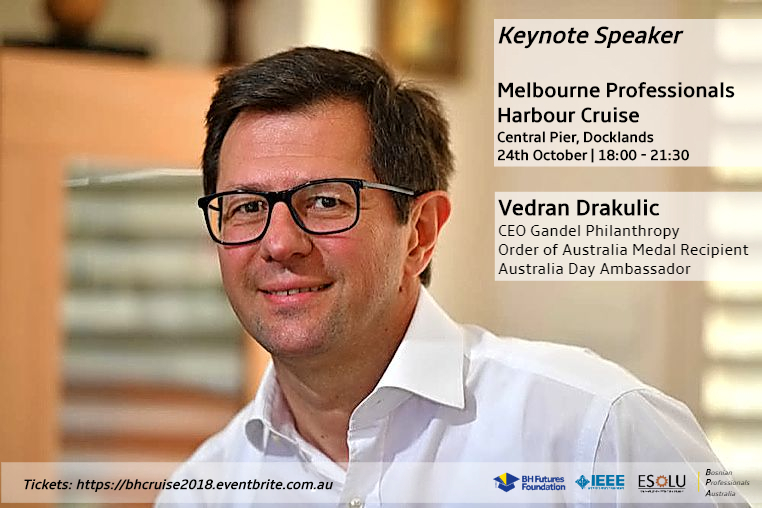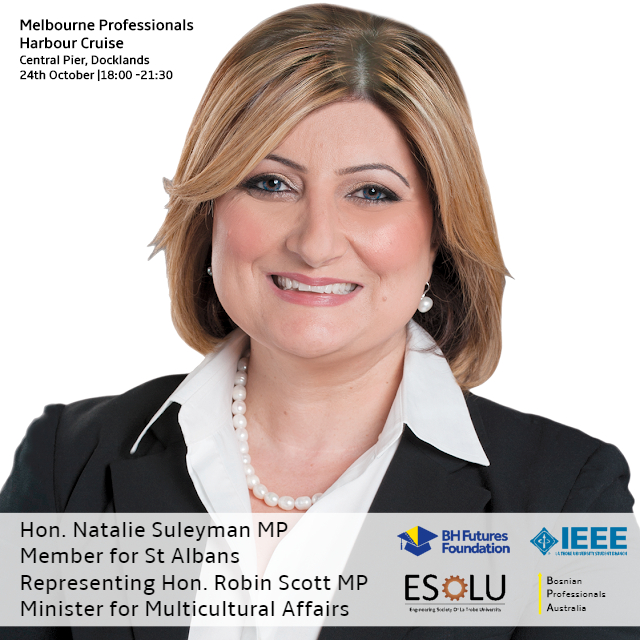 PROGRAM (Will be updated in coming weeks)
6:00 - 6:45 PM - Arrival, Networking
7:00 PM - Boat departure (PIER 14)
7.00 - 7.45 PM - Speeches
7.45 - 9.00 PM - Networking
9.00 PM - Prize draw
9.30 PM - Boat return (PIER 14)
Master of Ceremonies
Simon McCuskey - Simon MC, Master of ceremonies, television host and presenter.
The Vessel is located at - Berth 14, Central Pier, Docklands
The pier is located on Harbour Esplanade, sharing the pier with Alumbra Nightclub, Atlantic Group and The Woolshed Pub. The vessel is docked directly across the road from Etihad Stadium - look out for the red 'Channel 7' sign. Our volunteers will welcome you at the pier.
How to get there:

Public Transport: The closest train station, Southern Cross Station, has trains regularly, it is a mere 5 minutes to reach the vessel on foot. The D2 Central Pier tram stop is located on Harbour Esplanade, which is 1 minute walking distance (Route 35, 70,75) from the boat's departure point.

Car - There are multiple carparks nearby, including Etihad Stadium, Central Pier (Alumbra), Care Park, Secure Park and Wilson Parking but we advise that guests take caution with regards to traffic congestion, particularly at peak hour times. Furthermore, inner city events are often happening, which affect traffic flow so always prepare to arrive well in advance of your check-in time.
Dress Code - Smart casual / casual business
Photography & Video - Will be undertaken by one of Melbourne's most talented masters with the lens Nino Filipovic (http://ninophotography.com.au/). We will have two drones flying and taking images & video as well as roaming camera for images and video on the boat.
Note: All ticket proceedings and sponsorships will go the BH Futures Foundation scholarship fund
Contact: Eddie Custovic 0433 234 779 | info@bhfuturesfoundation.org