About this Event
.:*~*:._.:*~*:._.:*~*:.
M E L B O U R N E
.:*~*:._.:*~*:._.:*~*:.
When?
3 February, 11am-3pm
Where?
Bar SK - 90 Smith St, Collingwood
What?
A day of creative coding using Processing/p5.js or any other language. Bring what you're working on, bring your ideas - let's code something beautiful.
All levels of abilities, ages and interests welcome. Processing Aus/NZ mentors and volunteers will be available on the day for questions and assistance.
.:*~*:._.:*~*:._.:*~*:.
11:00 – 11:30 Introductions and Code Jam briefing
12:00 – 12:30 Live stream showcase (Brisbane, Wellington & Melbourne)
12:30 – 14:30 : Open session
- Be inspired: a series of our favourite Processing talks of all time
- Play: Explore the demos of work by local practitioners
- Beginner's workshop/worksheets: create at your own pace
- Work on your own project
- Code jam with friends
14:30 – 15:00 Wrap up + open mic to share work
15:00+ Drinks and beyond
.:*~*:._.:*~*:._.:*~*:.
Tickets?
$5 + BF * General admission (all ages)
Bring?
BYO laptop and/or anything you might want to play with on the day. Don't want to code? Just come see the demo screening and showcase! Tea/coffee and snacks will be provided. Bar will be open for business and delicious Bowl Bowl dumplings can be ordered to the premises.
.:*~*:._.:*~*:._.:*~*:.
*Please note, Bar SK has a strict capacity due to liquor licensing and wi-fi capabilities. If you can no longer make it, please cancel your ticket.
Showcase
Nine curated, local practitioners(three from each location) will present over live stream as we prepare to spend the day celebrating the love that is Processing. Check local events for times.
Demos
Local demos from inspiring minds; made with love and Processing. We're bringing a whole bunch of incredible experiments, artworks and games that inspires us to Bar SK for you to marvel in. Come stare, come drool, come play! ✨
SEBASTIAN BESWICK, CHRISTIAN FERRERO, EAMONN HARTE, MEL HUANG, DAN PARKINSON, REBECCA PROWSE, FIONA SANDERSON
Code Jam
As the uniting glue, all participants are invited to take part in the Challenge. Participants will be briefed a task at the beginning of the day and all submissions will be created into our very own Aus/NZ zine! Let's make something! Suitable and welcoming to all abilities.
Open Call
Selected submissions will have a 3 minute slot to show and talk about their work. Submissions open to anyone who's ever made anything with Processing(all derivations welcome ie. p5js, Python-mode Processing, Quil...)! Melbourne entries closed.
Want to get involved?
Hit us up on the PCD @ Aus/NZ Processing Discourse forum.
Questions?
Should you have any special requirements and questions, please email the team at pcd.ausnz@gmail.com with the subject line "Melbourne".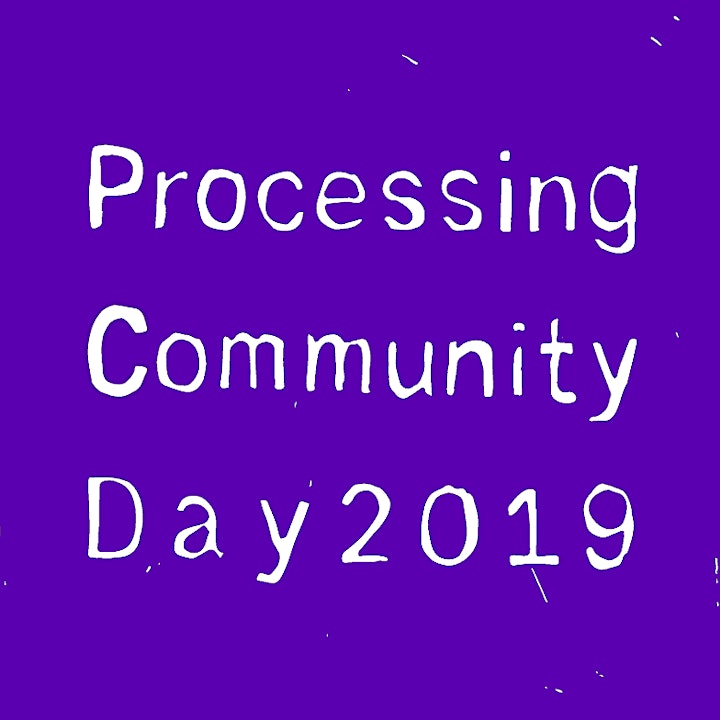 We are proud and official Node Organisers of Processing Community Day @ Worldwide events.
A day to celebrate art, code, and diversity —
Processing is a free and open-source software platform for learning how to code within the context of the visual arts, created by Casey Reas and Ben Fry. It is complemented by a web version, called p5.js, created by Lauren McCarthy. To date, Processing and p5.js are used by a worldwide community of artists, coders, educators, students.
The first Processing Community Day (PCD), organized by Taeyoon Choi and the Processing Foundation in 2017 was one of our efforts to improve diversity within the art and programming community. Taking place at the MIT Media Lab, PCD 2017 drew community members from all over the east coast to get together in person to meet, share what they're working on, to learn, and collaborate.
For PCD 2019, we would like to broaden the reach and impact of this community by organizing with hundreds of Processing communities around the world.
Code of Conduct
We like welcoming spaces, and everyone who wants to attend deserves that. All participants, organisers and volunteers, are required to agree to the PCD Code of Conduct. Full details including the defintions of Harassment and what to do if you feel that someone is violating this Code of Conduct can be accessed here