About this Event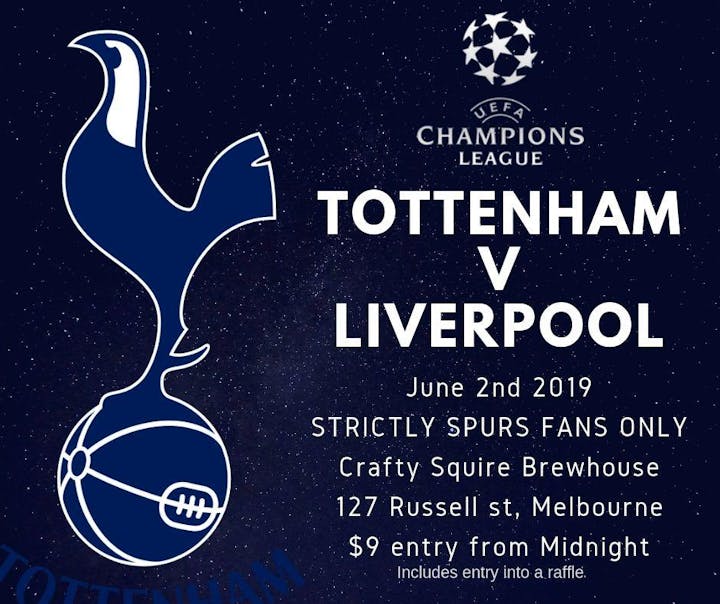 It's been a fairytail trip and now Spurs are in the Champions League Final. From the brink of elimination after just three matches, we relied on late goals to send us to the knockout stages. From there, is was a brilliant two-leg performance to see of Dortmund, before things got really wild.
We witnessed mayhem in Manchester, going goal-for-goal with City before we rode the last minute roller coaster from absolutely devastation to VAR-induced delerium.
That was just a taste of what was to come. 135 minutes of football against Ajax, 3 goals conceded and no goals for and it felt like our dream was over. But then. A split second that none of us will ever forget. In the 96th minute, Lucas Moura slides the ball in the Ajax goal, and off to Madrid we go!
We might be some 17,000km from Madrid, but Melbourne OzSpurs will be out in force for the final, and are delighted to have secured The Crafty Squire as the official Tottenham Hotspur pub for the final. Join us from midnight as the atmosphere builds. We will have classic matches on the screens and Spurs songs on the speakers. If you can't be in Madrid, this will be the next best spot.
Your ticket includes entry to the pub and an entry to our raffle to be drawn on the night (prizes TBC.)
Important: This is a SPURS ONLY event. U18s not permitted.
Full schedule:
12am: Doors Open
1am: Tottenham Hotspur Trivia (limited numbers)
2am: Chas & Dave and classic matches
4am: Pre-match Coverage
4:15am: STRICTLY LAST ENTRY
5am: Kickoff - Tottenham Hotspur vs Liverpool
Please direct enquiries to melbourne@ozspurs.com
COME ON YOU SPURS!