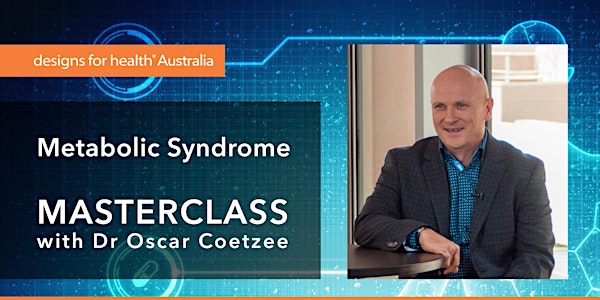 MELBOURNE Masterclass: Metabolic Syndrome—Clinical Nutrition – Assessment &...
Event Information
Location
Amora Hotel Riverwalk Melbourne
649 Bridge Road
Richmond, VIC 3121
Australia
Description
Metabolic Syndrome – Assessment & Treatment with Clinical Nutrition
Masterclass with Dr Oscar Coetzee, PhD Clinical Nutritionist
Transform Patient Outcomes with the Latest Clinical Insights and Protocols
Metabolic syndrome is increasingly common in Australia and worldwide. This increase is associated with the global epidemic of obesity, diabetes and cardiovascular disease.
With the elevated risk, there is an urgent need for clinicians to understand relevant strategies to prevent and treat this increasingly common cluster of conditions.
Metabolic syndrome can be a master of disguise and can occur with symptoms of:
Insulin resistance associated with excess abdominal weight
Glucose intolerance
Central obesity
Lipid abnormalities
Hypertension
Conditions such as PCOS and sleep apnoea can also be associated
Date and time
Location
Amora Hotel Riverwalk Melbourne
649 Bridge Road
Richmond, VIC 3121
Australia