Event Information
Refund Policy
Contact the organiser to request a refund.
Eventbrite's fee is nonrefundable.
Description
Become a confident, successful and certified Hypnotherapist!
Learn how to use the power of hypnosis to help yourself and others to

eliminate stress, stop procrastinating, boost motivation, stop smoking, stop overeating, manage pain

and much more!
Book your place in this limited seating training by 1 March 2020 and save with your early bird and bring a friend offers! Be quick as our previous trainings sold out!



Would you like to:
Start a career/business as a Hypnotherapist helping others to address the three most common areas people see a hypnotherapist: stop smoking, reduce weight and decrease stress?

Help yourself and others to also increase their motivation, improve concentration and study success, and change other undesired habits?

Learn self-hypnosis and the most effective ways to give yourself and others powerful suggestions for success?

Learn about the power of your unconscious mind and how to program it for success?

Experience the benefits of hypnosis for yourself and learn how to use these powerful tools to empower yourself and others?

Be certified as a confident and successful hypnotherapist helping clients to improve their health and their lives?


During this 3-day weekend certification training you will:
Learn how to in just 2 sessions you can assist your clients, family and friends to stop smoking, reduce weight, decrease stress, do self-hypnosis and more.

Receive word for word scripts and step by step processes to assist clients with the above issues, plus pain control

Practice the new scripts/techniques as a Hypnotherapist so you have the confidence in assisting others

Learn about the power of suggestions and techniques to determine the best suggestions necessary for your clients to achieve best success

Receive 3 full days of training, hands on practice and experience in these new Hypnosis techniques and personally benefit from addressing any of the above areas

Learn how to do successful follow up sessions with your clients

Experience the scripts/techniques as a client and personally benefit from addressing any of the above areas

Be personally taught by Dr. Vesna Grubacevic and receive direct feedback from her to empower you to be an excellent Hypnotherapist

Learn the keys to effectively marketing yourself as a hypnotherapist

Plus more!
And the most exciting part is that just like our past graduates you will learn all this and more and find yourself easily understanding and using these tools before you leave the training! Our accelerated teaching techniques will ensure that you will be able to easily learn and use all this to help yourself, your family, your friends and your clients too!
Using more traditional hypnosis techniques can take longer to learn and to master. With Qt's New Hypnosis Certification Weekend Training, you can learn to master easy to learn and use hypnosis techniques more quickly and with great success.


What is hypnosis?
Hypnosis is a well-respected discipline, its use dates back to before 1500 AD and today it is being used by medical doctors, dentists, surgeons, therapists, other health practitioners and sports athletes. Many individuals are using hypnosis and also learning self hypnosis techniques to assist them to tap into their unconscious resources and to change long term habits and behaviours.
Hypnotherapy techniques are being increasingly applied in personal relationships, business, therapy, education, health care, sport, entertainment and the arts. Anyone interested in personal development, improving their personal and professional life and/or empowering others will benefit from learning these techniques.
This training is ideal for you because during this training you will personally experience hypnosis for yourself, as well as learn how to and use hypnosis with others. This training is ideal for a novice without any experience, just starting their journey in hypnosis or for existing complementary health practitioners/coaches/counselors wishing to add hypnosis to complement their existing skills.


Forget boring lectures, theory and endless hours of taking notes!
Instead,

gain hands on experience

from day one of this training.
In this practical hands on training, you will learn by doing. This training is packed with practical application where YOU practice the hypnosis techniques and develop your confidence to help others. So by the time you complete your training you will have the skills and the confidence to help others to stop smoking, stop overeating, eliminate stress and more… using simple and highly effective hypnosis techniques. This training is designed so that the techniques are so easy for you to learn, practice immediately and master, so that your learning will also be a fun and enjoyable experience!


The most personalised training you will experience… with

only 12 students in class

receiving direct feedback and attention from your Hypnotherapy Trainer!
This training is:
hands on, packed with practical application where YOU will practice the hypnosis techniques and develop your confidence to help others

taught and supervised by Dr. Vesna Grubacevic, (founder of Qt and your Trainer). She is a certified Trainer of Hypnotherapy, who holds a PhD in Clinical Hypnotherapy, has over 19 years' experience as a Clinical Hypnotherapist and Trainer, has run well over 70 NLP and Hypnotherapy certification trainings, has trained many successful hypnotherapists and has a proven track record of success. Dr Vesna has a 100% success rate in certifying students in all her trainings so that you can rest assured to succeed too.
designed so that the techniques are so easy for you to learn, practice immediately, and grow your confidence in helping others

empowering of you before, during and after your training

all inclusive with your personal manual containing all the scripts/techniques, plus your Hypnosis text book (yours to keep and use as a reference after this training), certificate of completion and after hypnosis certification training support.
Client Testimonials
Here is a small snapshot of some of our client success stories and testimonials. You will find more on our website www.qttransformation.com
I attended the Hypnosis Certification weekend and was absolutely delighted with the outcome. There were a few people who attended with me who had done long Hypnotherapy courses from popular institutions and proclaimed the intensive Course run by Vesna and QT was greatly superior and more comprehensive. I thoroughly enjoyed course, the content and the way it was presented. Vesna's style of facilitation and delivery was highly professional and detailed. I feel fully equipped to support my Executive Coaching programme with hypnotherapy for Stress Management and am thrilled with the knowledge I have obtained. Thank you QT and Vesna for the knowledge and experience.
Beata – Executive Coach, Business Owner
I was bit skeptical about the Hypnosis course simply because I was not convinced that three days was sufficient for someone to learn hypnosis. This changed on day one when Dr Vesna through her support and guidance made it possible for me to learn it on day one. The experience was exhilarating and surreal for me not only because of the thought that I could essentially implement positive changes in me but also on how I could empower others to achieve their goals. Dr Vesna was very approachable and kept us engaged. The lively atmosphere made learning fun. I thoroughly enjoyed the course and would highly recommend it to anyone who is curious about hypnosis. They will not be disappointed.
Tilly – Manager, Finance Industry
I was fortunate enough to attend Vesna's hypnotherapy course this year, and it exceeded my expectations in every way. By the end of the weekend I was fully equipped to embark on my own hypnotherapy practice, as the course was clear, concise, and immensely practical. Vesna was unfailingly positive and encouraging, so I felt thoroughly confident with my new skills. The accompanying notes were comprehensive and easy to understand, and I also emerged from the weekend feeling personally empowered. The follow-up and support that Vesna provides is also superb, and most welcome. I would thoroughly recommend this course to anyone seeking to help others using this beautifully simple technique. Thank you, Vesna!
Pam - Hypnotherapist and Reiki Practitioner
I attended the New Hypnosis Certification weekend training with Dr. Vesna from Qt, and the day after completing my training I saw my first hypnosis client. I was excited to be able to assist this client to stop her teeth grinding and to deal with stress is just one hypnosis session. My client is thrilled and I already have other clients waiting to see me for weight reduction and other health issues. I am amazed how much I learnt in just one weekend and how quickly I was able to help my clients. Thank you!
Nancy - Hypnotherapist
Thank you so much for this wonderful opportunity you gave me to study in hypnotherapy. I really enjoyed this class in many aspects, first of all, your passion and dedicated to this training as a professional, that's great!!! Also I found the class full of interaction - your response to our questions – emphasized the practical points and enjoyment too!. You made this class perfect harmony.
Dr. Kwan – Medical Doctor, Thailand
I recently attended a training weekend conducted by Dr Vesna Grubacevic of Qt. What a delightful experience it turned out to be. I am a retired Clinical Psychologist/Hypnotherapist with 30 years' experience. It was so motivating that I felt a spark of excitement that I haven't had for a long time. A very supportive experience with great follow up. Thank you Vesna.
Henry – Clinical Psychologist and Hypnotherapist
Thank you so much for the wonderful training - I learnt the hypnosis techniques very quickly and found the training very extensive, informative, empowering and enlightening. It was great and I am already getting great success personally and with clients.
Kim – Massage Therapist
Thank you for the opportunity to attend your weekend hypnotherapy training. I thoroughly enjoyed the well-structured course and found it a great opportunity to reflect upon and refine my current hypnotherapy practice. I also appreciated your individualised and student centered approach to the training. With thanks ...
Dr. Amanda – Hypnotherapist, Speaker, Medical Researcher
Certifications and Associations
After successful completion of this hypnosis certification training, you will receive a certificate of completion from Qt and you will also have the option of applying for certification from the American Board of Hypnotherapy – one of the largest certifying boards in the world, giving you international recognition as a hypnotherapist. Certification through the board is currently US$120 per year.

In addition to certification, upon successful completion of your Qt training, you will also have the opportunity to receive international accreditation and professional indemnity insurance to operate as a hypnotherapist in Australia. After successfully completing this training you will automatically receive Recognition of Prior Learning towards further training with us.

Then upon successful completion of further training with us, you will also be able to receive the following qualifications and professional recognition: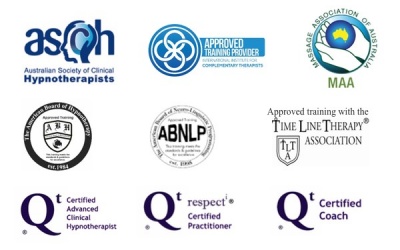 Your training includes:
your training manual and your hypnosis text book, yours to keep and review as a valuable reference after your training

personalised live group training (with a maximum of 12 students in training) in Hypnosis techniques over 3 days

personalised attention from your Melbourne based local Trainer and our fully trained and qualified assistants in a fun and supportive environment

practical sessions so you can apply your newly learnt skills immediately and also personally benefit

after training support

certificate of completion so that you can then join one of the world's largest certifying bodies in Hypnotherapy as well as receive Australian recognition as a hypnotherapist and also receive professional indemnity insurance

light refreshments

free bonuses

free all day parking near the venue
Prices:
Normal price per person (book your place after 1 March 2020): $1,095
Early bird price per person (until 1 March 2020): $795
Early bird price per person, when 2 people book together (until 1 March 2020): $695
Early bird price per person, when 3 people book together (until 1 March 2020): $595
For groups of 4 or more please contact the organiser for special group offers.
When:
Friday, 20 March 2020: 9 am to 6 pm; and
Saturday, 21 March 2020 : 9 am to 6 pm; and
Sunday, 22 March 2020 : 9 am to 6 pm (AEST)
Remember to book your place by
1 March 2020

as there are only 12 students in this training and our previous trainings sold out quickly!

Where:

East St Kilda (just off Dandenong Road, with nearby trams and free all day parking). Full venue details upon registration., East St. Kilda, VIC - View Map
Are You Ready to Help Others and to Be a Successful Hypnotherapist?
If you are ready to develop your confidence and skills to help others with hypnosis, join us at our next Hypnosis certification training.
Remember to book your place by

1 March 2020

as there are only 12 students in this training!
©Qt, 2000 – 2019. All Rights Reserved. All rights reserved. These materials and all information contained herein are subject to copyright laws. No part may be reproduced, adapted or otherwise copied in any form or by any means without prior written permission from the copyright owner.