Event Information
Location
The Paddock - Fed Square
Batman Avenue
Melbourne, VIC 3004
Australia
Melbourne Holi Festival of Colours 2022
About this event
Now in its 3rd year in Melbourne CBD, we're excited to bring you a day-and-night Holi Colour Festival.
On Sunday 20th March, 𝙈𝙚𝙡𝙗𝙤𝙪𝙧𝙣𝙚 𝙬𝙞𝙡𝙡 𝙬𝙞𝙩𝙣𝙚𝙨𝙨 𝙤𝙣𝙚 𝙤𝙛 𝙩𝙝𝙚 𝙗𝙞𝙜𝙜𝙚𝙨𝙩 𝙖𝙣𝙙 𝙢𝙤𝙨𝙩 𝙘𝙤𝙡𝙤u𝙧𝙛𝙪𝙡 𝙄𝙣𝙙𝙞𝙖𝙣 𝙛𝙚𝙨𝙩𝙞𝙫𝙖𝙡𝙨 and experience all the tastes, sights and sounds!
Full of Energy, this is a complete family event & Open to all – Live Music, Dance Performances, Food Trucks and playing with lots and lots of colours!
...all up against the iconic Melbourne CBD Skyline!
𝙇𝙚𝙩❜𝙨 𝙗𝙧𝙞𝙣𝙜 𝙨𝙤𝙢𝙚 𝙘𝙤𝙡𝙤𝙧 𝙞𝙣 𝙤𝙪𝙧 𝙡𝙞𝙫𝙚𝙨 𝙬𝙞𝙩𝙝 𝙖 𝙂𝙧𝙖𝙣𝙙 𝘾𝙤𝙡𝙤𝙪𝙧 𝙁𝙚𝙨𝙩𝙞𝙫𝙖𝙡
Venue - 𝐓𝐡𝐞 𝐏𝐚𝐝𝐝𝐨𝐜𝐤 - 𝐅𝐞𝐝 𝐒𝐪𝐮𝐚𝐫𝐞
Save the Date - Sunday - 𝟐𝟎𝙩𝙝 𝙈𝙖𝙧𝙘𝙝 𝟐𝟎𝟐𝟐
Time : 𝟏𝟐𝐏𝐌 till 𝟗𝐏𝐌
𝐃𝐮𝐞 𝐭𝐨 𝐂𝐨𝐯𝐢𝐝 𝐫𝐞𝐬𝐭𝐫𝐢𝐜𝐭𝐢𝐨𝐧𝐬 /𝑺𝒐𝒄𝒊𝒂𝒍 𝑫𝒊𝒔𝒕𝒂𝒏𝒄𝒊𝒏𝒈 𝐢𝐧 𝐩𝐥𝐚𝐜𝐞 𝐰𝐞 𝐚𝐫𝐞 𝐂𝐨𝐧𝐯𝐞𝐫𝐭𝐢𝐧𝐠 𝐭𝐡𝐢𝐬 𝟗 𝐡𝐨𝐮𝐫 𝐥𝐨𝐧𝐠 𝐟𝐞𝐬𝐭𝐢𝐯𝐚𝐥 𝐢𝐧𝐭𝐨 𝟑 𝐒𝐥𝐨𝐭𝐬, 
𝑭𝒊𝒓𝒔𝒕 𝑺𝒍𝒐𝒕 [𝟏𝟐pm-𝟑pm ] 𝑺𝒆𝒄𝒐𝒏𝒅 𝑺𝒍𝒐𝒕 - [ 𝟑pm -𝟔pm ] 𝑭𝒊𝒏𝒂𝒍 𝑺𝒍𝒐𝒕 - [ 𝟔pm-𝟗pm]
𝑳𝒆𝒕 𝒕𝒉𝒆 𝒄𝒐𝒍𝒐𝒖𝒓𝒔 𝒐𝒇 𝑯𝒐𝒍𝒊 𝒔𝒑𝒓𝒆𝒂𝒅 𝒕𝒉𝒆 𝒎𝒆𝒔𝒔𝒂𝒈𝒆 𝒐𝒇 𝒍𝒐𝒗𝒆 𝒂𝒏𝒅 𝒑𝒆𝒂𝒄𝒆!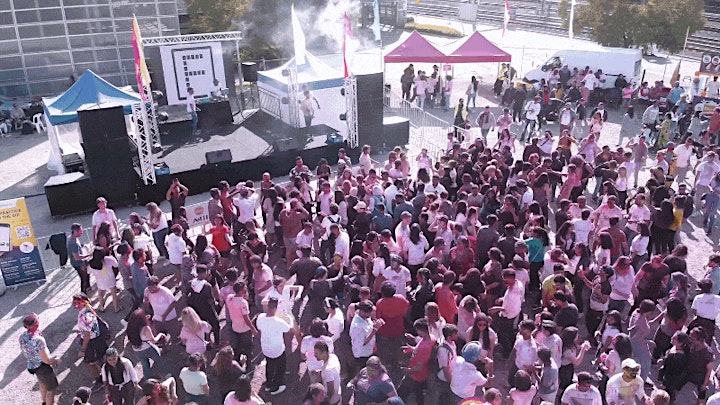 ***𝙉𝙊 𝙍𝙀𝙂𝙄𝙎𝙏𝙍𝘼𝙏𝙄𝙊𝙉 - 𝙉𝙊 𝙀𝙉𝙏𝙍𝙔 ***
𝙔𝙤𝙪 𝙈𝙪𝙨𝙩 𝙘𝙖𝙧𝙧𝙮 𝙮𝙤𝙪𝙧 𝙧𝙚𝙜𝙞𝙨𝙩𝙧𝙖𝙩𝙞𝙤𝙣 𝙏𝙞𝙘𝙠𝙚𝙩 𝙋𝙝𝙮𝙨𝙞𝙘𝙖𝙡𝙡𝙮 𝙤𝙧 𝙤𝙣 𝙮𝙤𝙪𝙧 𝙥𝙝𝙤𝙣𝙚 𝙩𝙤 𝙜𝙚𝙩 𝙞𝙩 𝙨𝙘𝙖𝙣𝙣𝙚𝙙 𝙖𝙩 𝙩𝙝𝙚 𝙚𝙣𝙩𝙧𝙮 𝙤𝙣 𝙩𝙝𝙚 𝙚𝙫𝙚𝙣𝙩 𝙙𝙖𝙮.
**** 𝙋𝙡𝙚𝙖𝙨𝙚 𝙙𝙤 𝙣𝙤𝙩 𝙖𝙩𝙩𝙚𝙣𝙙 𝙩𝙝𝙞𝙨 𝙛𝙚𝙨𝙩𝙞𝙫𝙖𝙡 𝙞𝙛 𝙮𝙤𝙪 𝙖𝙧𝙚 𝙛𝙚𝙚𝙡𝙞𝙣𝙜 𝙪𝙣𝙬𝙚𝙡𝙡 𝙩𝙝𝙚 𝙙𝙖𝙮 𝙗𝙚𝙛𝙤𝙧𝙚 𝙛𝙚𝙨𝙩𝙞𝙫𝙖𝙡 𝙨𝙩𝙖𝙧𝙩𝙨***
𝙏𝙝𝙞𝙨 𝙛𝙚𝙨𝙩𝙞𝙫𝙖𝙡 𝙬𝙞𝙡𝙡 𝙗𝙚 𝙞𝙣 𝙜𝙪𝙞𝙙𝙖𝙣𝙘𝙚 𝙬𝙞𝙩𝙝 𝙖 𝘾𝙊𝙑𝙄𝘿 𝙎𝙖𝙛𝙚 𝙋𝙡𝙖𝙣,
𝙋𝙡𝙚𝙖𝙨𝙚 𝙉𝙤𝙩𝙚:
1) 𝙉𝙤 𝙤𝙪𝙩𝙨𝙞𝙙𝙚 𝘾𝙤𝙡𝙤𝙪𝙧 𝙞𝙨 𝙥𝙚𝙧𝙢𝙞𝙩𝙩𝙚𝙙
2) 𝙉𝙤 𝙤𝙪𝙩𝙨𝙞𝙙𝙚 𝙛𝙤𝙤𝙙 𝙞𝙨 𝙥𝙚𝙧𝙢𝙞𝙩𝙩𝙚𝙙
3) 𝙆𝙞𝙙𝙨 𝙧𝙚𝙦𝙪𝙞𝙧𝙚 𝙖𝙙𝙪𝙡𝙩𝙨 𝙨𝙪𝙥𝙚𝙧𝙫𝙞𝙨𝙞𝙤𝙣 𝙖𝙩 𝙖𝙡𝙡 𝙩𝙞𝙢𝙚𝙨
4) 𝙋𝙡𝙚𝙖𝙨𝙚 𝙗𝙚 𝙢𝙞𝙣𝙙𝙛𝙪𝙡 𝙤𝙛 𝙤𝙩𝙝𝙚𝙧𝙨 𝙬𝙝𝙞𝙡𝙚 𝙥𝙡𝙖𝙮𝙞𝙣𝙜 𝙬𝙞𝙩𝙝 𝘿𝙧𝙮 𝙃𝙤𝙡𝙞 𝘾𝙤𝙡𝙤𝙪𝙧 𝙋𝙤𝙬𝙙𝙚𝙧.
𝘛𝘩𝘪𝘴 𝘧𝘦𝘴𝘵𝘪𝘷𝘢𝘭 𝘸𝘪𝘭𝘭 𝘣𝘦 𝘶𝘯𝘥𝘦𝘳 𝘴𝘵𝘳𝘪𝘤𝘵 𝘋𝘏𝘏𝘚 𝘨𝘶𝘪𝘥𝘦𝘭𝘪𝘯𝘦𝘴 𝘸𝘪𝘵𝘩 𝘢𝘯 𝘢𝘱𝘱𝘳𝘰𝘷𝘦𝘥 𝘊𝘖𝘝𝘐𝘋 𝘚𝘢𝘧𝘦 𝘗𝘭𝘢𝘯. 𝘛𝘩𝘦𝘳𝘦 𝘢𝘳𝘦 𝘳𝘦𝘴𝘵𝘳𝘪𝘤𝘵𝘪𝘰𝘯𝘴 𝘰𝘯 𝘵𝘩𝘦 𝘵𝘰𝘵𝘢𝘭 𝘯𝘶𝘮𝘣𝘦𝘳 𝘰𝘧 𝘱𝘦𝘰𝘱𝘭𝘦 𝘢𝘭𝘭𝘰𝘸𝘦𝘥 𝘵𝘰 𝘦𝘯𝘵𝘦𝘳 𝘵𝘩𝘦 𝘨𝘳𝘰𝘶𝘯𝘥𝘴 𝘰𝘧 𝘵𝘩𝘦 𝘧𝘦𝘴𝘵𝘪𝘷𝘢𝘭 𝘢𝘵 𝘢𝘯𝘺 𝘨𝘪𝘷𝘦𝘯 𝘵𝘪𝘮𝘦, 𝘴𝘰 𝘱𝘭𝘦𝘢𝘴𝘦 𝘣𝘦 𝘮𝘪𝘯𝘥𝘧𝘶𝘭 𝘰𝘧 𝘵𝘩𝘦 𝘛𝘪𝘮𝘦𝘴𝘭𝘰𝘵 𝘰𝘧 𝘺𝘰𝘶𝘳 𝘵𝘪𝘤𝘬𝘦𝘵. 𝘗𝘭𝘦𝘢𝘴𝘦 𝘣𝘦 𝘤𝘰𝘶𝘳𝘵𝘦𝘰𝘶𝘴 𝘪𝘯 𝘢𝘳𝘳𝘪𝘷𝘪𝘯𝘨 𝘢𝘯𝘥 𝘥𝘦𝘱𝘢𝘳𝘵𝘪𝘯𝘨 𝘢𝘴 𝘱𝘦𝘳 𝘺𝘰𝘶𝘳 𝘴𝘦𝘭𝘦𝘤𝘵𝘦𝘥 𝘵𝘪𝘮𝘦-𝘴𝘭𝘰𝘵, 𝘴𝘰 𝘦𝘷𝘦𝘳𝘺𝘣𝘰𝘥𝘺 𝘨𝘦𝘵𝘴 𝘵𝘰 𝘦𝘯𝘫𝘰𝘺 𝘵𝘰𝘰!
Only one Free Ticket per timeslot, please be courteous to your fellow festival-goers
𝘛𝘩𝘦 𝘔𝘢𝘯𝘢𝘨𝘦𝘮𝘦𝘯𝘵 𝘙𝘦𝘴𝘦𝘳𝘷𝘦 𝘛𝘩𝘦 𝘙𝘪𝘨𝘩𝘵 𝘛𝘰 𝘙𝘦𝘧𝘶𝘴𝘦 𝘌𝘯𝘵𝘳𝘺
Date and time
Location
The Paddock - Fed Square
Batman Avenue
Melbourne, VIC 3004
Australia
Refund policy