Description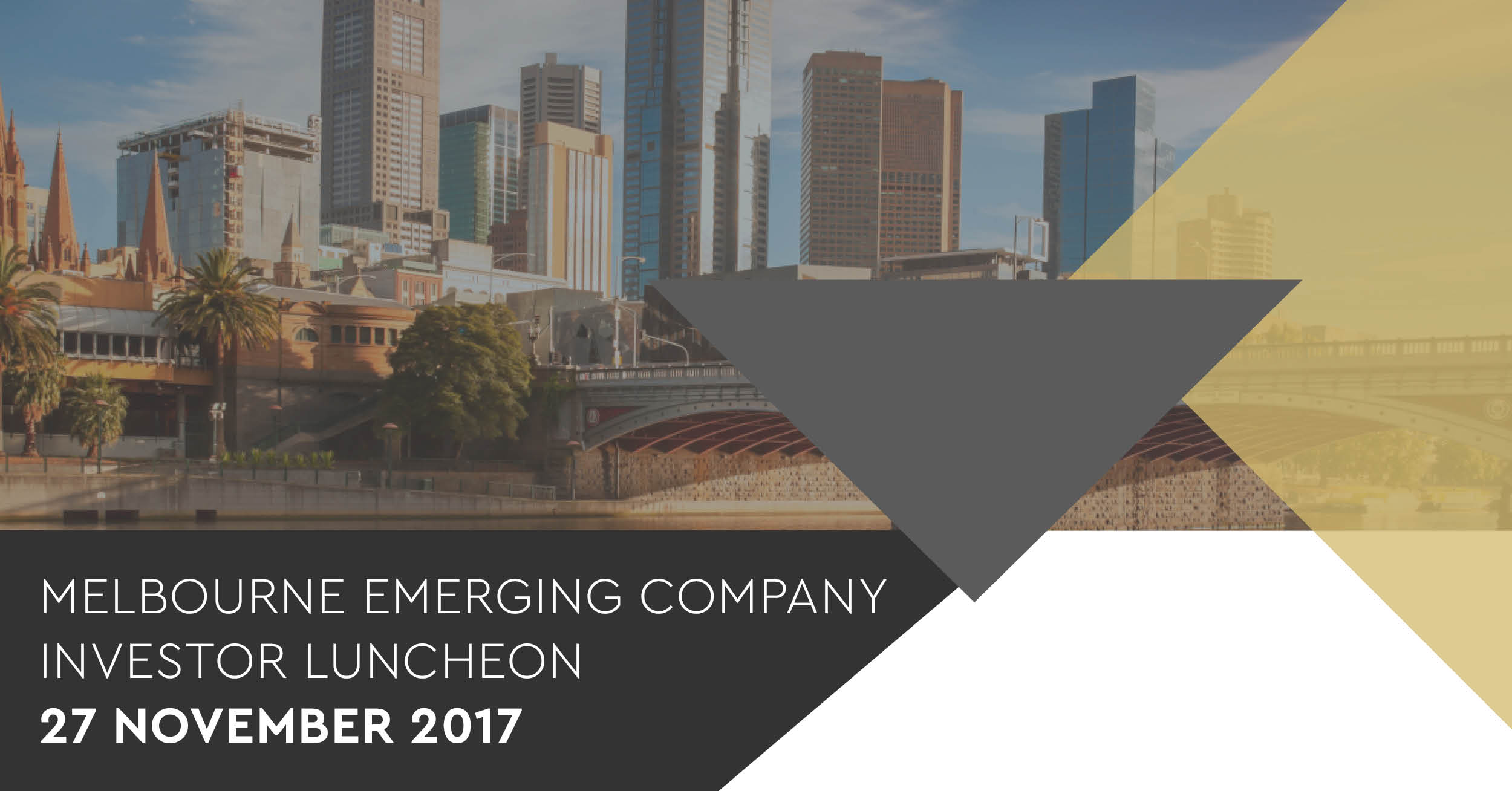 Join us for a day of live investor presentations from leading emerging growth companies and exclusive networking sessions with CEOs at the Melbourne Emerging Company Investor Lunch on Monday, 27th November 2017.
Attended by Melbourne's sophisticated and professional investors, brokers, fund managers and family offices, the premier investor event provides the perfect platform to discover unseen investment opportunities, revolutionary innovations and network directly with the presenting entrepreneurs and C-Level executives.
Register now to join up 100 high net worth investors at this unique event!
Event Details: Melbourne
Date: Monday 27th November 2017
Registration & Networking: 11am
Time: 12pm-3pm
Venue: DLA Piper Offices, Level 21, 140 William Street, Melbourne 3000
Catering: Lunch will be provided at the event
Cost: This is a free event for investors, stockbrokers and fund managers
Event Schedule
12:00 – 12:10: Introduction – Luka Krajnc, Business Development Associate, Wholesale Investor– Speaker: Luka Krajnc
12:10 – 12:20: ProTippa – PROTIPPA – Speaker: Charlie Caruso
12:20 – 12:30: ENGENDER TECHNOLOGIES LIMITED – Speaker: Brent Ogilvie
12:30 – 12:40: Sustainable Energy Equities Holding Limited – SUSTAINABLE ENERGY EQUITIES HOLDINGS LIMITED​​​​​​​ – Speakers: Tony Ho, Ahmed El Safty
12:40 – 12:50: Fusion Musictech Pty Ltd – FUSION MUSICTECH HOLDINGS PTY LTD – Speaker:Con Dekazos
12:50 – 13:00: CanYa – CANYA – Speaker: John-Paul Thorbjornsen
13:00 – 13:10: Kela – KELA – Speaker: Aldo Miccio
13:10 – 13:20: Fantasy Sports Global – FANTASY SPORTS GLOBAL – Speaker: Daniel Simic
13:20 – 13:30: Blue Sky Biologicals Inc. – BLUE SKY BIOLOGICALS INC. – Speaker: Wade Hobson
13:30 – 13:40: TRIMANTIUM GROWTHOPS (ASX: TGO) – Speaker: Phillip Kingston
13:40 – 13:50: Car Next Door – CAR NEXT DOOR – Speaker: Will Davies
13:50 – 14:45: Drinks & Networking