Description

BZE's Electric Vehicle report is the latest part of our 10-year Zero Carbon Australia Transport Plan, a comprehensive blueprint showing the way to eliminate Australia's growing transport emissions.
---
10+ year transitions to electric passenger fleets are being seriously discussed globally, so BZE's new analysis of Australia's rapid shift to EV's is extremely timely.
Come and join us as we launch this exciting report in Melbourne - the latest part of the Zero Carbon Australia Transport Plan focussed on how our urban passenger fleet of cars and buses can all transition to electric vehicles powered by 100% renewable energy.
The launch program includes:
Keynote address by Professor Peter Doherty AC,

Laureate Professor, University of Melbourne

Electric vehicles - TESLA, BMW i3 and the electric AVASS e-bus will be on display from 5.30-5.45 pm and then from 7.30-8.00pm in the carpark.

An exciting panel discussion

The key findings of the new report

Stay for EV Display & Photo Ops after 7.30pm
Keynote Speaker
Professor Peter Doherty AC,

Laureate Professor, University of Melbourne
Victorian Government Electric Vehicles Update
the Hon Anthony Carbines MP, State Member for Ivanhoe, Parliamentary Secretary for W

ater and Parliamentary Secretary for Energy, Environment & Climate Change, speaking

on behalf of

Minister D'Ambrosio
MC

Electric Vehicle Report Launch and Key Findings
Mr. Michael Lord, Acting CEO Beyond Zero Emissions and Zero Carbon Australia Program Director
Panelists
Senator Janet Rice, Australian Greens Senator for Victoria - Transport and Infrastructure

Claire Painter, Climate Works

Kristian Handberg, AGL Energy

Mr Bede Doherty, Business Development & e-Mobility Manager Alphabet Australia - BMW Australia Finance Ltd
Sign up for our updates or get in touch events@bze.org.au
Donate to BZE - we are an independent NGO think tank - one of the best in the world.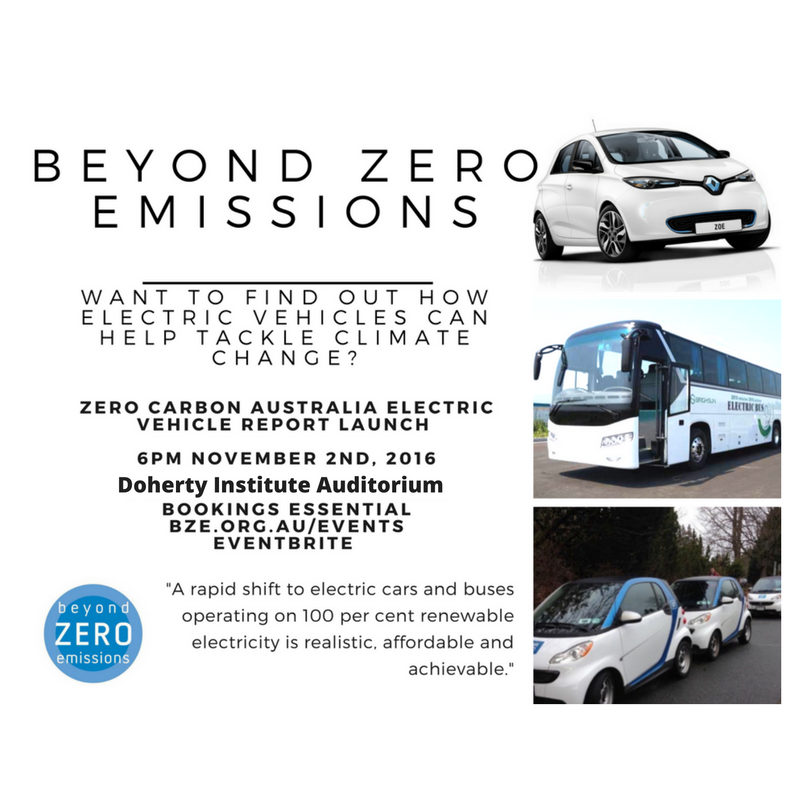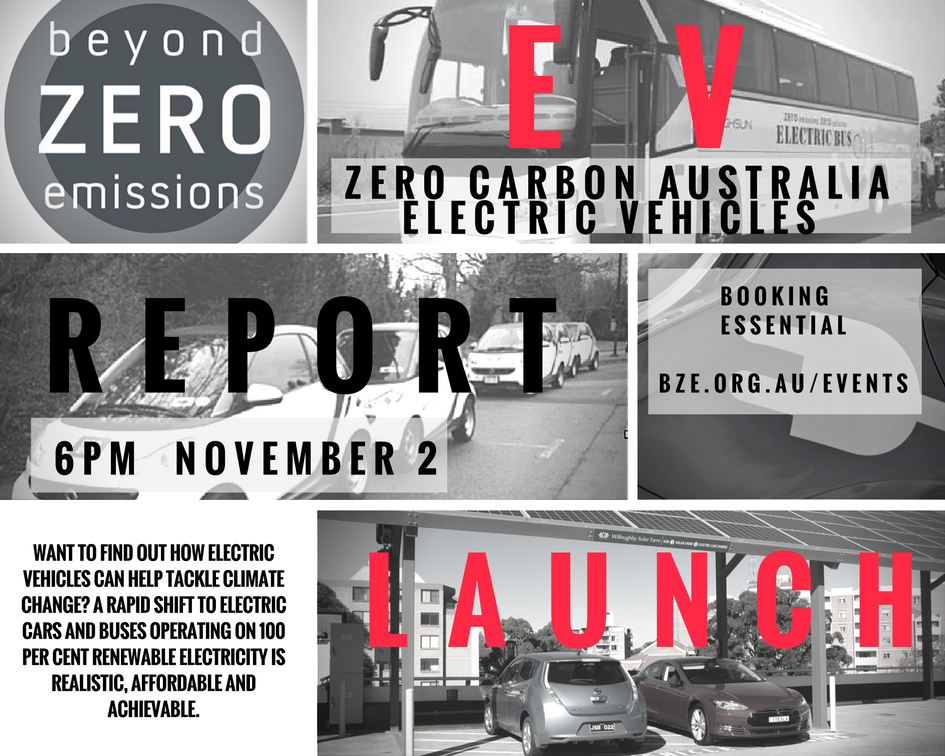 Organiser of Melbourne Electric Vehicle report launch - Zero Carbon Australia
Beyond Zero Emissions is one of Australia's most respected climate change think-tanks. We produce independent research demonstrating that zero emissions is achieveable and affordable now. 
Our work is carried out by a small staff of experts, with the help of academic institutions and a large network of volunteer scientists, engineers and economists. We are funded by private foundations and concerned individuals. 
You can be part of our audacious vision for a Zero Carbon Australia by making a donation to fund our research. Eighty-five per cent of our reserachers are volunteers, making your donation go a long way. 
To find out how visit http://bze.org.au