17—20 August 2021 [VIRTUAL] | Australia's premier education technology summit: amplifying education innovation through discussion.
About this event
2021 Theme: Amplifying education innovation
The Melbourne EdTech Summit 2021 is Australia's premier education technology summit. It is a space for passionate educators, some of the most innovative education technology companies, and education thought leaders from across Australia and the globe.
Across the four days, keynote speakers, panel discussions and fireside chats will update you on the cutting edge trends in the world of EdTech and how to maximise today's technology to enhance student outcomes.
This is a massive event. We've combined part of the Summit with the largest education technology expo in the Southern Hemisphere: EduTECH 2021.
Register for your free, virtual ticket today.
Dates & Themes
We're looking at the whole journey of education and innovation, from K-12 through to Workforce.
17 & 18 August: EdTech Entrepreneurship and K-12 — Innovators fuelling education
19 & 20 August: Higher Education, Workforce and Skills — Visionaries accelerating education
Why attend?
It's future-focused: E-learning is here to stay, so the keynote discussions will explore reimagining education in the next stage of our digital world. 
It's practical: Get your notebooks out — it's your turn to be the student. With the speakers' wealth of experience and practical advice, you'll want to refer again to the insights to inspire your work. 
It's inspiring: Yes, there may be challenges — but what about the possibilities? We'll examine the confident choices educators have made, and the transformative learner outcomes.
It's about connection: You will meet and interact with like-minded educators and EdTech entrepreneurs from across Australia and the globe. Ask guest thought leaders the questions you want answered with LIVE Q&A.
It's growth-oriented: Through in-depth conversations, the Summit will equip you with new ways of thinking to help amplify education innovation.

Our thought leadership speakers
You will hear from established leaders in the Australian EdTech ecosystem: education executives, entrepreneurs, government representatives, and business experts. There will be over 50 speakers across the program. In fireside chats, keynote presentations, and panel discussions, they will harness their collective knowledge to reimagine the learning experience.
Below are some of the headlining speakers confirmed for the Summit so far. From right to left: Geoff Masters, CEO of the Australian Council for Educational Research; Liz Johnson, Deputy Vice Chancellor (Education) at Deakin University; Martin Dougiamas, Founder & CEO of Moodle; Sherman Young, Deputy Vice-Chancellor Education (Interim) at RMIT University; Belinda Tynan, Provost at Australian Catholic University; Josh Nester, Managing Director (Education) at SEEK; and Beverley Oliver, Emeritus Professor and Principal Consultant at EduBrief.
Explore the dozens of speakers we've confirmed here.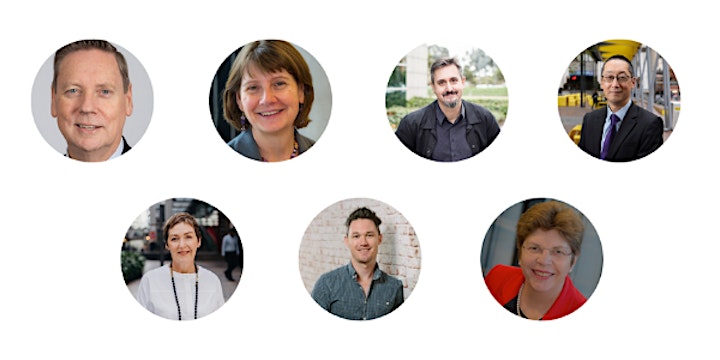 Exhibitor booths and pitch competition
You will tune into a live, exciting pitch competition on the EdTech Entrepreneurship day. Each company will give their snappiest pitch in front of a panel of judges.
EduTECH 2021 will host the Melbourne EdTech Summit's exclusive startup space with exhibiting companies. Your Summit ticket will include access to this unique space — link to be provided.

Our partners
A special thank you to the Melbourne EdTech Summit partners.
Our Principal Partners are Global Victoria and Wonde.
Our Summit Partners are Curio, AWS EdStart and OpenLearning.
These organisations have been longtime supporters and contributors to the education technology ecosystem, and are aligned with EduGrowth's mission to amplify education innovation in Australia and around the world.

About EduGrowth
Through connection and collaboration, we accelerate Australia's EdTech ecosystem globally. EduGrowth also runs a series of programs and events to help the Australian EdTech industry grow globally.
To learn more about how EduGrowth can support you or to get a copy of our Australian EdTech Ecosystem snapshot visit edugrowth.org.au or subscribe to receive news and program notifications.

Organiser of Melbourne EdTech Summit 2021