Description
You are invited to come and celebrate my book launch with me in Melbourne. Woo hoo!
At last it's here, the book is complete, and I'm looking forward to celebrating in Melbourne with you :)
This event is a special evening out, to celebrate the launch of my much anticipated book 'The Unlikely Marathoner' with my awesome Melbourne supporters.
The launch includes:
A complimentary drink on arrival
A selection of nibbles
A signed copy of my book (RRP $29.95)
A reading of The Unlikely Marathoner, and a Q&A session...if you like :)
And a fun evening! :)

I hope you can join me. See further details of where and when on the right of this screen.
PLEASE RSVP BEFORE AUG 24, 2017.
TICKETS ARE ONLY ON SALE ON THIS PAGE
*Please note: You need a ticket to enter, there will be no tickets sold at the door.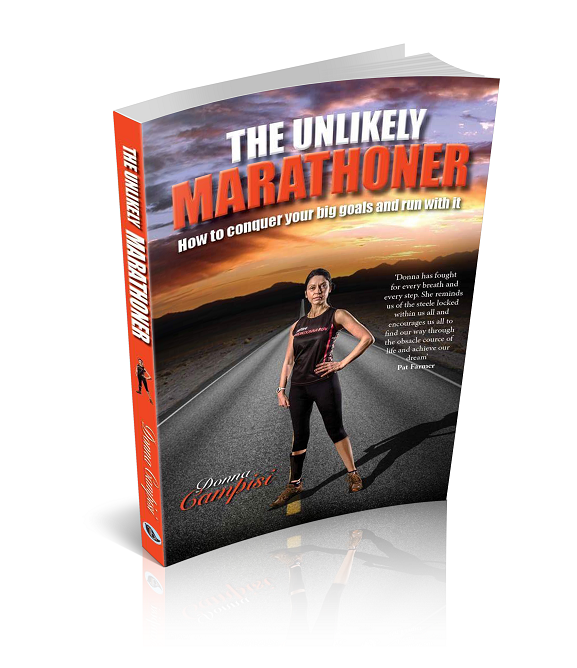 About the book:
At 7 years old Donna Campisi was named 'The Mystery Girl,' developing symptoms that even puzzled doctors. Surviving a stroke, and other serious complications, doctors reported that she would never walk or talk again.
After amazing results of recovery, Donna became known as 'The Miracle Girl' facing a long road of rehabilitation ahead of her. Gaining strength and endurance to keep going, continually being pushed out of her comfort zone.
Now Donna is 'The Unlikely Marathoner.' Her chosen challenge to learn to run again after 34 years. From only being able to run 30 tentative steps in 2012, then training for 11 months to complete a marathon (42.2 km) in 2013, she inspired many, and now reveals in her book how she made it to the finish line.
Her heartfelt stroke to marathon story will inspire, motivate, and help you to conquer YOUR big goals.
Donna Campisi reveals in her book, successful steps to get you to your finish line.
*You may also know Donna as 'Run Donna Run', her running challenge journey began HERE
Join Donna in her new fun program, take a look and get a 7 day trial HERE


THERE IS NO REFUND ON YOUR TICKET PURCHASE.