Description
MELBOURNE BAR CRAWL
The Ultimate Night Out!!!
We're Melbourne's biggest & best bar crawl, the #1 Saturday night out with everyone from internationals, interstate Aussies here for a weekend to locals loving it! If you want to discover and experience the hottest nightlife in Melbourne with our kickass crew check out what else you get!

YOUR BAR CRAWL TICKET INCLUDES:
- Free Entry to 4 Venues/ Parties
- 4 FREE Drinks
- FREE Pizzaaaaa!!!!
- Special Drink Deals (save $$$)
- Bar Crawl Crew and Photographer
- VIP Wristband (free entry to all venues)
PLUS we finish at Melbourne's biggest nightclub Billboard Saturdays with free entry (Save $20)

- Over $50 value for ONLY $25! -
WHERE THE BAR CRAWL STARTS
Venue: Chaise Lounge
Location: 105 Queen Street (in the city)
The fun starts at 7.30pm. Everyone must arrive before 8pm for your first drink and pizza, we leave together to the next venue guided by your bar crawl crew at 9pm.
YOUR DRINKS
Venue 1: Shot or Fruity Punch
Venue 2: Shot
Venue 3: Shot or Fruity Punch
Venue 4: Shot or Champagne
VENUES, DRINK SPECIALS & MUSIC
Venue 1: Chaise Lounge
Drink Specials: $6 Basic Spirits (Vodka, Scotch & Bourbon) $7 Coors Beer, $10 Cocktails.
Pizzaaa!!!!
Music: RNB, Hip-Hop & Party Tunes

Venue 2: Iconic Melbourne Bar
Drink Specials: List at the bar (changes weekly)
Music: Party Tunes
Venue 3: Hidden Laneway Bar
Drink Specials: $5 Vodka, Shots & $11 Cocktails.
Music: RNB, Hip-Hop & Party Tunes

Venue 4: Billboard Saturdays
Drink Specials: $5 Beer, $5 Shots plus Bottle Mixers (specials listed at bar)
Music: Commercial Party Tunes & RNB
REGISTER YOUR TICKET:
$25 Online www.melbournebarcrawl.com.au OR
$30 On the night when you arrive
*For online tickets you can print or show from your phone.
WEBSITE
www.melbournebarcrawl.com.au
DRESS CODE: Smart Casual/ Clubbing Clothes
18+ ID required | Management reserves all rights | Full T&Cs on our website www.melbournebarcrawl.com.au

We can't wait to party with you!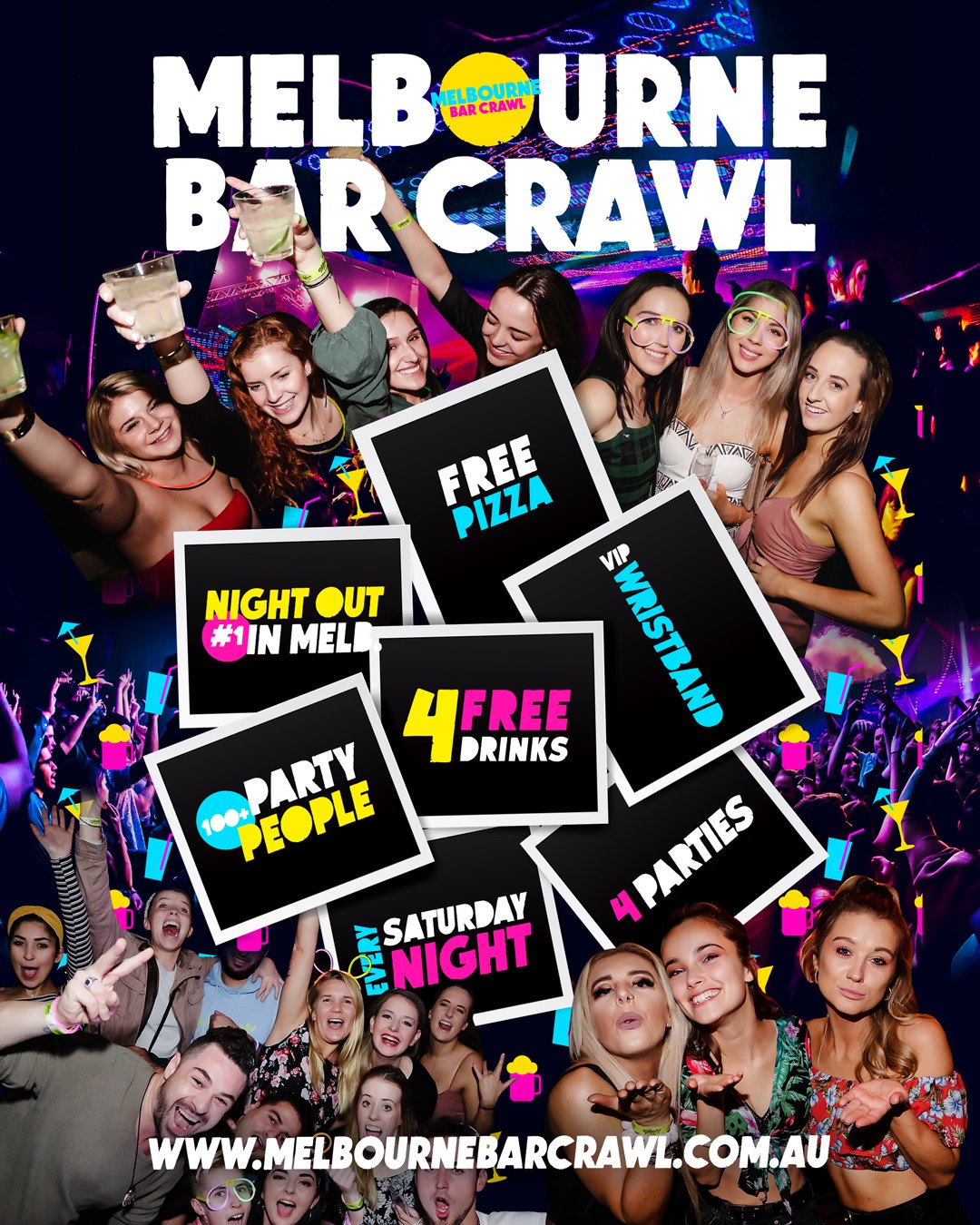 Date and Time
Location
Refund Policy