Melbourne 4 Day Conversational Hypnotherapy Cert + Bonus Online Program
Actions and Detail Panel
Melbourne 4 Day Conversational Hypnotherapy Cert + Bonus Online Program
Thu., 23/03/2017, 9:00 am – Sun., 26/03/2017, 5:30 pm AEDT
Description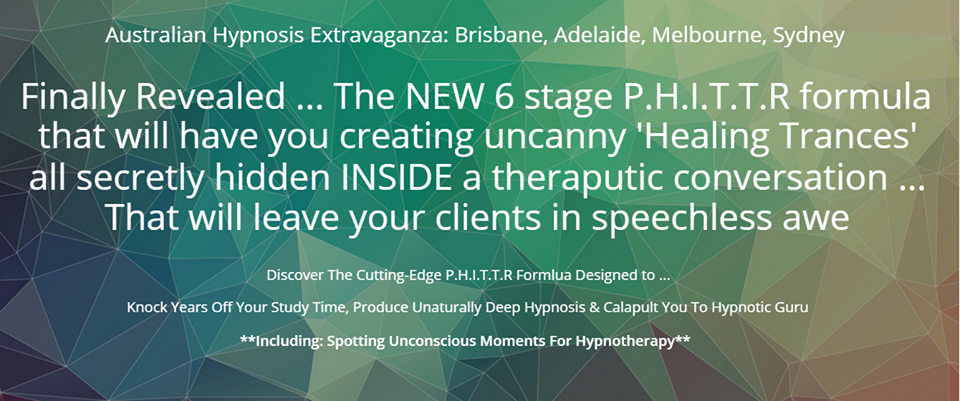 Dear reader,
The above is a big claim, but it's true: You really can acquire a real world skill that will transform the way you think, communicate and act as you transform into a world-class Hypnotist during this revolutionary event
So how is this done?
You enter this event at whatever hypnosis level you are and be trained in an in-depth, script free hypnosis training that has been designed to reveal the blueprint of professional and profound hypnotic procedures.
And leave with a deep understanding, that by inference will have stretched your own grasp of your internal world, that will stand the test of time and be a lifeline for those who live in pain and fear.
Consider this scenario …
You have an inner nudge that points you in the direction of wanting to help heal people in life, help change the way people live their lives and also yours as well, and you are informed that this can only be done via the unconscious mind.
Maybe this event reveals how to better improve your communication with yourself and loved ones.
Maybe it's a career change to work part time from home which grants you more family time around clients.
Or maybe you envision yourself as the guru in this industry treating clients from all over the world all with therapeutic conversation.
Whatever the case, this is the birthplace of the Hypnotherapy program.
A training so diverse in conversational hypnosis, hypnotherapy and classical therapy that has been molded together to break the rules of traditional therapies, while taking you on a journey into the mind to discover how to accurately impact the thoughts, feelings, and emotions of your clients, or anyone who will listen to you.
This is the dramatic impact of a style of hypnosis that has in it, the very functions of the unconscious mind … You will learn how to talk, act, feel and become a true hypnotic genius.
Welcome to the Academy's 2017 Certified Hypnotist Program
---
The 6 Stage P.H.I.T.T.R Formula, Doesn't Make Good Hypnotists … It Makes Great Ones
---
Where this program truly excels is its ability to be broken down to suit even the most novice of Hypnotists, and also reveal new understandings to even the season vets of the industry.
Where else can you become involved in a life changing seminar, be internationally certified, illicit your first hypnotic trance within the first half an hour, all without the use of argues techniques, hypnotic scripts and blended together lectures that can be a pain to sit through?
We had to create a training based on real world application, repeated practice and most of all, a theory that would resonate with the Hypnotists listening.
And we did it. And it was even a shocking surprise for us to see students, who had no concept of what hypnosis was, perform marvelous hypnotic session that would even shock the best in the industry.
And this only occurred from correct and thorough hypnotic instruction by a trainer with over 17 years as a professional Hypnotherapist, and acquiring over 6000 clients in his journey.
What Makes This Program Unique
And why our students are so well respected in the industry
1. STRUCTURED STEP-BY-STEP TECHNIQUES:
We bring back to the basics and foundations of how to become a great Hypnotist. Without skipping a step or cutting edges we formulate an unbreakable foundation for you to build your hypnotic repartee on top of

2. TRAINED BY THE CREATOR OF THE PHITTR FORMULA
How else can you reach such a high level of hypnotic integrity and know how, without being directly taught by the creator of the PHITTR formula and hypnosis pioneer Scott Jansen? Its real world experience meets real world application

3. 4 DAYS OF NONSTOP INSTRUCTIONS IN HYPNOTIC PRINCIPLES AND TECHNIQUES
Our goal has always been to deliver an event that would leave our students with a skill set that was instantly usable, and with the complete guide on how to use hypnosis in the 21st century. Some might say that too much information is confusing, we say that not enough information can be disastrous.

4. BONUS – SPOTTING UNCONSCIOUS MOMENTS
If you were looking to find a concept that would transform the way you become a professional Hypnotherapist in the shortest amount of time this is it. This uncanny concept has been the foundation for the Academy's success and has broken through the traditional hypnotic scene with an all mighty blow

5. OVER 12 HYPNOTIC INDUCTIONS
With power comes prestige, as you are trained with over 12 flexible inductions to suit any personality and to treat even the biggest issues your clients will hire you for.
---
Instructor Profile
Created With 17 Years Experience, Over 10,000 Therapy Hours And An International Reputation
This pioneering program is designed by an industry expert who credits much of his own success to the use of hypnosis in flourishing career. He brings over 17 years experience to teaching this program.
Scott Jansen formally found hypnosis from buying old VHS tapes of Dr. Milton Erickson from a garage sale, only later to find out that the seller was a personal student of Milton Erickson. These tapes provided a glimpse of the power of conversational and the uniqueness of hypnosis Scott had never witnessed before, and he was instantly hooked.
To only 12 months later ( at age 17 ) seeing his first paying client who opened up a career for Scott, from the success of the session, to spreading the word about a 17 year old kid. Within that following 12 months, Scott was so inundated with clients that he needed to refer them on to other therapists, which created a friendship and professional approach to the industry and other working Hypnotists.
In this program, Scott shows you his concrete structure and frameworks to hypnosis to suit a formal and casual setting, using mastered skills only experience could teach
Following the next 17 years. Scott becomes so well requested that his session rate was triple the average Hypnotist, and only acquired bookings from the socially elite, that could afford his prices.
This ranged from International celebrities, singers and entertainers, Australia Idol contestants, NFL and NHL sports stars, Business men and women, and even current and ex-Olympic athletes.
After a flourishing career, Scotts attention turned to giving back to the industry and opened an Academy to fill in the educational gap of hypnosis trainings, to within 2 years having personally certified close to 3000 students ( 2015 – 2016 ), indirectly trained over 35000 students through home-based courses worldwide, produced over 285 hours of audible content, and authored his first book.

What You'll Learn
With The Original Certified Hypnotist Program:
01
Rapidly accelerate your recognition
With correct use of the PHITTR formula, you will be devising therapeutic trances that give you the power to instantly change the thoughts, images and feelings of your clients without being caught
02
Master the Hypnotic Attitude with excellence
On completion of this event, you will be acting, speaking and feeling like a Hypnotist who has years of experience, even if this is your first time using hypnosis.
03
Attract lucrative clients with a specialty skill
Gain the industry advantage to gaining high paying clients with methods taught by Scott himself as he reveals his secrets to longevity in the industry, and elite client base.
04
Experience a relationship with your own mind
Students who have completed this program historically report a dramatic shift in their life, to more positive and happier circumstances that have arisen from this powerful program.
05
Connect with a concrete and failsafe hypnotic program
Where else can you learn a program so jam packed with hypnotic principles than from an expert who has rewritten the rules of traditional therapies and paved the way from the successful Hypnotherapist
06
Cultivate deep trances with over 12 individual inductions ( script free )
The name of the game is creativity and is the direct reason why we introduce you to over 85 separate subjects and over a dozen individual, unique and experienced based inductions including the infamous Spotting Unconscious Moments procedures ( Scotts personal creation )
07
Find yourself in producing Hypnotic trances immediately
What makes this training so revolutionary is the fact that it has been designed to promote more practical elements so you get the most from your new skill. You will hypnotize a fellow student within the first half an hour, all without the use of hypnotic scripts
08
A real world skill recognized internationally
With endorsements from 2 of the biggest governing boards and an insurance based certification on completion, you have a skill that will last a lifetime that has immediate application.
09
A support team like no other
The best bit is you just don't get inspired mentoring from Scott himself, you gain a complete support staff who have undergone strenuous private mentoring from Scott to reach a level of sophistication that no other team could match.
10
You could be in the 'Hot Seat' with Scott
Within 4 days of training, you will have witnessed over 12 LIVE spontaneous demonstrations using real issues, that could have you personally experience a hypnosis session that would normally cost you between $1500 – $2000 an hour. What a way to learn
---
More Success From Our Graduate Students
---
"Trained With Richard Bandler"

Before I tell you about Scott and the Conversational Hypnosis Academy, I feel you should know a little about my background.I studied Neuro Linguistic Programming in the UK under Richard Bandler, the Co-Creator of NLP. It was whilst studying for this that I discovered Hypnosis as Richard was able to do things like cure people's fear and phobias by talking randomly to them. I quickly discovered what Richard was doing was hypnosis and I thought to myself I'd love to do this.I trained formerly in the UK but it was script based hypnosis which wasn't really what Richard was doing.When I moved to Australia I was still looking for the style of Hypnosis that Richard had shown me previously and he has learned from Milton H Erickson. I saw an advert for a course on Conversational Hypnotherapy so I thought I should go along to see what it is all about but to be honest my expectations were not really that high.How wrong can one person be! Scott is very eloquent in the way that he speaks and very precise in the way he teaches. I was totally blown away from the word go. Even though I now know what Scott is doing my unconscious still goes into trance every time. I feel privileged to be a part of the Conversational Hypnosis Academy and equally privileged to know Scott. For me, Conversational Hypnosis is where Hypnosis should be. None of the best hypnotists in the world rely on scripts as they understand how these can hinder the therapeutic needs of the client. Scott goes beyond what I expected from a teacher and I also look forward with eager anticipation to his courses.
Simon K.
"I went from a NON-believer to a believer"

Wanted to thank you from the bottom of my heart for all the knowledge you gave me. I went from not believing I could be hypnotized to having a huge breakthrough! I always believed in hypnotism and what it stood for just didn't believe it would work on me – how wrong was I! Thank you so much and I really look forward to doing some more courses with you in the near future! You are a wonderful gentle guy and I will most definitely miss not seeing u.
Marrissa J.
"You Are An Inspiration"

Hi, Scott. Just wanted to say thank you again for the amazing training I have just completed in Adelaide with you! I'm feeling totally pumped (and extremely nervous) about this new venture, but I'm going to dive in and see what happens. I can't find where I can post this on your page so hopefully, you can do it for me
You're training was easy to follow and not how I had imagined…I've learned so much myself from this 3 days and am totally blown away with my new skills! Thank you again, you are an inspiration
Karen M.
---
Instantly Become The "GO – TO" Hypnotherapist
---
What would you do, if you had the advantage, the insider knowledge, and the dexterity to grow into the most requested Hypnotherapist in your area?
Or maybe have the clout to express a new level of life changing communication that would instantly invite the unconscious mind to produce new reality making feelings and emotions that you could help shift the lives of family and friends as easily as remembering your own name
Now this is not to pump you up for false promises, it's the reports we are getting constantly, and not just from our students.
On a regular basis, our admin manager is receiving thank you emails from clients of our students, to thank us and them for the level of authority and client care our students took with them.
Consider yourself as the Hypnotist named in these thank you emails, and the new level of pride and confidence this would have while transforming you as a professional individual.
You can follow in the footsteps of our Hypnotherapists as they are requested by Australian real estate agencies to work as a hypnotic coach, the medical industry as they are requested to help patients quit smoking and lose weight.
And these are just 2 examples from 100s of emails we received from the back of our 2016 hypnosis certifications.
You can't tell us this does not excite you!
---
Certification Information
---
Here's Exactly What You Get In This Course
You'll gain a front row seat to a 4-day hypnosis extravaganza with the Conversational Hypnosis Academy and join an elite community or world class Hypnotherapists
Here's what's included:

01
Day 1: CONVERSATIONAL HYPNOSIS FOUNDATIONS
Day 1 – Hypnotic Principles. Foundation & language.Contextual Considerations In Applying Hypnosis. Hypnotic Induction Protocol
Our first day comprises of setting a hypnotic frame and mastering the basics ( NO SCRIPTS ). You will be hypnotising on day 1.
With language based inductions and a simple to follow and unique ( Step – by – step ) format to follow. This day is to saturate your unconscious mind with the learning strategies to master hypnosis, with a natural approach and develop the mind set of a covert hypnotist. You will be taken through the classic 10 step formula that will give you hands on experience as a hypnotist.
You will be adopting a new hypnotic lingo, that will use conversation to induce trance. Our aim for day 1 is to give you the exact foundations necessary to start to think strategically as a hypnotist. No scripts will be used to create this base. As a student your goal is to grasp onto the hypnotic frames and language constructs that all covert and conversational hypnosis abides to. Day 1 you WILL have induced your first therapeutic trance ( In the first hour of training )
02
DAY 2: THERAPEUTIC HYPNOSIS PROCEDURES
Day 2 – Ericksonian Utilization Methods. Using Hypnotic Memories. Advanced Hypnotic Intervention Strategies. Attaching Therapy To Unconscious Leverage Points And MUCH More.
Day 2 will be a combination of language and hypnotic protocol ( formal hypnotic interaction ) to refine your strategic approach to working with clients, exploring emotions, motivation and hypnotic triggers that create hypnotic trances and therapeutic change.
We will show you exactly what it takes to leverage emotions and utilize ALL unconscious material presented to you as a hypnotist. This strategic approach turns your own unconscious into an absorbing machine and you master new hypnotic elements and begin to blend in previous techniques to create smooth and undefinable character to your approach.
We will focus on Hypnotic persuasive measures to bypass consciousness for direct and covert input into the unconscious.
03
DAY 3 – CONVERSATIONAL HYPNOSIS STRATEGIES
Day 3 – Creating Hypnotic Phenomena.Symbols / Therapy Integration. Escalation Techniques. Reality Strategies. Exploring Problem Constructs. Safety & Privacy For Business.
Day 3 is ALL about putting your skills to the test as you are introduced to advanced protocols, conversational style interventions, creating hypnotic phenomena and attaching unconscious change to your hypnotic learnings.
This is a free style day ( and the biggest day ) Where we begin to categorize elements that shape a clients thinking and induce positive hypnotic directions to achieve client breakthroughs.
Also we will be teaching YOU how to create spontaneous automatic movements of body parts to create a life time change in your clients hypnotic experience and tackle resistance in clients and how to work through any hard to work with issues
04
SPOTTING UNCONSCIOUS MOMENTS
Day 4 we amplify your conversational hypnosis style by including spotting unconscious moments into the mix.
By strategically mastering spotting unconscious moments, your ability to read unconscious cues and create a plan of attack to help your clients during an intervention triples in power.
Look at spotting unconscious moments as unconscious communication revealing clues that your trance work and therapeutic approach is right on track
SCOPE
SCOPE OF APPLICATION
Your hypnotic skill set will be suited for:
A wide scope of hypnotherapy issues. Including: Stop smoking, weight loss, anxiety, confidence, small addictions, guidance interventions, sports enhancement etc.
All of your certification will be taught LIVE with no scripts and will include multiple demonstrations to suit a conversational hypnosis format
To discover the profound and simple to follow knowledge of not just becoming a good hypnotherapist but a truly great one.
01
To gain the elite format of hypnotherapy that creates conversational change in your subjects even without a formal induction.
02
To understand the simple system that put your clients into a therapeutic trance, every time, and in the exact depth of trance needed to create change in a clients reality
03
To rapidly use hypnotic interview elements that provide emotional leverage for all clients to change in the quickest of time
04
So you can use overt and covert steps that take you as the therapist to the master level simply and easily
05
So you can accomplish covert conversations that produce magical outcomes without being detected by a clients conscious mind
06
To discover the TESTING techniques that will allow your work as a therapist to stick and last a life time
07
To learn how to create the exact set up that must be done before any session that create therapeutic change in minutes not hours
08
To master how to turn the induction phase into the ONLY part of the therapeutic intervention that you the therapist needs to do and how to instruct a clients unconscious to do the rest at alarming speeds.
09
To gain first hand the simple format to internalize language patterns and creating them like second nature so you never have to think of what to say next
10
To be witness to a little unknown secret that will catapult your ability to connect with unbreakable rapport that takes seconds
11
To become a master of controlling a clients attention to direct them into trance processes every time so they fall deeply into trance with no fuss or resistance
12
To rapidly increase your ability to persuade and enhance your own thinking and be able to see 2-3 moves ahead in every interaction
FORMAT
P.H.I.T.T.R Formula
Priming
Hypnotic Interview
Induction processes
Therapy / Intervention
Testing process
Repeat
INDUCTIONS
Basic hypnotic language induction
Priming induction using overload
Hypnotic interview using overload and unconscious moments
Process instruction using hypnotic deepners
Hypnotic memory induction using previous experiences
Emotional Trance Method
Symbolic learning induction
Hypnotic stare induction using unconscious pressure
Unconscious moments induction using hypnotic cues
Advanced Emotional Trance Method
PHITTR formula based induction
Combined strategy induction
1
Priming Induction
A conversational hypnosis style induction devised to set up the unconscious mind to perceive a new unconscious reality and prepare a client before they enter a hypnotic state
2
Hypnotic Interview
A strategic hypnotic information gathering, to emotionally attach a client to their desired goal and distinguish between unconscious and conscious information
3
Hypnotic Memory
An induction based on utilizing previous hypnotic experiences to bring back to life and allow a client to enter into a borrowed unconscious environment.
4
Emotional Trance Method
By mastering the art of using any emotions as a doorway into trance you gain the ability to work with resistant clients who previously have negated all trance techniques.
5
Symbolic Learning Induction
The premise is to create an environment inside the mind, for the unconscious to produce therapeutic symbology that can be interacted with for complete unconscious breakthroughs.
Value of this program
This Is The Conversational Hypnosis Course You Have Been Looking For
After you start to get into the flow of using conversational hypnosis during this event, you will start to feel how simple it can be to change the thoughts, emotions, and feelings attached to even the biggest of our habits, hates, and fears
And because you are getting access to be trained by industry experts, you become in tuned with the fine art of using hypnotic persuasion and therapeutic know how so intensely that you begin to act like a professional trained Hypnotherapist.
In fact, you'll start to feel more confidence in your communication, your connection with friends on family and even have the abundant opportunity to work on your own junk, during the event.
This action itself would normally cost thousands of dollars, and you gain this just by turning up to the event.
And, as you already know your trainers experience in working with clients, creates an impactful set of instruction jam packed inside a 4-day experience like no other
But don't take our word for it, look what our students are saying about their training:
BONUS: Online Access Course
Here's Exactly What You Get In This Bonus Course
You'll gain instant access to our Conversational Hypnosis Online Program revealing strategies only available via this online training + Lifetime access to the entire PHIITR formula procedure from your face to face program
Here's what's included:

Part 1
Online Conversational Hypnosis Certification
As a special bonus for enrolling in this training. You get lifetime access to the online equivalent of your face to face training, including untaught content. Use this resource as your go-to guide to practice and master this sophisticated program. With access to LIVE interventions with Scott and real clients + an exam, you can add another internationally recognized certification to your wall.
Part 2
Over 27 hours of content
With over 27 hours of hypnosis content, you can relive the complete PHITTR formula, including 10 LIVE interventions to help you become the expert in conversational hypnosis and therapy.
Part 3
50 question exam for certification
Once you've listened to all the content, you can now take part in your exam, to train you in the finer details of this program, and on completion, and pass, you instantly become rewarded with a new internationally recognized certification, only available from this online training.
Session 1
In session1 we formally introduce you to the course, and discuss tips, hints and learning strategies to get the full experience from this course. In addition, we reveal the building blocks of hypnosis and begin to educate you ton the roles of the conscious and unconscious mind and develop an understanding of classical hypnosis.
Introduction to the roles and functions fo the mind
Introduction to the ABSU formula for foundational experience
Therapy basics for the beginner
PHITTR formula for conversational hypnosis
Exercises included
Session 2
Session 2 is about breaking down the PHITTR formula to individual skills to hone in on capacity of hypnosis while maintaining a direct path towards your first trance experience.
Using the Trance Bubble Method for easy navigation of hypnotic methods
Priming ( the how, what, why and when )
Creating the conversational hypnosis pretalk without any fuss
Introduction to hypnotic language sets to create conversational trances
Repetition and association principles included + exercises
Session 3
Session 3 is the introduction to your Hypnotic Attitude via your hypnotic voice, mannerisms and how to begin acting like a professional Hypnotist. Including is the EVP rule for persuasion in hypnosis
Creating a hypnotic voice for unbreakable trances
Using the EVP rule to enhance any hypnotic interaction
How to get the most from your hypnotic principles in any context
Exercises included
Session 4
Session 4 is all about natural vs created trances and your first glimpse at unconscious moments for Hypnotherapy. A crucial part of your development is based on spotting unconscious moments and the immediate exercises that follow.
Working with natural and created trances and what to look for
How to use the ABSU formula for any hypnotic interaction with prestige
The total guide to using unconscious moments and cues
Exercises included
Session 5
Session 5 is your first live demonstration with a studying student to piece together your skills this far. here we draw a clear distinction between classic and conversational hypnosis while using priming, hypnotic language, EVP, repetition and unconscious moments as our vehicle for trance.
Including indepth breakdown of demonstration to highlight pricples and methods utilized during this interaction.
Session 6
Session 6 is the introduction and training in the Hypnotic Interview Method. With this Scott explores the important aspect of learning how to decipher between conscious and unconscious information to gain a true understanding of what is happening inside your client's mind, in context to their problem
Conscious vs unconscious information
How to listen for unconscious moments inside conversation
How to distract the conscious mind for more unconscious expression
Therapy basics introduction for your first therapeutic natured conversation
Session 7
Session 7 reveals your next demonstration including the Hypnotic Interview mehtod, This demonstration is a run on from the previous demo, in that we are including little steps to increase our interaction and begin to shape a complete Hypnotherapy intervention.
This demo includes a real life issue, indepth breakdown, feedback and Q&A portion to highlight the intricacies of this module
Session 8
Session 8 is revealing conversational hypnosis strategies, to turn any conversation into a hypnotic breakthrough. We formally reveal how to use and what to do when you spot unconscious moments that will increase the depth of trance and therapeutic solution for your clients and subjects.
How to use process instruction to enhance unconscious moments
Ericksonian tricks for pure unconscious integration
How to create irresistible instructions for your clients
Advanced structures for unconscious moments in Hypnotherapy
Session 9
Session 9 introduces you to your second formal induction using memory as your basis for trance. We learn how to use previous experiences of hypnosis to redirect the mind back into the previous trance. This module includes demonstration, breakdown, and Q&A of technique
How to use previous experiences of trance to direct the mind
How to use unconscious moments to locate previous trance memory
How to induce therapy basics for a professional feel
How to master the EVP rule to enhance this induction
Session 10
Session 10 turns our attention to testing for Hypnotherapy success with clients. By using these methods you have the advantage to stop relapse and prevent your client from falling back into phobias and bad habits. Included is a demonstration, breakdown, and Q&A
Strategic testing tools for remarkable results
When and how to test your clients at the right time
Revealed secret of advanced testing
Completion of PHITTR formula
Session 11
Session 11 combines 2 separate inductions using unconscious moments and inductions using the Emotional Trance Method which will enable the practitioner to use any emotion as the doorway to trance while hiding the induction inside a conversation
Official unconscious moments induction
Official ETM induction for therapy
How to combine a seamless approach to conversational hypnosis
How to use testing strategically to draw out conscious conclusions.
Session 12
Session 12 is the introduction to the 6 stage Adverse ReacSafetyftery Drill. We are now training you how to keep your integrity and increase the safety of using hypnosis with clients and what to do in case of immediate danger.
Official 6 stage safety drill
How to navigate your client out of trance correctly
How to repack the unconscious mind for safety
What to do in case of an emergency while using hypnosis in any context
Session 13
Session 13 is creating hypnotic inductions using the Symbolic Learning Trance. Here you get the A-Z of an induction that includes vital therapeutic symbology to create a breathtaking experience and a lifetime of success for your clients. Demonstrations, breakdown, and Q&A included
How to set up the perfect unconscious environment for this induction
How to instruct your client to interact with their own unconscious mind
How to deepen the impact of hypnosis with simple instruction
How to direct your client's mind for 100% therapeutic breakthroughs
Session 14
Session 14 is about creating your own trances with self-hypnosis. This completes our hypnotic attitude and allows you to enhance your won life through therapeutic self-hypnosis. Included is 3 self hypnosis audios on how to use unconscious moments for deep trance for yourself.
How to develop your own trances
How using your own trances will turn you into the go to Hypnotist
3 styles of self-hypnosis audios to practice your trances with
How to create your own self-hypnosis whenever you like and for any reason
Session 15
Session 15 we introduce you to career basics as we discuss how to set up a functioning office with authority. If you are looking for a life long career as a Hypnotherapists these pointers will set you up perfectly for longevity.
How to set up your office correct
Client privacy and safety
How to deal with negative clients
Revealing 4 strategies to enhance your professionalism
Session 16
Session 16 we discuss how to use eye contact for nonverbal trances. An important aspect of conversational hypnosis, is conversational norms, and how to use your own mannerisms to induce deep trance on the spot
Why eye contact is so important to hypnosis
How to deepen trance with non-verbal cues
How to increase unconscious moments with eye contact
How to create an unbreakable hypnotic instinct for unconscious moments
Session 17
Formal wrap up of course before advanced hypnotic methods are introduced plus bonus trainings to enhance your skills set.
Session 18
Bonus 1
Business basis for the correct business names to increase clients numbers, enhance your google ranking and SEO for your website
Session 19
Advanced Hypnotic Strategies 1
How to master Skype anywhere in the world to treat clients without seeing them face to face
Session 20
Advanced Hypnotic Strategies 2
How to make anything you say Hypnotic in any conversation ( The perfect way to get clients )
Session 21
Advanced Hypnotic Strategies 3
How to end a session with a bang to avoid relapse and put your client on the path to success
Session 22
Advanced Hypnotic Strategies 4
The Advanced Emotional Trance Method introduction for enhanced mechanisms of the ETM
Bonus 2
10 LIVE Conversational Hypnotherapy Interventions
Here you can access to 10 live demonstrations with real clients as Scott explore every issue and creates a therapeutic breakthrough using the very systems of this training course and includes advanced strategies previously untaught
Value of the offer
The Online Resource You Need To Reach The Pinnacle Of Hypnosis Success
So what does this amazing bonus do for you?
It allows you to relive the experience of your training, master the finer details of conversational hypnosis and even reveal untaught strategies only available online.
The key to success with this program is absorbed yourself with proper instruction and allow your unconscious mind to firmly grasp onto an inspired skill so that you can build your hypnotic confidence and spawn a new life of communication from the inside out.
Remember you are learning a skill that can change the very thoughts and feelings of everyone you speak to. This is a power unlike any other.