Megalong Valley ~ SIX FOOT TRACK Yoga Hike & Camp // Sept 26th & 27th
About this Event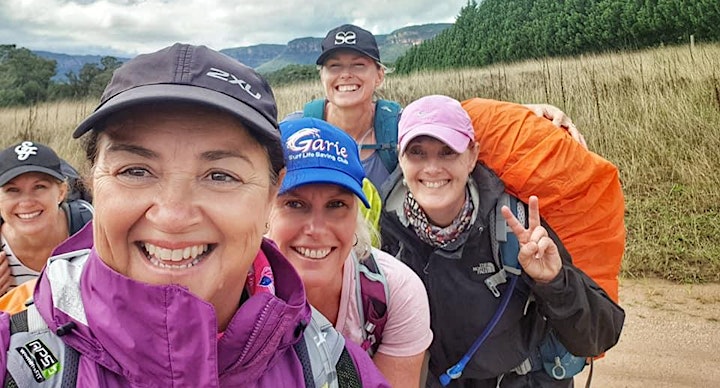 Megalong Valley ~ Six Foot Track Hike & Camp // September 26th & 27th
JOIN US. On this authentic 2 day overnight introduction to Women's Backpacking & Yoga.
Lost & Found Wellness Adventures, follows safe social distancing policies, provides safe sanitising & strictly follows guidelines as set out by NSW Health.
Come along & see what all the fuss is about !
Fabulous entry level hike & camp. Great for beginners to intermediate !
Our own secluded private campground for our girls only, is nestled amonst the forest of the Megalong valley, surround by natures splendour & it's beautiful wildlife.
Featuring: Lush Forests, Historic Sites, Stunning Cliff Edges, She - Oak Forests, Cedars, Forested Gullies, Mountains, Blue Mountains National, Cox's River, Megalong Valley.
What's Included:
We Provide All Your Gear: tent, premium sleeping bag, liner, sleeping mat, cutlery, headlamp, batteries, stove, fuel, water purification, backpack.
Basic Wilderness Navigation Workshop
Navigation Equipment
Leave No Trace Tuition
2 x Yoga Sessions ~ Instructed by a professional trainer
Moonlight hike
Progressive Photography Workshop
Wilderness First Aid
Wilderness Navigation
Emergency Communications
2 Way radios
Champagne & Canapes
Permits & Passes
Qualified Female Outdoor Rec Guides
2 x Female Track Guides
Gear Packing List
Overnight Backpacking List
Personal Trainer
Sports Massage Therapist
Nutrition & hydration Support
Backpacking & Camp Management
Camp Cooking Tuition
Private Campground: Cold shower, toilets, fresh drinking water
Meals: 1 x Breakfast, 1 x Dinner, 2 x Lunch, morning, afternoon tea, snacks
Fresh Drinking Water
6 wk Fit 2 Hike Training Program
COST: $399 incl GST ( all inclusive as per itinerary )
Deposit: $199 plus booking fee
Final Payment: $200 due August 26th 2020
PAYMENT REWARDS
Book & pay the Full amount upfront = You receive $50 Adventure Points, to use towards any of our 1/2 or 1 day fusion adventures or hiking events. Contact us to make this payment option.
LFWA Frequent Walkers = If you have joined us on any of our weekend events previously, you receive $100 Adventure Points to use towards any of our 1/2 or 1 day fusion adventures or hiking events. Contact us to make this payment option.
Contact: Kerry on 0412219546 or email: kerrymartin@lostandfoundadventures.blog
Lost & Found Wellness Adventures practices safe social distancing & follows the COVID - 19 health guidelines set out by the NSW Government & Outdoor NSW www.outdoornsw.org.au
EVENT ITINERARY:
DAY #1: Megalong Valley to Cox's River Eco Lodge & Moonlight Hike Six Foot Track // Hiking Distance:10.5 -12.5km Grade: Moderate
MEET: 10 am Megalong Valley Tea Rooms , Megalong Rd, Megalong Valley
Meeting & enjoying a delicious morning tea at the tea rooms, we do a safety brief & pack fit , before heading out
Commencing our hike we travel along the historic Six Foot Track through the stunning lush forests & valleys of Megalong passing ancient monolithic like granite rock structures & hidden caves. Until we reach the Cox's River. We will have our lunch along the way.
At the Cox's River we experience the river crossing using Bowtell's Swing Bridge. Once across, we continue on until our private campground.
We share our secluded campground & yoga with the curious kangaroos which love to join us on our camps. Really special
Happy hour follows our yoga then dinner, with a campfire
Rugging up warmly, donning our headlamps we head out to explore the track by moonlight. Such a fantastic experience, deep in the forest, as darkness falls our sense of awareness becomes heightened, you are mindful of every step you take. Returning to camp, it's lights out.
Afternoon Schedule:
Camp Management Brief, Leave No Trace
Camp Set Up
Kitchen & Cooking Set Up
Yoga & Meditation
Relaxing Happy Hour Champagne & Canapes
Dinner
Moonlight Hike
DAY #2: Cox's River to Megalong Valley Six Foot Track // Hiking Distance: 10km Grade: Moderate
Morning Schedule:
Yoga & Meditation
Breakfast
Lunch Preparation
Basic Navigation Workshop
River Exploration ( dependant on river flow)
Camp Management Brief, Leave No Trace
Camp Pack Up
We head out mid morning retracing our steps along the Six Foot Track, the morning light is quite beautiful this time of the year perfect for our Progressive Photography Workshop.
FINISH: We expect to be finished our hike between 1.30 - 2pm. This is approximate as it depends on the group pace.
EVENT FAQ's:
What age is this event for?
This is a women's event 18yrs and over
What is the walking pace?
We will be hiking at a moderate pace, catering for everyone, being mindful of different fitness levels & efforts involved, not rushing to finish, taking care to respect each other. Hiking together, we believe in a group, is the same as being in a team, we make sure all hikers in our group are together keeping each other well supported & safe.
Who is this hike suitable for?
This hike is suitable for those with reasonable fitness who walk (2 -3 times a week ) You will need to be able to hike 7.5km with a pack weight of 14kgs. We do provide a training program
What is the Grade?
This is a grade 3 - 4 moderate hike due to steep stairs, track steepness, rock scrambling, single track & water crossings.
What size backpack do I need?
You do not need a backpack. We provide everything.
How heavy will my back pack be?
14kgs, we provide a training program to get you fit & ready
Is there any mobile phone reception?
There is some phone reception in the park when hiking, we cannot guarantee this, please check with your provider. Telstra 4G does have reception along the Six Foot Track.
Do I need any money?
We will be in a remote area with no where to spend money, however it is always good to have a little just in case of emergency.
Do I need to bring alcohol?
Bubbles are included with nibbles. Which is nice to enjoy while relaxing at camp, however we do not recommend drinking more than 1 - 2 standard drinks for safety reasons & the remoteness of our camp.
What if I have dietary requirements?
No problem. we cater for vegan, keto, vegetarian & gluten free diets. Let us know once you have booked your ticket.
What happens if there is an emergency?
Your professional guide is trained in wilderness first aid. Your guide will carry a first aid kit, have a PLB registered with emergency services & registration with the Blue Mountains National Park Office.
Our guides carry a topographic map with compass & are trained in wilderness navigation. Each guide is equipped with a 2 way radio & mobile phone .
What is the type of accommodation?
Camping in 1 man tents.
What do I need to Bring?
We provide a detailed gear list once you have booked & paid your deposit
REFUND POLICY: T&C's apply
As our adventures are in the outdoors we have contingencies in place for severe weather & track conditions. LFWA group safety is our priority.
Should our event have to be cancelled due to COVID - 19 you will be offered a resheduled date, if you are unable to book that date, you willl be given a full refund.
***In the event of severe weather, dangerous conditions, bushfire or NPWS bush track closures due to total fire bans, we reserve the right to amend our event for the safety of our participants.
If we are unable to offer a similar itinerary or need to postpone due to the conditions above, you will be offered an alternative date if you are unable to attend that alternate date you will be given a full refund***
We provide a refund less $199 admin & permit fee up to 30 days before event, a refund of 50% of the amount will be given up to 15 days before event.
There is no refund given with less than 7 days notice before event. This is due to catering, accommodation fees & permits which are non-refundable from our end. You can however give / transfer your ticket to a friend.