Overcome challenges and conflicts as you discover how to better navigate the mind and find the silence and stillness within.
About this event
Meetings in Truth is an invitation to discover true nature and realise inherent freedom.
Relax and let go while listening to Vishrant share his wisdom about the mind, life and the human condition.
Vishrant's pragmatic approach and keen sense of humour bring illumination to many common and difficult issues in life. With greater clarity, we have the opportunity to discover and remove the obstacles that are in the way of happiness and freedom.
These meetings are known as Satsang, a Sanskrit word meaning 'to be in the company of truth.' Enjoy the expanded awareness and energetic presence which emanates from an enlightened person that can support you to find the stillness and silence within.
For many, a sense of peace arises during these meetings.
Entry is by donation. Please click here to donate. Your contribution is greatly appreciated and is put towards making these teachings available for those who seek Truth and Enlightenment.
If you cannot attend in person, you are also welcome to attend Meetings in Truth online via Zoom. Register here for the Zoom Meeting.
Meetings are also streamed live on Facebook and YouTube Live.
For more information call 0418 229 662 or visit www.vishrant.org.
See all upcoming events at Restful Waters here or call us on 0418 229 662.

To view our privacy policy please follow this link.
The Restful Waters Team is taking precautionary steps to ensure public safety for events and classes happening at our centre. For details please click here.
You are also welcome to join Meetings in Truth online via Zoom! Register here for Zoom meeting.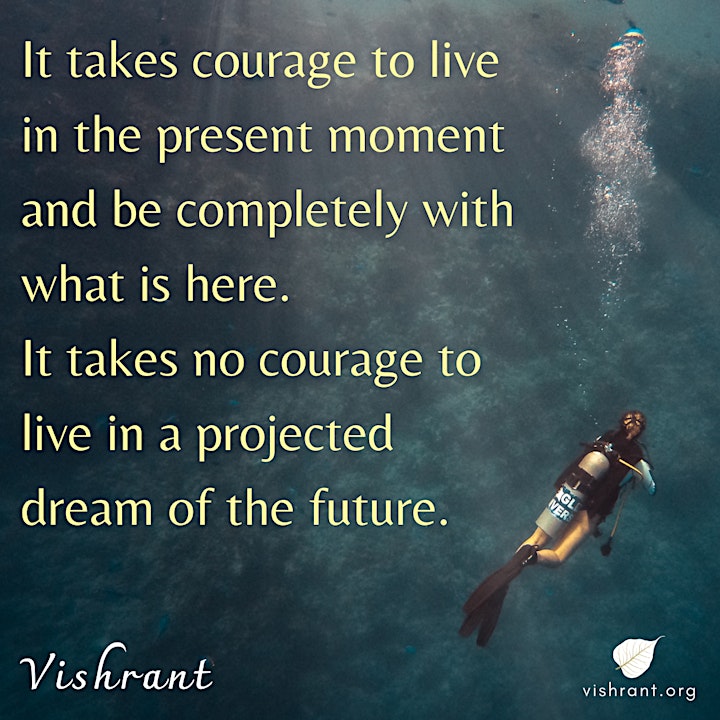 The following video is an excerpt from Meetings in Truth | Satsang with Vishrant:
Organiser of Meetings in Truth | Satsang with Vishrant
At Restful Waters you are invited to unwind and let go of life's stresses and tensions! So you can breathe with ease, feel balanced, connected and rejuvenated from the inside out. 

We provide a variety of events each month, all year round. Our events are designed to fit in perfectly with managing a busy lifestyle, giving you the opportunity to slow down, go within, rest and reset your mind and body. 

Our events program specialises in providing yoga, movement, tai chi, meditation and counselling services which creates a deeper awareness and connection to yourself, others and your environment. Enjoy this space to experience calmness, clarity and openness as you explore within and create the life that is aligned with what you value most in life.

Restful Waters events vary from 2 to 4 hour mini-retreats, to a series of sessions, weekend programs and 4 to 6-week courses. We are a not-for-profit organisation dedicated to assisting people to live happier and healthier lives. 

Our event producers are trained professionals whose skills and expertise demonstrate a deep care and respect for your wellbeing. We have developed a beautiful space where people meet, share and create community!

Our centre is nestled amongst an avocado orchard, with lakes to gaze upon and sits on 10 acres of tranquil surrounds. 

Treat yourself to some nourishing time out at Restful Waters (only 45 minutes from Perth City) and enjoy the beautiful Perth Hills with its scenic spots, cafes and attractions along the way. 

We look forward to meeting you soon!