Description
An event born on the NSW Central Coast that brings together the locals in a celebration of wine and storytelling..
Meet Wine Meet Community is all about making new friends and learning from our Central Coast community via storytelling along with tasting beautiful wine..
First Thursday of each month..
We are excited to announce that our next event will be taking place on Thursday 4th October 2018..
Our guest speaker and story tellers for the evening will be Roberta Dixon-Valk and Amanda Marechal from Take 3 for the Sea.

Meet Roberta & Amanda..
Amanda has dedicated the past 10 years of her life educating, inspiring and engaging students and the broader community on plastic pollution awareness with a focus on solutions. A keen surfer, Mandy is passionate about the conservation and health of our oceans and waterways. Mandy is co founder of Take 3.
Sea-ish and fish-driven, Roberta Dixon-Valk has had a lifetime love affair with our oceans and estuaries. Roberta is a marine ecologist/conservationist who has spent over 25 years working to look after the health of our oceans and all the plants and animals that call it home.– most recently from plastic pollution She is a co-founder of Take 3.
On the 4th October 2018 at LooLoo's Warehouse Kincumber, Mandy & Roberta will be sharing their story. Their love for the ocean, their mission to reduce global plastic pollution and how they delivery a simple message that has become a global movement:
Take 3 pieces of rubbish when you leave the beach, waterway or…anywhere and you've made a difference.
We can't wait for you to hear their story..
This is for our community..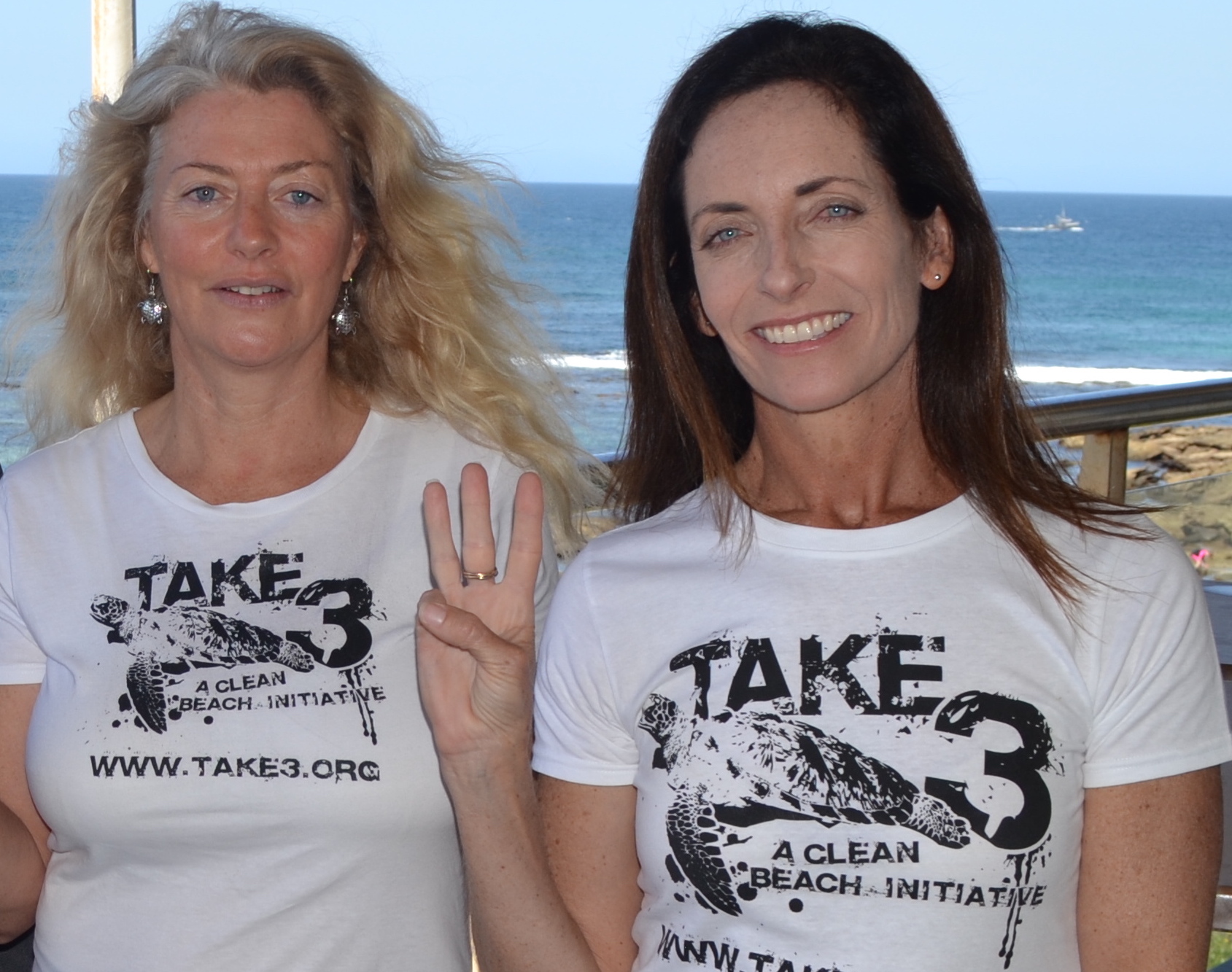 It's also about WINE + BEER.. All local..
Our friends from Fires Creek Winery will be visiting and opening their cellar door to you all for a wine tasting experience.
Fires Creek Winery is the only winery based here on the Central Coast. They are a fruit winery.
Fruit wines are very often bold in flavour and taste. Our wines vary in complexity, acidity, sweetness, aroma, bouquet and mouth feel. Different vintages of the same wine vary just as grape wines, reflecting the difference between pickings.
Because they make small limited vintages their wines do sell out quickly although there is always a constantly changing variety of fruits to try. As their wines are made from seasonal fruit not all wines will be available. The Wines reflect the season 9-12 months ago as their winemaking is unhurried to assure you of the best quality. Fires Creek wines are also vegan friendly and do not use animal products to speed up the wine making process.
And from across the car park, our friends from Block & Tackle will be serving up their local beers on tap.
"Block 'n Tackle wears it's micro-brewery badge with pride as it is our size that makes the process of brewing small batch beers a true artisan experience. While the scale of our brewhouse demands a more hands-on approach to brewing, it is the passion and love of brewing good beer that makes the journey all the more satisfying. Small batch brewing allows us to take risks and experiment with flavours and ingredients. It allows us to collaborate and share our enjoyment of brewing well-made beers. It also allows visitors to the brewery a great insight into the ingredients and processes we employ which we share with you below."
We do hope you can join us for this community event of beautiful conversation, great wine, laughs, storytelling and most of all friendship..
Each ticket includes wine tasting, storytelling + share grazing platters..
All proceed from this event go to Take 3 for the Sea..

Thank you, we can't wait to meet you x
...................................................
FAQs
What is the agenda?
The evening begins with a wine tasting from 7:00 pm in an informal setting, you can ask the wine makers whatever comes to mind and they'll be more than happy to share their story about the wines, their vineyard, horticulture and the wine making process.. Once you complete your tasting you will have the option to buy glasses of wine for $5 each, you can also buy by the bottle to take home with you. Our guest speaker for the night will come on at approx. 8:15 pm where you can sit, relax hear their story and ask questions. We invite everyone to stay until 9:30 pm for wine and grazing..
What are my transport/parking options for getting to and from the event?
Onsite parking and we encourage people from the local area to walk to the event and breathe in the fresh air!
How can I contact the organiser with any questions?
You can contact myself, Cara at meetwinemeetcommunity@gmail.com or 0412 622 310, I'd be happy to chat and hear from you.
Do I have to bring my printed ticket to the event?
No, a form of ID or your tickets on your phone is sufficient and we will tick you off the list.
Is my registration fee or ticket transferrable?
Unfortunately we can not offer refunds for many reasons so you may want to give your tickets to a family member or friend in the event you can not make it.
Will there be food available?
We put on a beautiful shared grazing platter for our guests of cheeses, olives, nuts and savories however we suggest you have dinner beforehand.. Cheese by Little Creek Cheese and bread by Sasa Street Food :)
Is there an age limit?
All ages are welcome however under 18's need to be accompanied by an adult.
Will there be tickets for sale on the door?
Yes tickets will be available for sale on the door for $25 per person, we encourage cash but also take card. However for catering requirements, we encourage people to purchase tickets beforehand.
Will there be ATM and Eftpos facilities on the night for door sales?
Yes, we have EFTPOS at the door and all of our wine makers take card should you wish to purchase on the night.
Can I buy wine on the night?
Most deifnitely, after your wine tasting, you can puchase by the glass for $5 or, if something takes your fancy you can buy a bottle to take home with you. Again, we encourage cash.
Thank you..