A panel discussion and networking event created specifically for CREATIVE ENTREPRENEURS - Events, Videographers, Photographers, Music, Food.
About this event
[Note: This event has been postponed due to the ever-changing restrictions in Victoria in relation to COVID-19. The NEW event date is Wednesday, AUGUST 25TH - CONFIRMED!]
Not just another ordinary and average networking event!
This mid-week, straight-after work event is created for the hustlers in the creative industry sector. We found a lot of networking events for start-ups and small businesses centred around technology, apps or finance but not enough discussions for those in the arts, music, hospitality, digital content creation, fashion and event sectors.
Well, alas, MEET-UP FOR START-UPS in the CREATIVE ENTREPRENEURSHIP space is born! Join us for a night of professional mingling, an insightful panel discussion from the leaders in this space who built something up from nothing (and with NO UNIVERSITY!) as well as some drinks and snacks to be provided.
***
Your host is Melissa Yu, she's a creator of Brands and Beginnings, a native to the commercial world through her entrepreneurial endeavours, and a leader in the field of community building, drawing in people from all backgrounds in no small part due to her magnetism, charm and innate ability to connect with others.
She is joined by the following panelists to discuss start-up culture, hustling for your dream and achieving greatness:
Travis Grech - Travis Grech started his love for nightlife and music at the famous Chasers Nightclub in Melbourne, where he spent his weekends as a young 18 year old hustling for $2 per guest on his guest list. After sometime he made big waves into the entertainment scene, starting with 200 people crowds, now catering for over 20,000 people with Ultra Music Festival, one of the largest electronic festivals in the world. Listen to his inspirational journey.
Mia Goreng - With her website platform www.miagoreng.com and her heavy influence in the Instagram and TikTok world, Mia is one of the leading Melbournian social influencers in the food, drinks and event space growing a strong online community. Discover her expertise and journey to building a personal brand online using social media.
Ryan Jenkins - As the Former Founder and CEO of Digital Eagles, Ryan brings over 15 years of digital marketing, marketing strategy, leadership, sales consultancy and management experience. Ryan recently has started a new venture as Head of Strategy with The Hype Society, an innovative and bold branding and marketing agency. Ryan is very passionate about helping businesses of all sizes achieve their marketing and sales goals. Discover how important it is to have a digital footprint in today's business world.
Dario D'Agostino - Dario is a Founder and Director of DAMA Consulting, an agency that specialises and provides a broad range of consultancy services. With over 15 years of experience, Dario's expertise covers all aspects of food and hospitality business management, sales & marketing and operations. His wealth of knowledge and thorough understanding of the industry has seen him open, build, and successful lyexit multiple venues around Melbourne including Long Story Short, Nonna's Cucina, Zaza's Cucina, Mamma's Boy Trattoria and PB's Pizza Bar.
***
You are only one short connection or introduction away from a potential lifetime opportunity. Be in the right room at the right time. This event is the catalyst for many business opportunities and partnerships to come!
Event Organiser:
Melissa Yu (MCO Events) - 0413 185 088 or Email at melissa@mcoevents.com.au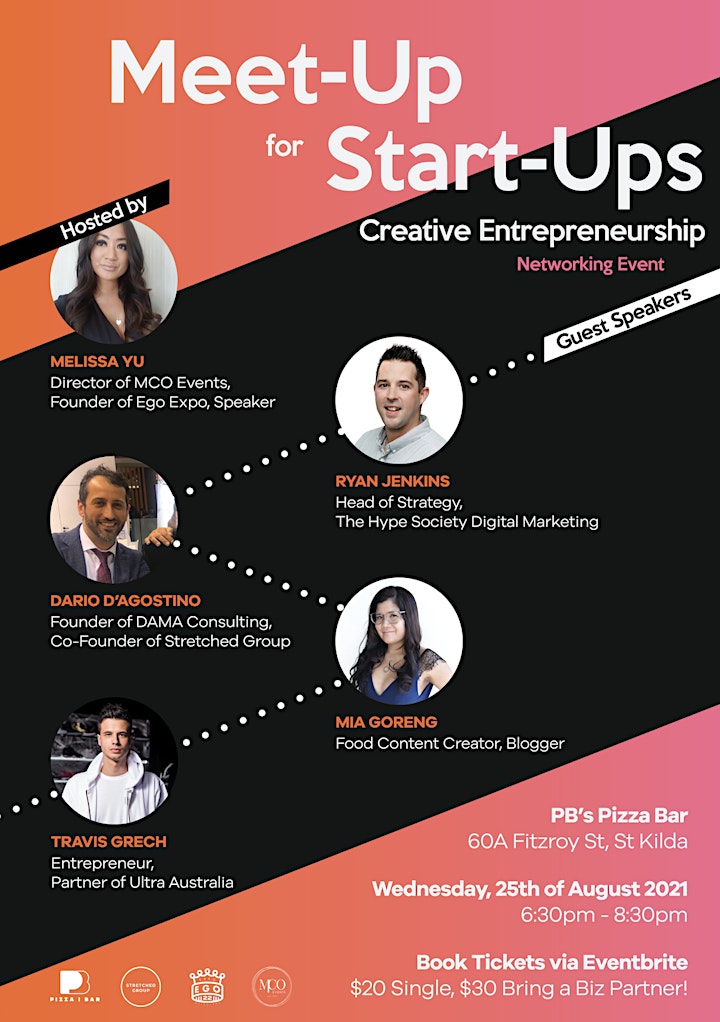 Organiser of Meet-up for Start-Ups: Creative Entrepreneurship Panel & Networking Event
MCO Events is a boutique corporate event management and branding company dedicated to helping businesses communicate their purpose, message or impression to their audiences around Australia.
Our services include event communications, corporate event organization and time management, project management, budget management, event staff management and event marketing and public relations. MCO Events commit to a broad range of events management services such as promotion, communications, consulting and equipment organisation.