A celebration of Canberrans, community organisations and local businesses, supporting mums-to-be go alcohol-free
About this event
Hear from a diverse panel of women about their experiences of life, pregnancy, motherhood, and who makes up their "village" in an event from Pregnant Pause – the campaign supporting Canberra mums-to-be to go alcohol-free.
We all know the age-old saying "it takes a village!" – but who makes up this village, and where can we find them?
Like so many mums in the know, "it takes a village" has long been Pregnant Pause's mantra. That's why we've worked hard with our Community Heroes – local business and service providers – to build a village of support for Canberra women and mums-to-be to achieve alcohol-free pregnancies and feel supported in their parenting journey.
Whether you're newly pregnant, or five-kids deep into to this parenting gig, we could all benefit from getting to know the people, organisations and businesses in our community who are ready and willing to lend a helping hand and support Canberra women to achieve alcohol-free pregnancies.
Join Pregnant Pause for an afternoon of tea and honesty – get to know other mums, hear from a brilliant line-up of speakers from first-time parents to seasoned pros, and help us celebrate the wonderful people that make up our – and your – village.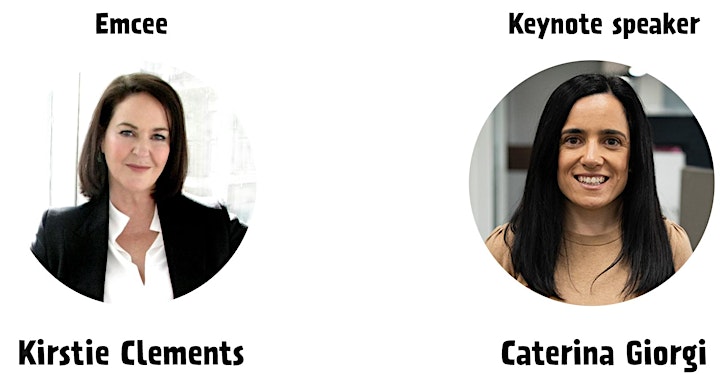 Emcee – Kirstie Clements
Kirstie Clements is a best-selling author, journalist, and former editor-in-chief of Vogue Australia, and is a current Director at FARE (Foundation for Alcohol Research and Education).
Kirstie has also written for various publications and websites including Elle, International Traveller, Australian Traveller, The Australian Woman's Weekly, The New Daily, Sunday Life and The Guardian and has made numerous appearances on television, including Today, Sunrise, The Daily Edition, Mornings and Studio Ten.
Kirstie lives in Sydney, is married to a Frenchman and has twin sons.
Keynote speaker – Caterina Giorgi
FARE CEO Caterina Giorgi has extensive experience in leadership roles in advocacy across the not-for-profit and for purpose sectors.
Throughout her career, Caterina has focused on reducing inequity and improving health and social outcomes through strategic advocacy. Before her current role at FARE, Caterina founded and led For Purpose, a national organisation working with other not-for-profit and purpose-driven organisations to build their strategic, advocacy and communications.
Caterina lives in Canberra with her husband and young daughter.
Panellists:

Amanda Tobler
Amanda is the Chief Executive Officer at Community Services #1, bringing to her role a wealth of experience in the not-for-profit, government and corporate sectors. Amanda has an exceptional ability to achieve results in demanding and challenging environments and an ability to build excellent relationships at all levels. Amanda and the Community Services #1 team are proud supporters of Pregnant Pause.
Aunty Violet Sheridan
Violet is a Ngunnawal Elder who grew up on her mothers country. She is a proud Aboriginal woman and is carrying on the work of her ancestors by teaching the next generations about their culture, the oldest continuous culture in the world. She is passionate about reducing the harms of alcohol and other drugs, particularly in her community.
Felicity Galvez
Felicity Galvez OAM is the owner of local gym, Galvanized Fitness and is a proud Pregnant Pause Community Hero. Felicity represented Australia in swimming in the 2004 and 2008 Olympics, winning gold medals in 2008 in both the 4x100m medley relay and 4x200m freestyle relay swimming events. After retiring from professional swimming in 2010, Felicity embarked on two new challenges—becoming a mum to two girls (now aged 8 and 5) and opening her business.
Robyn-Leigh Gordon
Robyn-Leigh Gordon is a Canberra mum and ex-public-servant-turned-entrepreneur, founding online marketplace What the Mama in 2021. Robyn-Leigh is passionate about advocating for and supporting women in their post-partum journey. She is personable, frank and honest in sharing her take on the wild journey that is motherhood.
COVID SAFETY:
It is a requirement at this event that you check in to the venue through the ACT Health Covid safety app. QR code posters will be displayed in easy-to-find places to check in on the day.
In an effort to keep everyone safe, we require that anyone who has returned from or been in contact with residents of an identified Covid-19 hotspot follow ACT Health guidelines and that you do not attend the event. If you are feeling unwell or have any symptoms of a respiratory nature, please do not attend the event.
Can I bring my baby?
Of course! We love babies! Please indicate in your booking if you plan to bring children for Covid safety purposes. Change tables and pram parking spaces will be available at the venue.
Acknowledgement of Country
FARE acknowledges the Traditional Owners and Custodians of the ACT, the Ngunnawal people. We acknowledge and respect the continuing connection to country of Aboriginal and Torres Strait Islander peoples.
Pregnant Pause is supported by the ACT Government under the ACT Health Promotion Grants program.
Organiser of Meet the Village
Pregnant Pause wants to make it easier on mums-to-be, with a campaign that builds a support system to help women achieve an alcohol free pregnancy.
The campaign encourages Australians to go alcohol free during their pregnancy, or the pregnancy of their partner, family member or loved one.
Pregnant Pause is supported by the ACT Government under the ACT Health promotion grants program.