Greet the New Year with Vishnu Sahasranama Pooja & Chant 1000 Names of The Lord
About this event
A rare opportunity not to miss! Register Now to Reserve Your Spot!
Chinmaya Mission Sydney welcomes you all to come and join us at Chinmaya Sannidhi Ashram in Castle Hill, to "Meet the New Year 2022 with Special Pooja for Lord Vishnu" with your family and get special blessings from Pujya Swami Swaroopananda (Global Head, Chinmaya Mission).
Due to COVID restrictions, entry for this event will be strictly limited to ONLYregistered participants.
Program:
1. Pooja for Lord Vishnu (all can participate)*
2. Chanting of 1000 names of Lord Vishnu.
3. Chanting of Veda Mantras
4. Special New Year's Day Talk by Pujya Swamiji.
5. Special Arati for the New Year.
6. Lunch Prasad
* We request all participants to be seated by 7:45 AM
Why Celebrate?
Lord blesses us with so much. It is our gratitude to remember the Lord and thank Him for the Year gone by and to ask Him to bless us for the New Year.
What Seva can you do?
* Main Pooja Yajman Seva - Contact Nandu 0408 445 941;
* Flower Bouquet Seva - Contact Ashi on 0415 287 687;
* Flowers & Garland Seva - Contact Uma on 0430 281 319;
* Prasad Seva - Contact Renu 0423 068 978;
* Dakshina (Donation) Seva - Click Here to make an offering to Lord
If you would like to do Pooja as a family, please bring the below items:
* Two metal/steel Plates
* Two cups and spoon, a small katory/bowl
* Bowl of raw rice mixed with tumeric
* 1020 flowers or petals or coins or akashata (raw rice mixed in turmeric)
* Chandanam (sandalwood powder)
* Kukumam (red powder)
Car Parking: As there will be NO CAR PARKING facility at Chinmaya Sannidhi Ashram car park at 38 Carrington Road, Castle Hill for this event, all participants are requested to park at the FREE PUBLIC CAR PARK at the HILLS SHOWGROUND METRO STATION located opposite Sannidhi Ashram, in DeClambe Drive.
Due to COVID restrictions, entry for this event will be strictly limited to ONLY registered participants.
For further details contact: Nandu on 0408 445 941 or Iynkaran 0423 853 376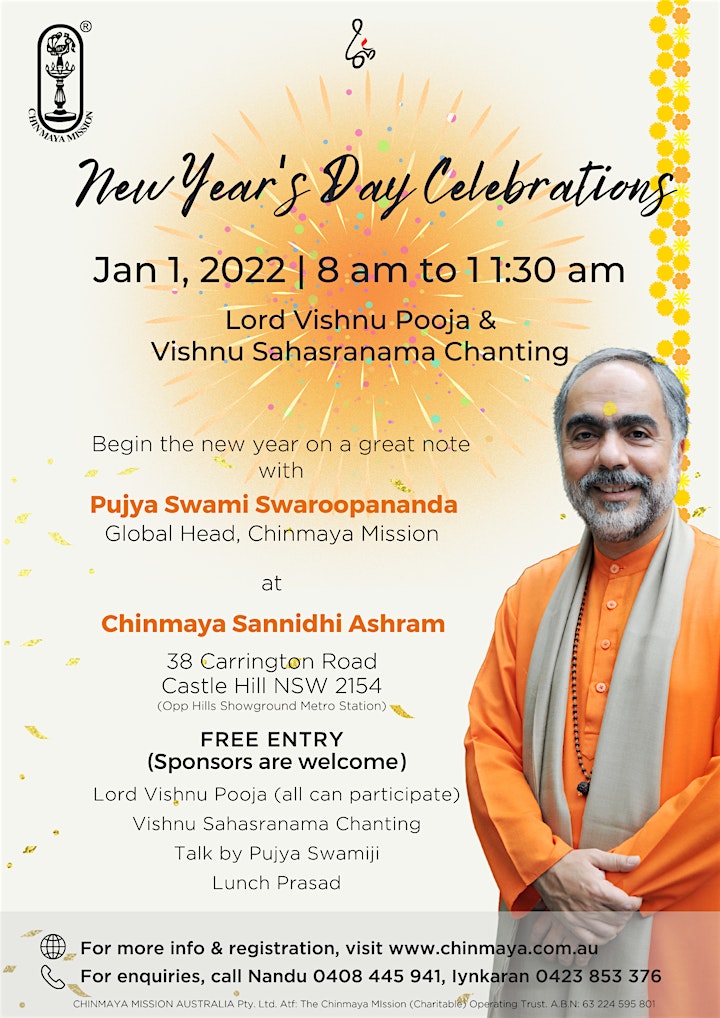 Organiser of Meet the New Year 2022 with Special Pooja for Lord Vishnu