Join us for the launch of an exciting Australian historical debut from local author, Paula J. Beavan.
About this event
"Richly detailed, inspiring and romantic - this engrossing story of a brave young woman overcoming insurmountable odds brings to life the early years of the Hunter Valley with clarity and authenticity."
- Tea Cooper, author of The Cartographer's Secret
1831, New South Wales
Reeling from her mother's death, Madeleine Barker-Trent arrives in the newly colonised Hunter River to find her father's promises are nothing more than a halcyon dream.
A day later, after a dubious accident, she becomes the sole owner of a thousand acres of bushland, with only three convicts and handsome overseer Daniel Coulter for company.
Determined to fulfil her family's aspirations, Maddy refuses to return to England and braves everything the beautiful but wild Australian country can throw at her - violence, danger, the forces of nature and loneliness. But when a scandalous secret and a new arrival threaten to destroy all she's worked for, her future looks bleak ...
Can Maddy persevere or should she simply admit defeat?
A captivating historical tale of one young woman's grit and determination to carve out her place on the riverbank.
About the author:
Paula J. Beavan grew up on the banks of the Hunter River where her love of a reading and a good yarn inspired a desire to write.
On discovering a family connection to one of the Hunter Valley first settlers she turned her hand to historical fiction.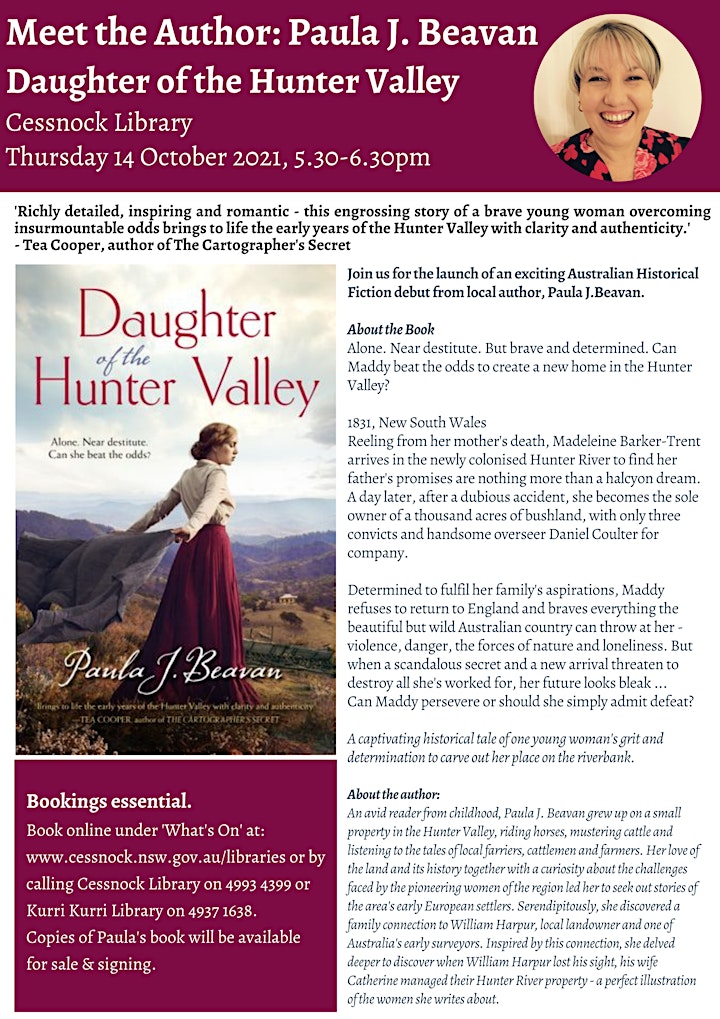 Organiser of Meet the Author: Paula J. Beavan - Daughter of the Hunter Valley