Sales Have Ended
Registrations are closed
Unfortunately this event has booked out or is closed. If you would like to be the first to know about our wonderful programs and events please subscribe to our email database: https://www.victor.sa.gov.au/library/subscribe
Sales Have Ended
Registrations are closed
Unfortunately this event has booked out or is closed. If you would like to be the first to know about our wonderful programs and events please subscribe to our email database: https://www.victor.sa.gov.au/library/subscribe
Hear from local SA Author, Darry Fraser as she talks about her new book The Prodigal Sister; her latest Australian historical drama.
About this event
This event is free.
Books available for purchase and signing at event from South Seas Books & Trading (depending on supply as book is only due for release in December 2021)
Bookings required
Arrive 10 minutes early for a 6.00 pm start
About The Prodigal Sister.........
1900 Melbourne, Victoria.
Miss Prudence North is freshly returned from university in Scotland and determined to find her place among the male-dominated world of the new forensic sciences when a high-ranking policeman waylays her. He threatens to charge her father for illegal medical practices unless she helps him build a case against local landowner Jasper Darke by spying on him.
With her sister's illness worsening, if their income disappears, Prudence will have to take on nursing and domestic duties and she'll never have the freedom she craves. Prudence has no choice but to agree. Immediately taken with the handsome Jasper Darke, a seemingly good and honest man, Prudence can't see what nefarious activities she's meant to be reporting on.
She'll have to get closer…But when a body turns up at her father's surgery, the forensics reveal to Prudence there's more going on about all this than meets the eye. It's clear it's up to her to uncover the truth – of this murder, of whatever's going on at the surgery after hours and, especially, of the intriguing Jasper Darke… Her life, her family and her future rely on it.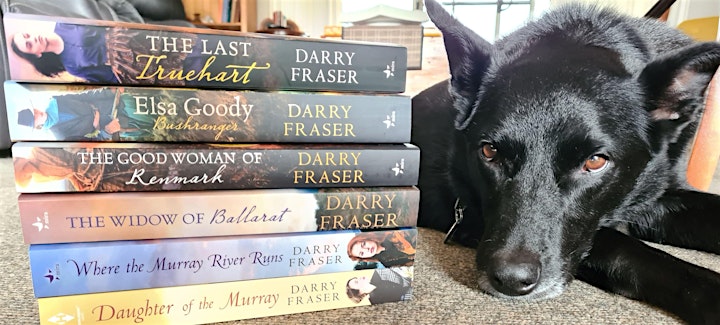 About the Author.....
From the very earliest time Darry Fraser can remember, she's been transfixed by stories. Those would have been the ones her mum read to her when she was a little kid.
Her imagination had been fired and soon she became a storyteller, not just an avid listener (and eventually, reader). History has always made her sit up and take notice, along with mystery and adventure. While she has written stories in other genres, she works best in the Australian historical drama space, and loves the research.
She lives and works on Kangaroo Island with Hamish the Wonder-dog, has an extreme fondness for plain potato crisps, dark chocolate, fresh licorice, and loves a bold cab sauv (not necessarily at the same time)

Be the first to know about our events!
Subscribe to the Victor Harbor Library
If you would like to be the first to know about our wonderful programs and events please subscribe to our email database: https://www.victor.sa.gov.au/library/subscribe
Our Programs and COVID-19
Due to COVID-19 restrictions, bookings are required for our programs.
Please arrive within 10 minutes of the session start time.
Limited bookings are available. If you are unable to attend, please let the library know in advance so others can join in.
Stay COVID-19 Safe
• Practise excellent hygiene - hand sanitiser and hand washing facilities are available
• Physical distancing is required in all sessions
• Do not attend if you're unwell, no matter how mild your symptoms are
• Please let us know if you can't make it so others can join in
• Programs may change or be cancelled as directed by the SA State Coordinator
Organiser of Meet the Author: Darry Fraser
The Victor Harbor Public Library hosts events all year round and welcomes our local community and visitors alike. Located at 1 Bay Road, Victor Harbor, the library is easily accessible via scenic walking paths and there is also ample car parking.
Opening Hours
Monday - Friday (excl. Wed): 9.30 am to 5.00 pm
Wednesday: 10.00 am to 6.00 pm
Saturday: 9.00 am to 12.00 noon
Closed Sundays and public holidays
Contact us on
08 8551 0730 or library@victor.sa.gov.au