Meet AKBC's new Directors and hear their insights and thoughts on the future of the Australia-Korea relationship.
About this event
Following our recent announcement of the Australia-Korea Business Council's new Board Members, we are pleased to hold an event to introduce you to our new Directors. The event will be held via Zoom on Thursday 9 July 2020, from 4:00pm - 5:00pm (AEST).
As Australia and Korea seek to emerge stronger in the post-pandemic world, now more than ever, our shared values, complementary economies, and mutual strategic interests present opportunities to deepen the bilateral relationship. Our new Directors have a wealth of Korea-related experience and knowledge in the industries which represent the new growth engines in the Australia-Korea corridor. Their expertise will support the AKBC's mission to ensure our members benefit from current and future Australia-Korea business opportunities. 
Chaired by AKBC Chairman the Hon. Simon Crean, our new Directors will share their insights and thoughts on the future of the Australia-Korea relationship. Simon Crean will also provide a detailed overview of our four sub-committees on financial services, innovation in health and biotechnology, energy and food and agriculture. Attendees will also have the chance to ask questions during a Q&A session.
Registrations are essential to attend.
A Zoom link will be provided following registration.
For more information or to ask any questions, please email info@akbc.com.au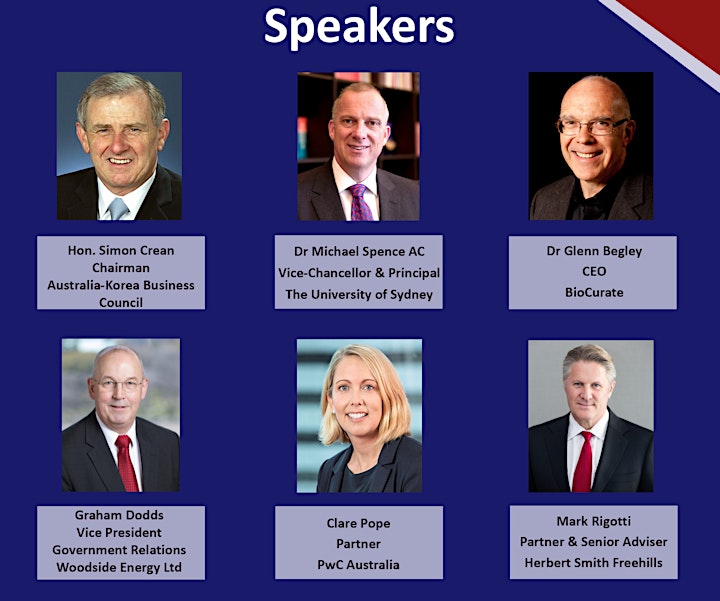 Organiser of Meet AKBC's new Board members
The Australia-Korea Business Council (AKBC) exists on behalf of its members and seeks to foster friendship and understanding between the business communities of Australia and Korea and to promote technical and economic cooperation, trade investment, education and tourism between the two countries.